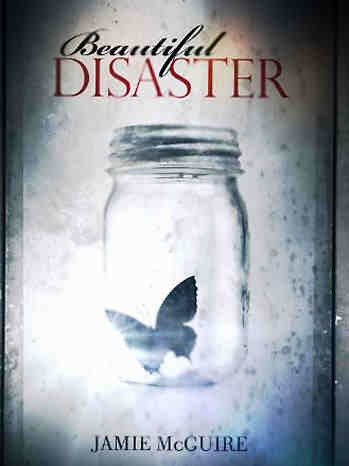 Beautiful Disaster

by Jamie McGuire

Book #1, Beautiful

Published by Atria Books on November 27th 2012

Purchased copy from Fully Booked

432 pages

Purchase on

Amazon

・

The Book Depository
Synopsis
INTENSE. DANGEROUS. ADDICTIVE.

Abby Abernathy is a good girl. She doesn't drink or swear, and she has the appropriate number of cardigans in her wardrobe. Abby believes she has enough distance from the darkness of her past, but when she arrives at college with her best friend, her path to a new beginning is quickly challenged by Eastern University's Walking One-Night Stand.

Travis Maddox, lean, cut, and covered in tattoos, is exactly what Abby wants—and needs—to avoid. He spends his nights winning money in a floating fight ring, and his days as the ultimate college campus charmer.

Intrigued by Abby's resistance to his appeal, Travis tricks her into his daily life with a simple bet. If he loses, he must remain abstinent for a month. If Abby loses, she must live in Travis's apartment for the same amount of time. Either way, Travis has no idea that he has met his match.
Typical love story: good girl and bad boy fall in love. However, Abby Abernathy isn't your usual good girl and Travis Maddox isn't your average bad boy. And the way they fall in love? It's certainly not your typical love story.
Despite having said that, the book does have a lot of cliches. And I mean, A LOT. Good girl is utterly determined not to sleep with bad boy. Bad boy is not just bad, he's also a play boy who sleeps with anything that's moving and yet is also weirdly turned on by the girl who refuses to sleep with him. If you've read enough novels like this, you'll be quite as certain as I was that two will get together anyway.
I was willing to let these pass. In fact, I was enjoying the novel despite said cliches. Almost halfway through the book though, I discovered how much of a DISASTER it was exactly.
Travis was kinda sorta maybe a little insane. First, there were his anger issues. It was way too extreme! Travis was way too hot-headed and honestly, it was not a turn-on at all. He was aggressive, violent, and totally scary you'd have thought he was deranged. Second, he was too possessive. At first, I thought "Aww, he's so protective of Abby" but then he started flipping out like a crazy man every time someone went near her. I wanted to knock some sense into the guy's head. Lastly, he was too dependent on Abby. Travis redefined the meaning of "I need you" and "I can't live without you" and instead of sounding romantic, it came out desperate and a little creepy. The funny thing was, this codependency was actually brought up in the book and yet nothing was done to resolve it.
And then there's Abby. Despite being more composed than Travis, this gal is worse. First, she can't make up her mind. One minute she's pushing Travis away, the next second she's practically giving herself to him. Second, she comes off a little phony. The girl isn't exactly a goody-goody after all. The pink cardigan is a sham. She's quite a lot like Travis although in a different way. What's sad though is that she denies it. Lastly, Abby is freaking merciless. She completely f*cks with Trav's mind and this how I totally get why Trav becomes a little psychotic.
BUT. YES, THERE'S A HUGE FREAKING BUT. Having almost totally bashed the two main characters, I cannot deny that there were times I enjoyed reading them. Sometimes Abby could be pretty badass and sometimes Trav could be absolutely dorky. These two made me laugh and fall in love in their own twisted way. Sure, there were times I wanted to kill both characters. But there were also times I wanted to hug (Abby) and kiss (Trav) them. Times when I wanted to cry because of them. Those two are just!!!! I also liked the supporting characters, Shep, Mare and Finch. Shep and Mare were just adorable! I loved how Shep was so scared to lose Mare (at least he doesn't go ballistic). And I loved Mare and Finch's loyal friendship with Abby. Then there's also Trav's family. I loved how they took Abby under their wing. Plot wise, the story was just as messy but it did make me keep on reading. There were times I wanted to throw the book across the room and yet I couldn't because I couldn't hold up reading it.
Basically, Beautiful Disaster lives up to its very oxymoronic title. It's the type of book you hate and love at the same time. Beautiful Disaster will surely make you feel conflicted and will tug your heart in very different ways.
Rating:


Did you enjoy reading this post?
Subscribe now to receive fabulous freebies and get the latest bookish reviews and features straight into your inbox.