Do you know how heartbreaking it is to have just spread the love for the book community for an entire weekend only to have so much hate go around the very next day? Well, I do.
I got home yesterday and heard the saddest news. The official mechanics for Sarah J. Maas' first ever book signing in the Philippines has been announced.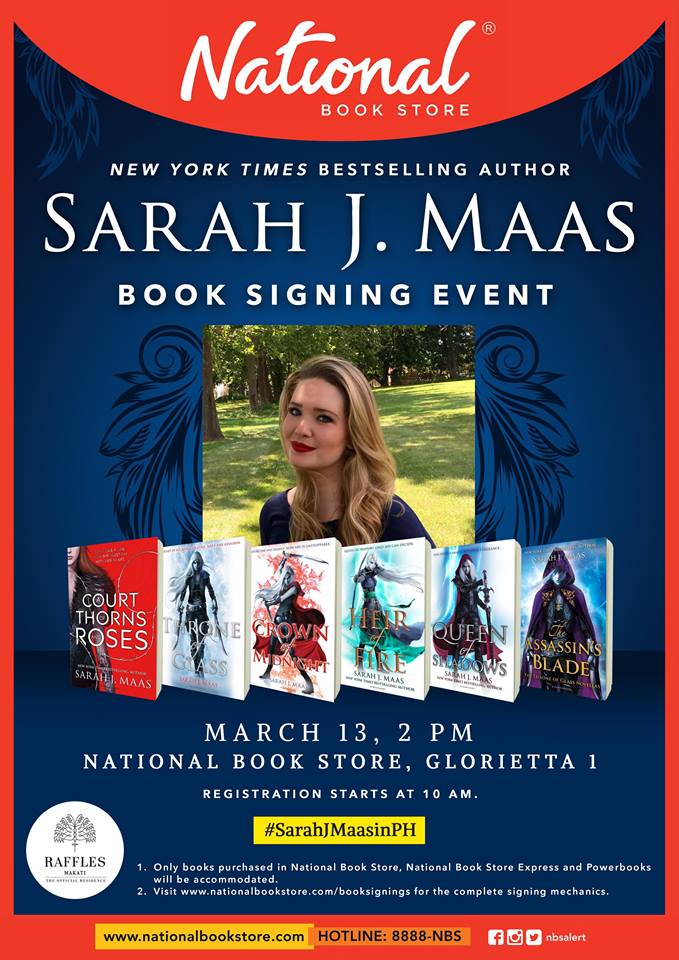 Official Announcement from National Book Store
#SarahJMaasinPH Book Signing Mechanics:

1. Registration will start at 10:00 a.m. First come, first served.

2. The book signing will be limited to 350 signing slots.

3. Each participant is allowed to have a maximum of three (3) books to be signed (1 personalized and 2 with signatures only). The books must be presented upon registration. Only copies of Sarah J. Maas books bought at any National Book Store, NBS Express, and Powerbooks branches will be allowed. The book must have its official receipt or price tag.

4. A participant can register only once. Each participant will be given the following:
• Numbered Signing Pass
• Stamp mark on the hand to indicate your registration

5. A posed photo with the author is strictly not allowed. However, you can still take a photo while the author is signing.
The bold text are the rules that made me really sad. This was NOT how I envisioned the signing. In my daydreams of the moment I meet Sarah J. Maas, aka one of the most amazing fantasy YA authors EVER, she'll sign my books, all six of them, with things like "Rhysand is yours" or "Rowan loves you," and we'll take a selfie that I can post on my Instagram and treasure forever. So yeah, my heart is in pieces here. But there's a song I know, and it goes, you can't always get what you want. 
My pain aside, this was NOT the most heartbreaking thing I saw on my feed. Rather, it was the hate and backlash that one of my most favourite bookstores received for hosting this event and carrying out mechanics that they had absolutely no control over.
"Boycott!"
"National Bull Shit!"
"Unfair!"
"How inconsiderate!"
I'm not gonna lie, I was angry when I saw these hateful responses directed to National Book Store. Like really angry. But I've now calmed down enough to see where this hate is coming from. It comes from a certain feeling of hopelessness- the fear of never meeting your favourite author just when she finally decided to do a book tour in your country, the fear of not being able to appreciate the moment you do actually meet your favourite author because you weren't able to capture it. And you know what? I get it.
We are people. We are allowed to hurt. But please don't tear down someone else because you're hurting.
If you're still hurt and angry about the news, please think of these rules in the following perspective. We're all readers and book lovers here, right? If there's one thing we get, it's learning to understand POVs.
From National Book Store's POV:
They WANT to make us happy. Why else would they bother to work so hard to bring Sarah here? Even though they obviously are a business and they do profit from such an event, they also have the urge to satisfy the hearts of bookish Filipinos who are dying to meet their beloved writer-heroes. And they've done it again and again.
But even they don't get what they want. They're the host of the event, but they don't set the rules. Sarah and her publisher, Bloomsbury, do. I'm sure if it were up to NBS, they'd love to have Sarah do more than just one signing and accommodate as many books as possible.
If we're talking about marketing strategies, having lots of selfies posted on social media about how amazing Sarah's book signing was would be a great one for NBS. So I don't think they're the one who decided this at all.
For other signings, NBS always posted the mechanics right away. This time around they didn't post immediately. Did anyone just stop to think that maybe they didn't know what the rules were gonna be at the time they made the announcement? But they HAD to announce that they were hosting since Sarah's publisher announced the Asia tour. They did however explicitly tell us that they'll announce the mechanics when they can. People just assumed that all six books can be signed. I don't think that's a deception on NBS' part.
From Bloomsbury's POV:
Sarah is their author. They want to make sure she has the best time, but they also need to take care of her. Sarah is doing a tour not just in the Philippines but also all over Asia. They need her to be in great shape so each event can be a success.
From Sarah's POV:
Obviously, we can agree Sarah has superhuman writing skills but other than that, Sarah is human like us too. Meeting 350 people, saying hi to them, signing a thousand books while she's at it ALL IN ONE DAY can get physically-tiring and overwhelming. Even if she wanted to do it for her fans, I'm sure she also wants to feel comfortable and not too stressed and just enjoy her signing in Manila.
I think it's very important to see there are many wants at play here and we're all just coping with it. But please, the hate and bashing needs to stop.
If you're thinking that I'm able to say these things because I'm a blogger and I'll probably get to go to a forum and meet Sarah then, let me tell you something: I don't know that there will be a forum. As of the moment, I haven't received an invite. I have no guarantee at all about it. But I'll brave lining up at the earliest possible time if that's what it takes.
If ever there is a forum, please do understand that bloggers are considered media people. We basically offer free publicity on our blogs and that helps promote Sarah and her books. No, I'm not putting bloggers on a pedestal. But we work hard to do this thing, you know.
I've always been the kind of person who's scared to speak up regarding conflicts and tension in the community, afraid to say I'll say the wrong thing. But to hell with that. I'm taking a stand now. I'm supporting National Book Store, as well as #SarahJMaasinPH.
PS: I want to encourage everyone to talk about this. If you were disheartened by the news or disappointed, talk about what's troubling you. I want you to be honest. But please be respectful. More importantly, be kind.
Hope to see some lovely bookish people at Sarah's book signing!

Did you enjoy reading this post?
Subscribe now to receive fabulous freebies and get the latest bookish reviews and features straight into your inbox.