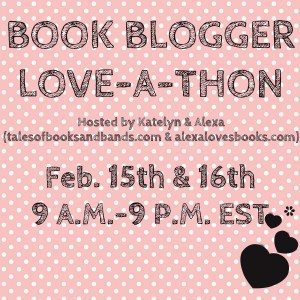 Hey, everyone! Today, Book Blogger Love-a-Thon 2014 officially begins! I am so excited to be joining this awesome event for the very first time! There will be a lot of getting-to-know-yous, mini challenges, nerd-outs, and bloggy love!
For the introductory post, here are my answers to the (pre-made) book blogger interview questionnaire~
1. How did you come up with your blog name?
My initial plan was plan was to think of a blog name with the words 'book' or 'bibliophile' in it. I tried thinking of many names but a lot of them were already taken by other bloggers. And then I started thinking: What do I want to accomplish with this blog? What is this blog for? I realized that it was so that I'd continue reading and loving books. 'Stay Bookish' just came into mind and it really clicked!
2. What genre/subject matter do you read and review most on your blog?
Contemporary! I love this genre so much! I find that it's usually character-driven and often relatable. I love that fiction can be realistic and reflect everyday life.
3. Name the 3 books you're excited for in 2014!
Isla and the Happily Ever After by Stephanie Perkins
Open Road Summer by Emery Lord
Maybe Someday by Colleen Hoover
4. Where in the world are you blogging from?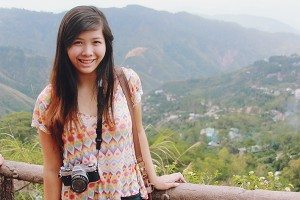 Me during my visit to Baguio City, Philippines!
The Philippines! It's a lovely place full of sunshine!
5. Tell us — how did you get into blogging in the first place?
I started blogging at first just to have somewhere to dump my thoughts and ideas. After a good run with photo blogging through Tumblr, I realized that what I really wanted a book blog. I had already been writing book reviews and posting online about bookish things through Goodreads and my personal blog. Creating my Stay Bookish was pretty random though. I had nothing to do that fateful day (June 12th, 2012) and out of nowhere, I decided to create a book blog on WordPress.
6. Apart from reading, what other hobbies/interests do you have?
Photography, travel, music! I love taking pictures, going to different places, seeing various cultures, and listening to music!
7. If you were stuck on a deserted island, which books would you bring with you?
Well, if I were stuck on a deserted island, I'd probably be having sucky time. Thus I'd need these some of my fave books to uplift my spirits like Fangirl, Slammed & The Sky Is Everywhere, to name a few!
8. If you were stuck in some dangerous situation (like a fire, a sinking ship, a warzone), which book boy or girl would you want to come and save you?
On the top of my head, I'm thinking Chaol Westfall! He can save me anytime. ;)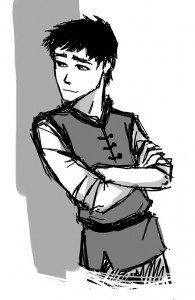 9. You're attending a party with your friends. Suddenly, the DJ changes the song and it's YOUR song – what song would that be?
Oh wow this is a hard one! *thinks about it for an hour* AHA! It'd be Young Blood by The Naked and Famous! That one is seriously my anthem!
10. What 3 movies would you love to have your favorite author write into books, or vice versa?
Not sure about movies into books but for books to movie, I'd love to see Under The Never Sky, Anna and the French Kiss or Sloppy Firsts on the big screen!