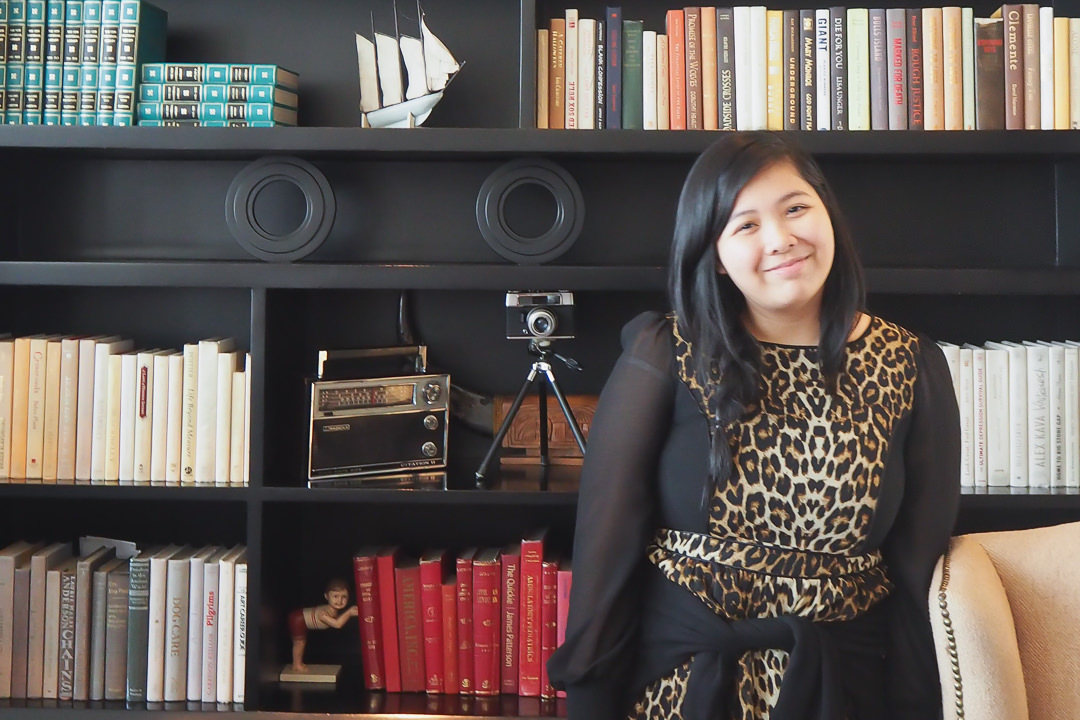 Here's the thing about the internet that we sometimes forget: people online aren't always how they seem. People online don't always look like they seem to.
If you read my blog, don't worry- I'm as every bit bookish in person as I am on here. There's no doubt about that. Honestly, sometimes I feel like I'm most myself on this blog, if this post is any evidence. However, I know that I can't also fully be myself here because something about meeting a person, me specifically, in physical form counts.
The Fat Girl
You see, my dear friends, I'm a fat girl in real life. Maybe for some others it's easy to see this fact in that photo above. Maybe for some others it isn't. (I do kind of rock that dress, don't I? Or maybe I'm delusional.)
But when you meet me in real life, it's undeniable. I'm a size extra large. I'm a girl who likes to eat. I'm bigger than most people. (At least in Filipino standards.) I'm overweight. I'm fat. And I'm not ashamed of that.
The YA Book
Being both fat and bookish, my heart soars with joy when I see the constant calls for diversity in the YA community these days because this also means representation of different body sizes. But more importantly, this meant more fat representation to come.
As a blogger, I'm lucky enough to be able to read upcoming books in advance. And having such a privilege gave me the opportunity to read a book that resonated me so well because of it's awesome fat MC. That book is The Upside of Unrequited.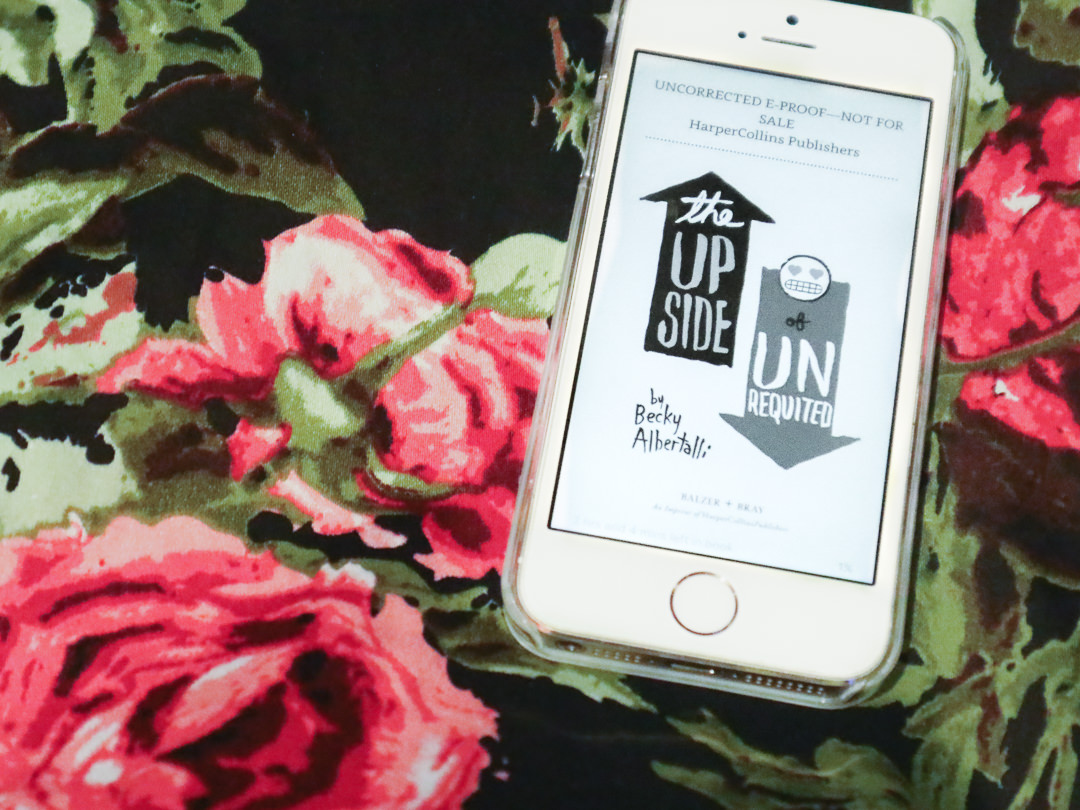 Now, I badly wish I could talk to you guys about all the details that made me fall so madly in love with this book (and by that I mean pretty much every detail), but because it isn't out until next year and I don't want to be a spoiler or a tease and because I truly think it's a book you need to experience for yourself, I'm only going to quickly talk about the fat representation in this book.
Becky Albertalli's protagonist in her sophomore novel, Molly, is a lot of awesome things. And on that list awesome things she is, this is the one that made me love her the most: She's a real fat girl with fat girl feelings and fat girl experiences. I remember finishing this book and feeling like I was seen. Like I was known. Aside from relating to her thoughts so much, I also experienced first hand something that happens to her in the book: a person close to her shaming her body.
I remember messaging Becky later, to tell her I loved her book to death about how this particular scene made me cry a bucket. Not just because of Molly experiencing fat shaming, but also because someone, her sister, actually stands up for her. And I've never had that. And after reading The Upside of Unrequited, I told Becky I was going to learn to stand up for myself. Because I did not deserve to be shamed for being fat.
The Body Shaming
The thing is, it happened again, just recently. A person I really loved was judging me as not being healthy for just the reason that I was fat and pushing really hard for me to lose weight. And I was so heart broken. Because I didn't think I needed to change at all.
What's different this time around is that I finally knew better. Reading The Upside of Unrequited made me realize I deserved to feel beautiful without conditions. It made me realize that I didn't need to swallow down the hurt I've been feeling. It made me realize that I needed to start being honest about my feelings. That only I had the power to stand up for myself. I just needed to inhale and exhale. And speak up.
Writing a letter to someone I love about a really hard thing that I plan to talk to her about.

— Hazel (@staybookish) November 7, 2016
And if you saw my vague thread on Twitter yesterday, you'll realize now that I did. I spoke up. Because I'm feeling especially brave today, I'll share that letter I wrote. (Note: some details have been redacted for privacy. This is not the whole letter but this is the heart of it.)
To you,

You know I love you. Thank you for always being there for me and for always supporting me in what I do and who I am.

It's because I love you that it hurts every time you tell me to lose the damn weight.

It's because you always support who I am that it's painful when you don't anymore.

I am fat. And I say that without an inch of hating myself for being so. When I say I'm perfectly fine being fat, I mean it. I don't mean I want to be fat forever, although there would be nothing wrong if I did. I just accept it. I accept that I am fat.

And it's so easy for me to do so, to accept this, because I believe that being fat is not a bad thing. That fat is not a bad word.

So why then do I take offense when YOU note how I'm getting fat? Because I know that when you do so, you really mean to say that I should lose weight. I know because you keep telling me that too. And while I accept that I am a fat girl, it breaks my heart that YOU don't accept that about me. It's a horrible feeling, realizing that a person you love doesn't accept a part of who you are now.

I know you don't intend to hurt me when you say these things. But I'm starting to learn that intent means nothing. That even if you don't intend to hurt someone, you can. Words can mean so much. And YOUR words mean so much to me.

I also know that you're only worried about me, about my health and I completely believe you. The thing is- I'm supposed to get there on my own, you know? I'm supposed to just decide for myself that I want to lose weight because I want to be healthy.

Because I know I'd hate myself if I ever tried to lose weight because of other people's opinions on my own body. I'd hate myself if I let other people make me feel that my body is anything lesser just because it didn't fit people's silly idea that being skinny is so much better than being fat and try to lose weight because of that. More importantly, I'd hate myself if I let anyone shame my body.

I don't want to hate myself. And that's why I can't let you shame my body. That's why I won't lose weight because YOU think it's best for my body.

I'm the only one who should decide what to do with my body. I hope you understand.
The End
Saying this letter out loud was even harder than writing it. I was honestly a mess. And the talk that person and I had wasn't perfect. I was called "sensitive."
But at the end of it all, I heard the words I needed to hear last night: I'm sorry. I love you no matter what.
All I wanted was for her to realize that body shaming is hurtful and understand that she was hurting me. And she did. And our relationship wasn't broken. Everything was okay. Not perfect, but okay. We even ate chocolates after.
So this is my fat girl story. And I'm proud of it. But this wouldn't be possible if I hadn't read Becky's story. And for that, I'm extremely grateful. The world needs more YA books like The Upside of Unrequited. I'm beyond excited for people for everyone to read it in 2017.
If you've ever felt like your body was being shamed by someone you love or anyone else, talk to them. Tell them it hurts. Tell them it's not okay.
I know it's hard, especially when you start to reason that they're just worried about you. But there are no excuses and no exceptions for body shaming.
So stand up. Speak up. I believe in you.

Did you enjoy reading this post?
Subscribe now to receive fabulous freebies and get the latest bookish reviews and features straight into your inbox.