We're at the last stop for Ah-MAY-zing Reads 2014! Can you believe it? Anyway, Candlewick author, Sarah Combs will be our final author for the month and she'll be sharing a story soundtrack for her debut novel, Breakfast Served Anytime! I've been excited for her book ever since I stumbled upon it and I seriously can't wait to read it! Hope y'all enjoy Sarah's song picks!
The Story
Heart of the matter
Gloria Bishop finds her tribe—and, kind of by accident, herself—at a Kentucky "Geek Camp" for gifted and talented rising high school seniors.
Moment of truth
"You don't pick the books you fall in love with any more than you pick the people you fall in love with. It just happens, and when it happens, you know. Who's to say where love comes from?"
The Soundtrack
"The Lighthouse" by Interpol
This is the token makeout song (and you KNOW Gloria Bishop, literature geek that she is, would be all over the allusions to Virginia Woolf).
"Paradise" by John Prine
Gloria's friend Sonya employs this song as her ringtone. Written by the unforgettable Kentucky-bred John Prine, it's one of the all-time great Kentucky anthems: a protest ballad and a love song all in one.
"Always Already Gone" by The Magnetic Fields
Gloria has a proprietary love of the Magnetic Fields. And kind of a hang-up on this guy who maybe doesn't full-on love her the way she loves him. And a penchant for pre-emptive nostalgia. This song touches on all of that and more.
"Kentucky" by The Everly Brothers
In BSA, the state of Kentucky is a character in her own right. Gloria has always wanted to leave the Bluegrass, but at geek camp she finds herself sort of falling in love with the place that raised her. This song captures all the reasons why.
"Cinema Air" by The Gloria Record
Because Gloria gets a mix CD from this boy (!!!) and the CD has Gloria Record songs on it. And because the words "cinema air" conjure for me the feeling behind this line from the book: "I felt empty-full and dazed, changed somehow, the way I feel when I step from the dark of a movie theater into the sunlit realm of real life."
"June Hymn" by The Decemberists
This song would be at the top of Gloria's famous Thinking Playlist. If I had to choose one tune that sums up the overall feeling of BSA, it's this one: high on summer (and June in particular), full of longing, tinged in wonder. Nobody does that feeling better than the Decemberists.
Thanks for allowing us to glimpse your book's playlist, Sarah! Can't wait to meet Gloria and read about her adventures at Geek Camp. Book nerds, if you enjoyed this post, you definitely should add Breakfast Served Anytime to your to-read shelves!
Want a chance to win BREAKFAST SERVED ANYTIME? Enter the giveaway below:
About The Author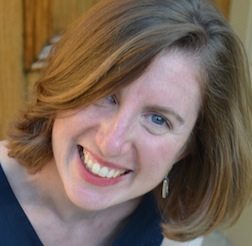 Sarah Combs leads writing workshops at a nonprofit literacy center in Lexington, Kentucky, where she lives with her two young sons, two pacifist bird dogs, and her husband, whose acquaintance she first made at a geek camp not unlike Gloria's.
Favourite stories: The Heart is a Lonely Hunter by Carson McCullers; Charlotte's Web by E.B. White; The Secret History by Donna Tartt; Anne of Green Gables by L.M. Montgomery; Franny and Zooey by J.D. Salinger.
Favorite soundtracks: My devotion to the Cowboy Junkies is deep and wide; they have provided the sound track to my life, pretty much. As for favorite individual songs? Hmm. I think it doesn't get much more perfect than Nick Drake's "Cello Song." And "Under the Milky Way" (The Church) never fails to work its magic on me. My favorite cover song is the Sundays' gorgeous take on "Wild Horses" by the Rolling Stones…and we all know to what unforgettable effect that song was used in the prom episode of Buffy the Vampire Slayer. Swoonathon!