Happy book birthday to Corey Ann Haydu's Life By Committee, which releases today! I adored LBC very much so it is a delight to be able to share Corey's playlist for her novel. She chose some fantastic songs that really fit LBC- definitely give this one a listen!
The Story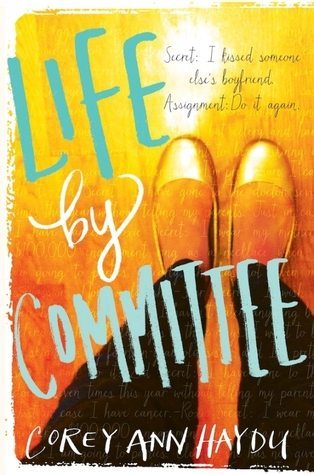 Heart of the matter
LIFE BY COMMITTEE is about a girl named Tabitha who gets involved in an anonymous online community. When it starts to intersect with her regular life, things get complicated. It's also about loneliness, making mistakes, changing bodies, and Vermont.
Moment of truth
"I am a vacation. I am the Caribbean, and a fruity drink and a sunburn and a break from real life. But I am not real life. No one lives in the Caribbean. No one wants a fruity drink every day. I'd rather be water: necessary."
The Soundtrack
"Rainbow Connection" by The Muppets
What's so amazing
That keeps us stargazing
And what do we think we might see
Some day we'll find it
The rainbow connection
The lovers, the dreamers, and me
This is a song that Tabitha finds romantic and emotional and beautiful. I think it's about who Tabitha wants to be. A lover and a dreamer and trying for something bigger and better.

"Get Me Away From Here I'm Dying" by Belle and Sebastian
Get Me Away From Here I'm Dying is also in the book, and honestly it's partly in there because I listened to that song a lot when I was in college. I love the way it's both jaded and upbeat. It sounds like Tabitha to be. Sort of over it. Sort of hopeful. Sort of fun. Sort of down on everything. 
"The Frug" by Rilo Kiley
And I can hate your girl
I can tell you that she's real pretty
I can take my clothes off
I cannot fall in love
I listened to this song a LOT while writing LIFE BY COMMITTEE. Again, it's a song that feels like Tabitha. It's joyful and protective. I love that the lyrics are clear and simple and the declaration "I will not fall in love" that is hard to believe. It's perfect for a girl who is falling for someone else's boyfriend and is trying to manage complicated feelings. A girl who is trying to own herself and can't quite pull it off.
"Don't Think Twice It's Alright" by Bob Dylan (Ed Sheeran Cover)
I ain't sayin' you treated me unkind
You could have done better but I don't mind
You just kinda wasted my precious time
But don't think twice, it's all right
This is one of my favorite songs of all time. Certainly my favorite Dylan. I think Cate and Paul would play this song at Tea Cozy. I also think it's the ultimate in breakup songs—the pain of trying to be okay with the end of something. Tabitha is working through the aftermath of various relationships that haven't worked out, and that she hasn't felt fully understood in. I think this song captures that so well.
"Nobody Knows How Loud You Heart Gets" by Lucius
Tell you all my memories and you will tell me yours
The colors of my favorite trees before the winter's war
The reasons you and me should talk about the great unknown
Without the distance in between and all the obstacles we've known
I got really into this right around the time I was revising LIFE BY COMMITTEE. It's a stellar song that feels like something LBC, the group, would listen to on repeat together. To me it's about opening up and connecting and finding each other and the ferocity of our hearts. And that is everything LBC is about and everything Tabitha wants to experience.
I love that all these songs give us a great glimpse of Tabitha's character! Thank you so much for sharing your story soundtrack with us, Corey! Book nerds, don't forget to add Life By Committee to your to-read shelves! To follow Corey and her writing, check out her links below!
Want a chance to win LIFE BY COMMITTEE? Enter the giveaway:
About The Author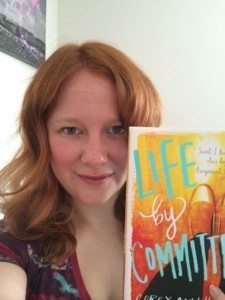 I'm a YA and MG author living in Brooklyn. I started working in publishing in 2009, got my MFA at The New School in Writing For Children in 2012, and my first YA novel, OCD LOVE STORY came out July 2013. I like the things you hate about yourself.
I'm also into cheese, podcasts and feminism.
I was once a foreign exchange student, an actress in a Samsung commercial, a cocktail waitress and a telemarketer. I was also once a pretty unhappy teenager.
If you want to know what matters to me and how I see the world read John Patrick Shanley's WELCOME TO THE MOON AND OTHER PLAYS. And eat some cheese, of course.
Favourite stories: The Bell Jar by Sylvia Plath, The Liar's Club by Mary Karr, The Giver by Lois Lowry, How To Breathe Underwater by Julie Orringer, A Prayer For Owen Meany by John Irving
Favourite soundtracks: The Empire Records soundtrack is a total classic. I'm going to go ahead and call it the greatest soundtrack of all time. I also love oldies, so I'm a sucker for the Now and Then soundtrack and the That Thing You Do soundtrack. And for everyone who was a teenager in the late 90s, shout ours to Clueless soundtrack and Romeo and Juliet soundtrack.