Happy Monday, book nerds! We're at the start of the second week of Ah-MAY-zing Reads and we'll be having Huntley Fitzpatrick for another slam book interview. What I Thought Was True was released a few weeks ago but if you have yet to pick it up or grab a copy, you can learn more about the book and the author behind it today. This has got to be my favourite interview thus far so I'm extremely excited to share it with y'all!
The Author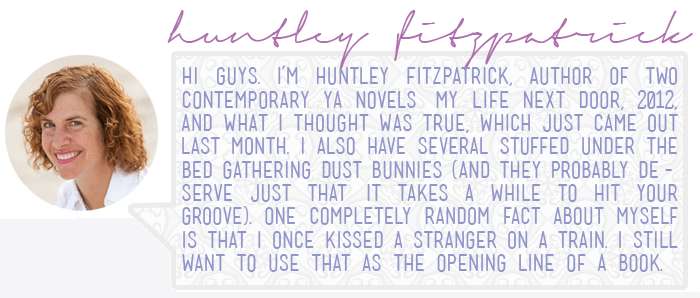 Writer loves
Celebrity crush – Very hard to narrow down. I have six kids, five of which are girls, and we actually discuss this and argue all the time. "He's mine." "I saw him first." It's very mature. Right now, I'd have to admit to complete fondness for Zac Efron. His SNL appearances are brilliant—as are his lovely eyes. And he has that off-handed charm.
Movie that made you cry – I always cry during BENJAMIN BUTTON, at the end, where he reads the letter to his daughter: the end goes like this: "I hope you live a life you're proud of. If you find that you're not, I hope you have the strength to start all over again." Tearing up right now.
Contemporary read – We Were Liars, by E. Lockhart. THAT book made me cry. Brilliant, beautiful, heartbreaking, and real.
Fill in the blanks
One writing quirk of mine would be… This amazing blogger friend of mine sent me a mug called 'The chicken mug'—it looks like a porcelain chicken. She told me it would ward off writer's block and general stress. I am unable to start typing on the computer without the chicken mug nearby, filled with coffee or tea or water. When I run out of words, I stare at the mug and they always come to me.
The coolest/funniest experience I've ever had with a reader was… a letter I got from a boy, after my first book was published. I didn't expect to be read by boys, back then, (or anyone, really, beyond my immediate family). He wrote that he'd read MY LIFE NEXT DOOR, because he'd had a bad break-up, and wanted to learn how to be a better boyfriend, and the local librarian handed him my book and said "Study Jase."
The Book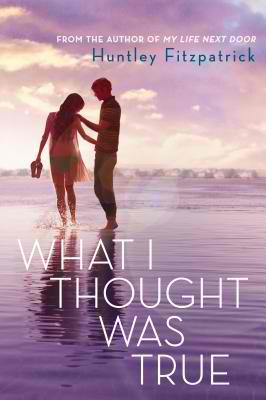 What I Thought Was True is set in summertime. Why do you think summer romances are so popular when it comes to YA novels?
So many reasons… Summer is the space between—and so is YA—between childhood and being a grown up, one school year and another, sometimes, if you travel, one place and another—a time of both memory and possibility. One summer can change everything about who you are and who you want to be.
Gwen sounds like a very interesting protagonist, dealing and figuring out a lot of stuff. What can you say about her struggles and her character development through out the story?
Gwen is a character I'm really fond of. She's such a mix of hope and fear, bravery and insecurity. She has a sarcastic inner voice, but she's all heart and optimism at her core. She comes from a background of people who think what has been is what will always be, and she's struggling to believe that isn't true. That she can begin again, with herself and the boy she loved and lost.
We want to know more about Cass, Gwen's love interest! Could you describe him for us?
Cass was a pure pleasure to write. He's both blunt and bold and also cautious. His hobby is drawing maps because he likes to imagine where the story will go. He's loyal to people—his friend Spence, who can be a bit of a jerk; his family, even though they are disappointed in him; Gwen, whom he remembers from childhood and sees clearly, even though she puts up fronts. And Gwen's mother always refers to him as "the polite one with the abs."
Complexities, when it comes to love and families, seem to be very prominent in What I Thought Was True. How could you relate those complexities in your novel to those in real life?
I once heard a description of Noah's Ark that went like this "We could never stand the struggle within if it weren't for the storm without." Families are like that, for me, full of complications and drama and conflict, but also full of peace, complete understanding, and acceptance. They are impossible, sometimes, no matter how wonderful, but they are also our safest place.
Dedication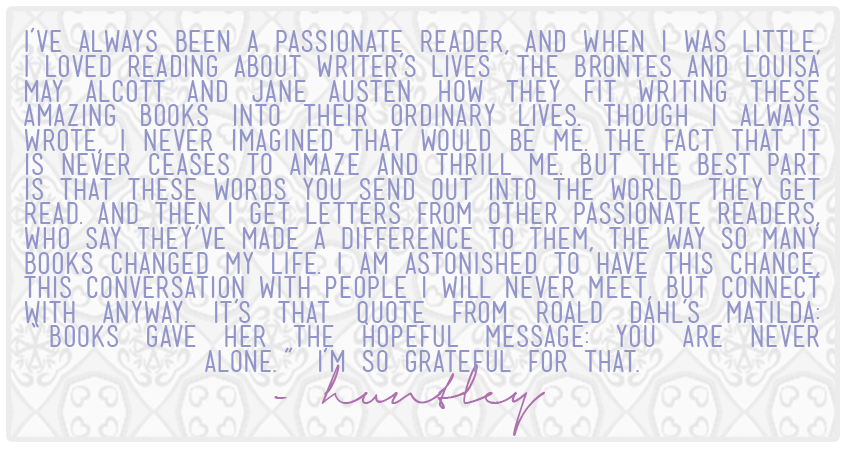 Infinite thanks to Huntley for that wonderful interview! Cannot wait to read your ah-may-zing novel and meet Gwen and Cass! Book nerds, don't forget to add What I Thought Was True to your to-read shelves! Looking to follow Huntley? Check out her website, Twitter, Facebook and Goodreads!
Wanna win WHAT I THOUGHT WAS TRUE? Enter the giveaway below: