Hey, everyone! We're finally kickstarting Ah-MAY-zing Reads 2014! Today, Kieran Scott will be sharing about her Spring 2014 release, Only Everything, which is out tomorrow! 
Only Everything by Kieran Scott
The Characters
Only Everything combines contemporary romance with a touch of Greek mythology, when the love goddess Eros is banished to Earth and forced to match three couples without her powers in order to save the love of her life from the wrath of the Gods. Here's a little primer on the cast of characters, both mortals and deities. (And, BONUS! I've added my choices for a dream TV cast!)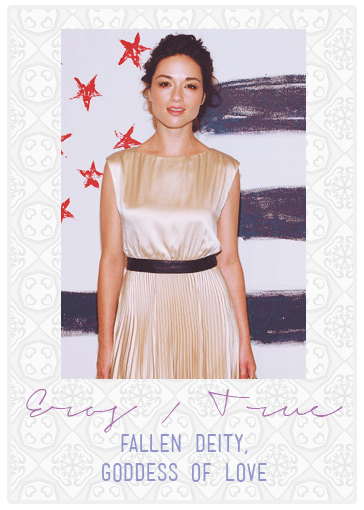 Dream Cast: Crystal Reed
In traditional Greek mythology, Eros (later called Cupid by the Romans), is a male God, but I made my Eros female because I wanted to write a cool, quirky heroine. Eros takes the name True once she gets to Earth in order to remind herself of her mission of true love. Eros is a lower Goddess, which means that even on a normal day she has fewer powers than upper Gods and Goddesses like her mother Aphrodite and her father Ares, but on Earth she has zero power—and she doesn't like it.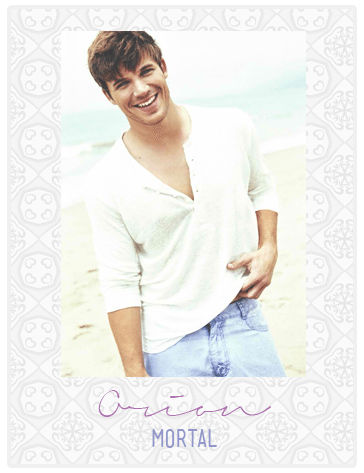 Dream Cast: Matt Lanter
Thousands of years ago, the expert archer Orion was murdered by his Goddess girlfriend Artemis, when her brother Apollo tricked her into hitting a moving target on water with her arrow. The target turned out to be Orion, and she pierced his temple, killing him instantly. In her grief, Artemis set Orion among the stars, so that she could be reminded of him for all eternity. Just last Valentine's Day, Eros tried to release him from his ethereal prison on a whim, and it worked. Terrified by her newfound power and not knowing what it meant, Eros hid Orion away on a secluded island, where they fell in love.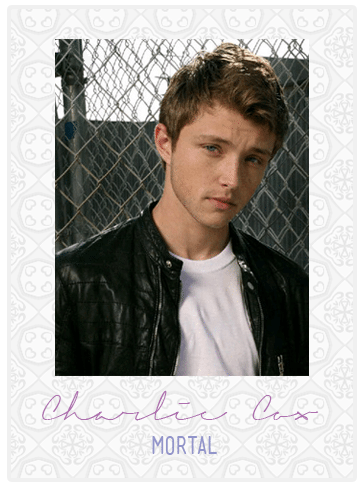 Dream Cast: Sterling Knight
Charlie is the romantic lead of Only Everything. As the new kid in school and an obvious nice guy, True latches on to him right away and makes it her mission to find him a match. Charlie goes along with it (see "nice guy" status), but he's really just having a hard enough time fitting in with the cool crowd and trying to keep up his cred as an awesome drummer in the band at the same time.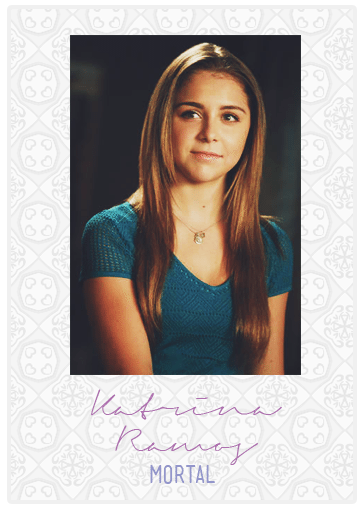 Dream Cast: Mackenzie Vega
Katrina is a girl with a sad history, who's just trying to put her life back together when Charlie catches her eye. Unfortunately, she already has a (not-so-great) boyfriend, and Charlie seems to keep going out with other girls (thanks to True). With friend troubles, mom troubles, school troubles and boy troubles, she has a lot on her plate while pining for the new boy.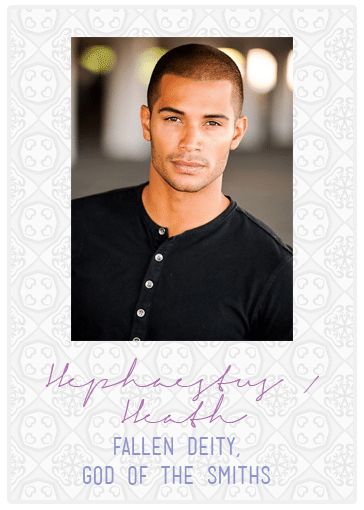 Dream Cast: Nathan Owens
Hephaestus has been repeatedly banished to Earth by Zeus, and was thrown so violently from the heavens the last time that his legs were irreparably damaged. Confined to a wheelchair, Hephaestus hasn't let his banishment or his perceived disability slow him down. He's a master mechanic and metal artist, and very wise in the ways of the mortals, having lived among them for thousands of years (though he's never aged a day). He arrives on the scene after True asks her sister Harmonia for help, and quickly becomes True's best friend and guide.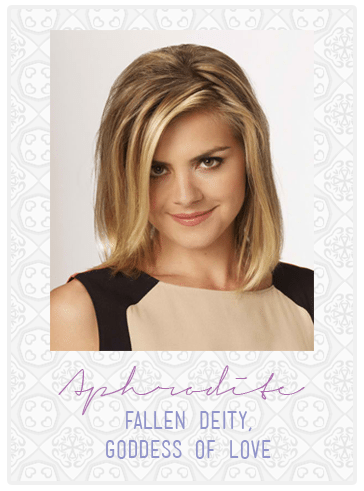 Dream Cast: Eliza Coupe
Beautiful beyond all compare, Aphrodite is Eros' mother and is also parent to Harmonia, Phoebus (God of Terror) and Deimus (God of Fear). She is very vain and has always been proud of the fact that she's never been banished to Earth—until now. She blames True for getting her shunned from Mount Olympus, and pressures her daughter to complete her mission as quickly as possible, so she can return to her position of power.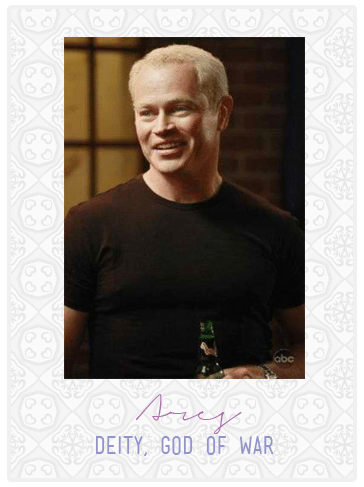 Dream Cast: Neal McDonough
Ares is Eros's father and is none-too-pleased that his daughter has taken up with a mortal and is lying to all the other Gods. Concerned above all with proving his loyalty to Zeus, he betrays his daughter and sets Eros's banishment in motion. Needless to say, there is no love lost between daughter and father.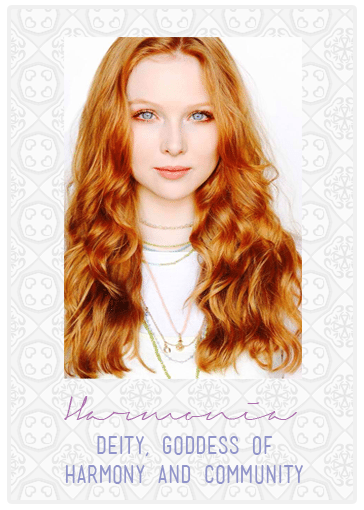 Dream Cast: Molly C. Quinn
Harmonia is Eros's level-headed, loving sister, the person whom Eros turns to whenever she needs advice. She becomes bereft when Zeus banishes Eros and her mother to Earth and when Ares gets so angry. She just wants everyone to get along.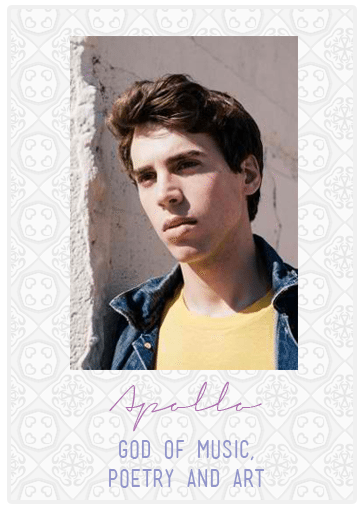 Dream Cast: Jordan Gavaris
Apollo was once a revered God, but has become tetchy of late as the arts he represents have become less valued by mortals. For centuries Artemis has held his infraction with her and Orion over his head, and he'd do just about anything to right that one wrong—if only to shut her up.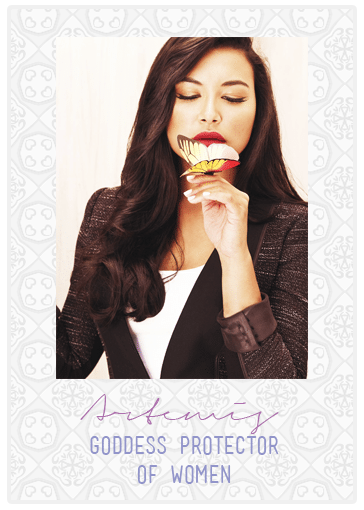 Dream Cast: Naya Rivera
Artemis has mourned her love, Orion, ever since the day he died. She is covetous of him, and would fly into a murderous, jealous rage if she ever found out that Eros rescued him, and fell for him herself.
Thank you for introducing your characters to us, Kieran! Can't wait to meet them when we get to read Only Everything! Book nerds, don't forget to add Only Everything to your to-read shelves! And of course, follow Kieran on Twitter and Goodreads!
Want a chance to win ONLY EVERYTHING? Enter the giveaway below:
Author Bio:
Kieran Scott is an author of young adult fiction including the upcoming TRUE LOVE TRILOGY (May 2014) and the HE'S SO/SHE'S SO TRILOGY, which includes SHE'S SO DEAD TO US, HE'S SO NOT WORTH IT and THIS IS SO NOT HAPPENING. Her other books include the Non-Blonde Cheelerader trilogy, Geek Magnet and Jingle Boy.