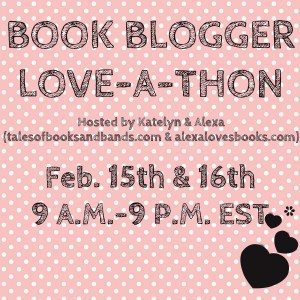 It's the second day of Book Blogger Love-A-Thon! For today's mini-challenge, we'll be having Mashup, where bloggers combine their love for books with their non-bookish hobby! So today I'm going to mashup two of my favourite things: Vintage cameras & YA novels!
Fact about me: I love collecting vintage items! It's a trait I inherited from my dad. Being a photo-enthusiast, I love collecting vintage cameras even more. I lust over antique cameras. I have a whole list of old cameras I dream of owning and shooting with. (I do use old-school film and I find it fun!)
So, how exactly am I going to incorporate this with YA Novels? Well, I know of some books with vintage cameras on the cover so I'll be featuring them and naming the possible model of the camera. I'll tell you some facts about the model too!
All You Get Is Me by Ivonne Prinz & a Yashica Electro 35 GSN
I haven't read this book yet but I spotted it on Goodreads and the camera on the cover reminded me of one that I own: a Yashica Electro 35 GSN.  This model is a rangefinder, which is sort of like the compact camera or 'digicam' of film. Anyone watch The Amazing Spiderman? This is the camera that Andrew Garfield has in the movie! Lol, I just love throwing that fact out there!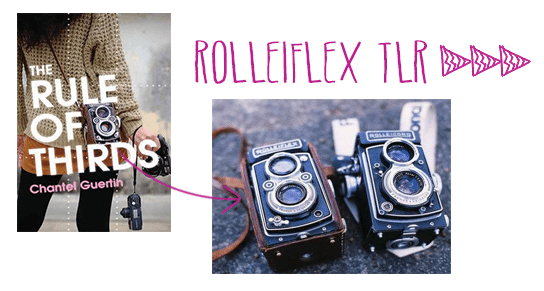 The Rule of Thirds by Chantel Guertin & a Rolleiflex TLR
This one, I've read already. Take note: I adored this book! The Rule of Thirds was short, sweet and fun and I loved that dealt with photography among other things! Check out my review here! I'm absolutely fond of this cover because a) it's pretty b) that TLR is gorgeous! I don't have a TLR camera but it's on my must-have list! If you're wondering what a TLR is, it's a twin-lens reflex camera which means it has two objective lenses, which makes it fundamentally different from the single lens reflex camera or SLR.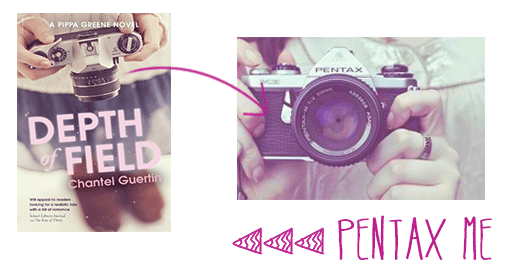 Depth of Field by Chantel Guertin & a Pentax ME
Depth of Field is the sequel to The Rule of Thirds and guys, I'm real excited to read this one. (Ugh why is August so far away) The cover, yet again, is gorgeous, and I love that it really does use the concept of Depth of Field! The Camera on the cover could be any film SLR really but I'm gonna take a wild chance and go with the Pentax ME. Now, I'm not exactly familiar with this camera since I don't have it but like the Rolleiflex, this one's on my must-have list too!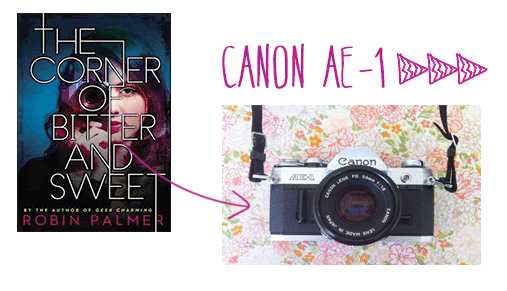 The Corner of Bitter and Sweet by Robin Palmer & a Canon AE-1
I'm excited about this one the most because I do have this camera! I use my Canon AE-1 regularly, and I super love it.  Not that I'm sure the camera on the cover is a Canon AE-1, because like with the book above, it could be any model, but it's a plausible guess. The Canon AE-1 is also a film SLR and it uses a 35mm film (Do you even want me to go deeper into that?) and also has interchangeable lenses. I use a 50mm f1.8 with my own AE-1 and the photos look beautiful! Used with fresh film, it could totally go up against a DSLR. Btw, the Corner of Bitter and Sweet was a good read! I really liked the book!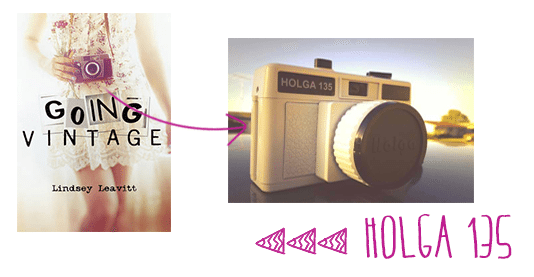 Going Vintage by Lindsey Leavitt & a Holga 135
I liked reading Going Vintage but photography was not relevant to the story. I guess the vintage camera fitted the theme that's why it's on the cover. Anyway, I have several guesses for the camera on the cover but it looks closest to a Holga 135.  The Holga 135 is not a vintage camera per se, as they still make the model today. It does use film though, which I guess makes it less modern than the cameras everyone uses today. It is considered to be a lomography camera and it creates very cool filters for photos.
So, what do you think? Are you interested in any of the YA novels mentioned? Which vintage camera is the prettiest? Do you like cameras? Do you ever wish you had a collection? Are you a fellow vintage camera lover? Are you a supporter of film photography too? Tell me!