After a very tiring week, it feels like a huge reward to break away from the main city and head to Baguio for the weekend.  Since it's a short trip (two days, one night), instead of gallivanting, I took the opportunity to relax and just catch up with my reading. I brought several books with me (of course) but I want to showcase the one in my bag right now.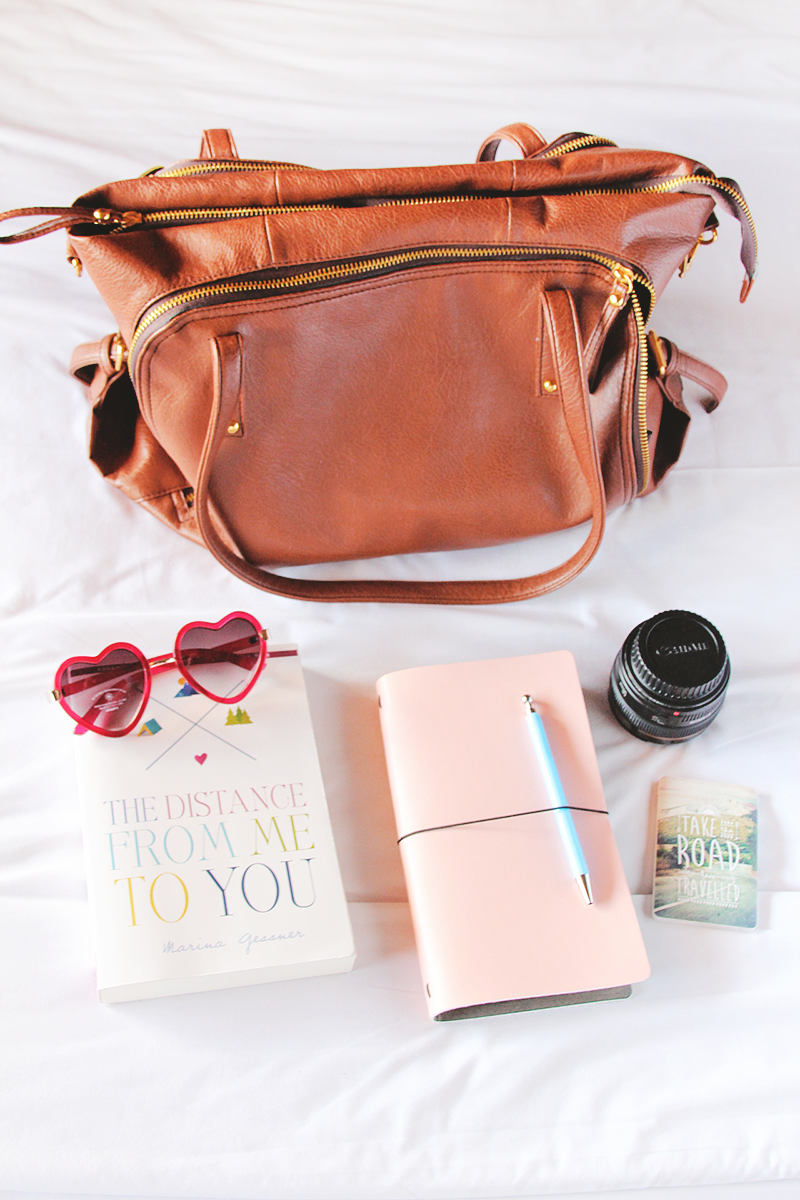 Book In My Bag
McKenna Berney is a lucky girl. She has a loving family and has been accepted to college for the fall. But McKenna has a different goal in mind: much to the chagrin of her parents, she defers her college acceptance to hike the Appalachian Trail from Maine to Georgia with her best friend. And when her friend backs out, McKenna is determined to go through with the dangerous trip on her own. While on the Trail, she meets Sam. Having skipped out on an abusive dad and quit school, Sam has found a brief respite on the Trail, where everyone's a drifter, at least temporarily.
Despite lives headed in opposite directions, McKenna and Sam fall in love on an emotionally charged journey of dizzying highs and devastating lows. When their punch-drunk love leads them off the trail, McKenna has to persevere in a way she never thought possible to beat the odds or risk both their lives.
I've been interested in The Distance from Me to You since one of my fave bloggers, Jen from Pop Goes The Reader, wrote a review about it. I'm not a hiking enthusiast (more of a road trip girl) but I always admire people who do hike because it requires so much preparation and effort. Hearing how the Appalachian Trail was so vividly shown in the story got my attention because if I can't hike it, why not read about a person who does, right?
At the moment, I've yet to reach the hiking part but I'm really excited to! The story is told in third person, which is almost always a struggle for me to get into if the book is contemporary, but surprisingly, I found it easy with this one. So that's pretty promising.
What Else Is In My Bag?
Quest Journal + Pen
"Take the road less traveled" power bank from Typo
Camera (not shown) + 50mm Lens
Heart sunnies from Aldo
I have a thing for heart sunnies. In fact, I already have a collection. Anyway, good thing I brought one with me since despite the cool weather in Baguio, the city was perfectly bright and sunny. Too bad I prefer reading indoors.
What book is in your bag? Any other cute things you keep there? Have you read The Distance From Me To You? And how was your weekend?