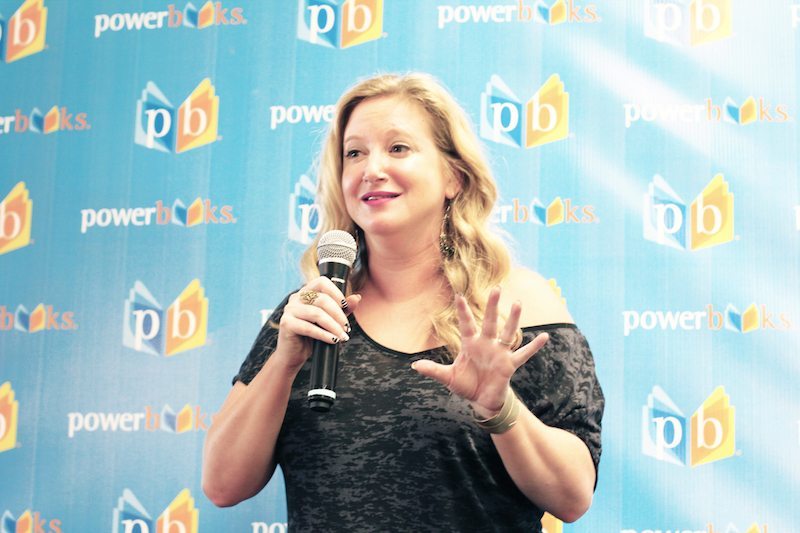 I never knew I'd come to love YA Fantasy until I came across Leigh Bardugo's Shadow and Bone. I bought it on a whim, not really knowing much about it, and decided to crack it open one day while stuck in a car going on a seemingly endless dreary road. From the point I began reading until I turned to the last page, I was completely enthralled by the Grisha world. Even now that I've finished the trilogy and loved it in entirety (check out my series review!), the Grisha world remains unforgettable.
Being such a fan of the series, I've always dreamed of meeting the author behind its amazing fantastical world. Who's to say dreams don't come true when just today, thanks to the amazing National Bookstore, I met Leigh Bardugo in the flesh? Truly, it was an exciting Sunday morning. 
The Q&A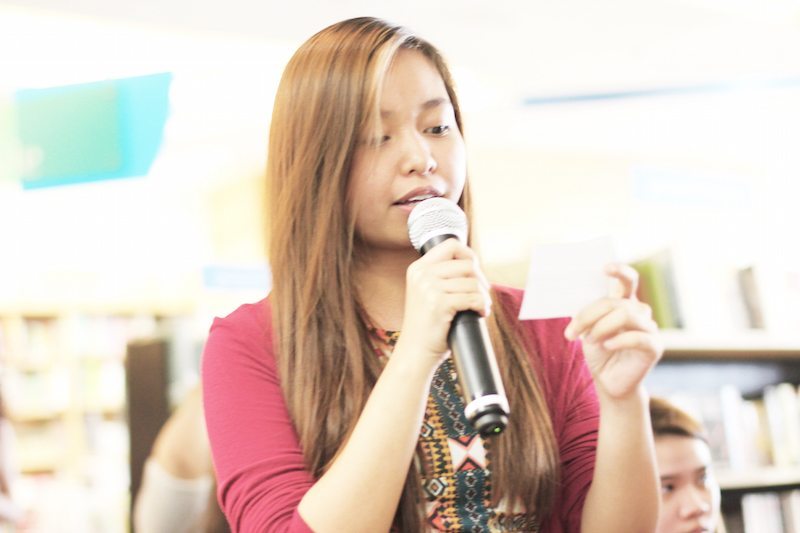 Dea of Teen Readers' Diary asking Leigh a question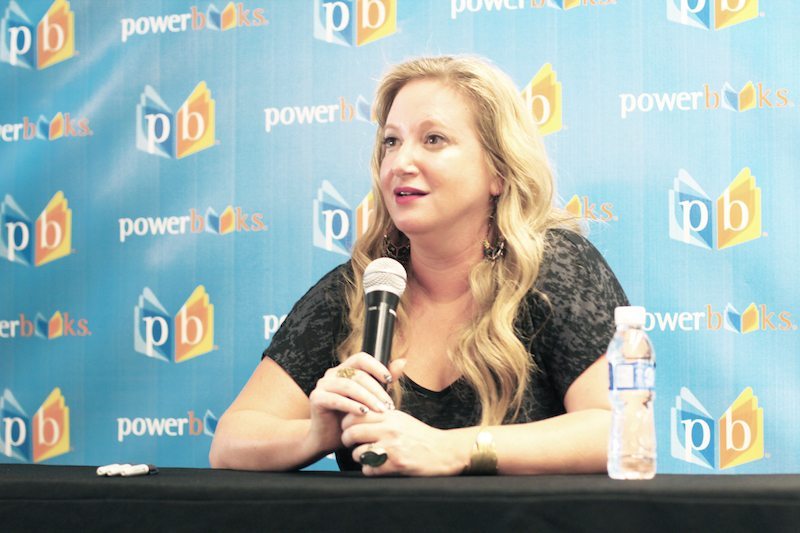 Along with my fellow bloggers, we asked Leigh all our questions about her Grisha trilogy and upcoming book, Six of Crows, during the Q&A. Leigh was absolutely hilarious and lively during the forum! She was so much fun to listen to and I adored her even more for being so engaging! Here are some of the facts we learned from her during the event:
Leigh wouldn't want an amplifier because that would mean killing animals. But if she really had to choose, her amplifier would be the firebird.
In terms of collaborations with other authors, Leigh would like to co-write with Laini Taylor. She also said she would love to write a book with JK Rowling, if only to meet her. She'd probably stare at Rowling and let her do all the writing though.
Leigh is exploring the horror genre with Slasher Girls & Monster Boys, a thriller anthology releasing this August. She's also doing a contemporary anthology, Summer Days & Summer Nights, but despite her story being set in this world, it will still have fantastical elements to it.
Even though Leigh was a Game of Thrones fan, she felt like there were too many stories set in England and wanted to take her readers some place different instead. She also knew she wanted to write a story about the rise of modern technology against magic and that was how the Grisha world came to be. With Six of Crows, she wanted to write about a thriving criminal underworld.
The concept of Shadow and Bones is a classic "Chosen One" story. However, with Six of Crows, the story has 5 POVs as well as heist and romance. Leigh wanted to write characters who weren't chosen and instead were just looking to survive.
Leigh rocked making a haiku on the spot when Louisse of The Soul Sisters asked her to share one that will describe Six of Crows.
I asked Leigh about when she plans to write Sturmhond's story and she said she's taking a break from the Grisha world after writing the sequel to Six of Crows so she might write it after. Upon realising that the Grisha trilogy needed a privateer and having Sturmhond suddenly appear in the book (talking endlessly and keeping at it), Leigh already knew what his story was and who he'll end up with. She loved writing him and loved how when all the other characters were questioning what was right and wrong, Sturmhond remained relaxed and was just amusing.
Leigh worked as a makeup artist before and when she left her town to evade the Halloween rush (when makeup artists were the busiest), she ended up in a place (I forgot where okay!!) and woke up to absolute darkness one time, unlike the usual ambient skies in LA apparently. This made her realize that no matter how old or smart you get, the fear of darkness never goes away. What if darkness was a place? This inspired the Shadowfold.
On building the Darkling's character: Leigh meant for him to be appealing and sexy because according to her, the most dangerous people in our lives are the beautiful, brooding, charming ones as they have the power to manipulate us.
When asked why the Darkling wasn't a main love interest, Leigh told us that she sets out to write characters, not love interests or antagonists. For her it gets really boring apparently, when you write characters that way. She also talked about how she wasn't a fan of people tearing each other down because of ships (Malina vs Alarkling, I'd suppose) but says that Filipino fans seem to be on no particular team except "team book" and that was nice.
An Alina novella may be a possibility in the future should Leigh finish writing Sturmhond's books!
Leigh likes to take bits of the cultures in our world to incorporate in her stories. Like with the Grisha language it was kind of Russian, with Kerch it was Dutch, and Fjerdan was Scandinavian.
Life has been so different for Leigh after the success of her Grisha trilogy. From being broke, she was now living her dream job. She told us a sweet story of how her best friend from when she was much younger drew a picture of her doing a book signing one day and how she still has the drawing to this very day.
Leigh shared a very heartwarming message to her Filipino fans after the forum. I didn't record it on video but most of my fellow bloggers did (so y'all better watch out for their recaps!) but check out this snippet that Kai of Amaterasu Reads filmed!
The Signing
Since I had several books (eight!) to get signed, I decided I was okay with going last for the signing. So while every one was lined up, I chatted with the awesome people at the event.
I then met Leigh's wonderful agent, Joanna Volpe, and she talked to Louisse and I about how she was glad she helped with organizing the tour and also how wonderful Susan Dennard was and how Susan and Sarah J. Maas would love to come to the Philippines too. *fingers crossed* She was super sweet and wore these fabulous pink glasses: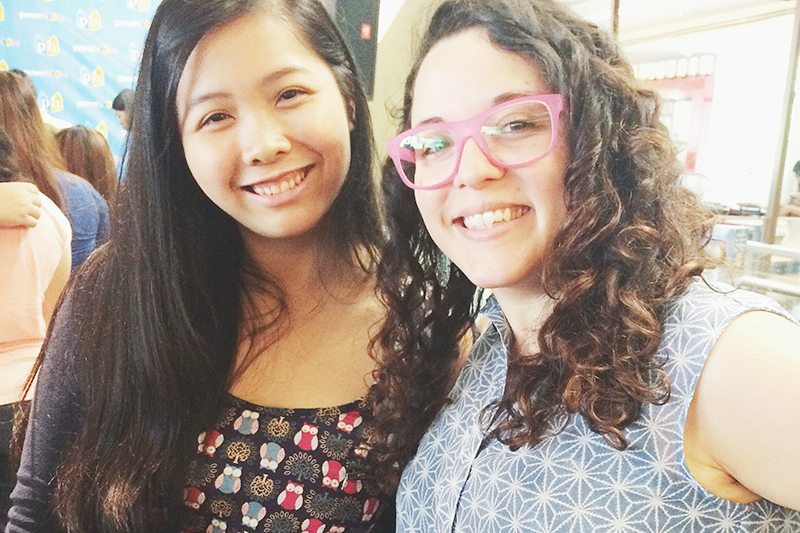 I also hung out with some new bookish friends, two book vloggers- Kevin of Tome Bound and Salve of Cuckoo For Books! As always, it's a great pleasure to see my other blogger lovelies: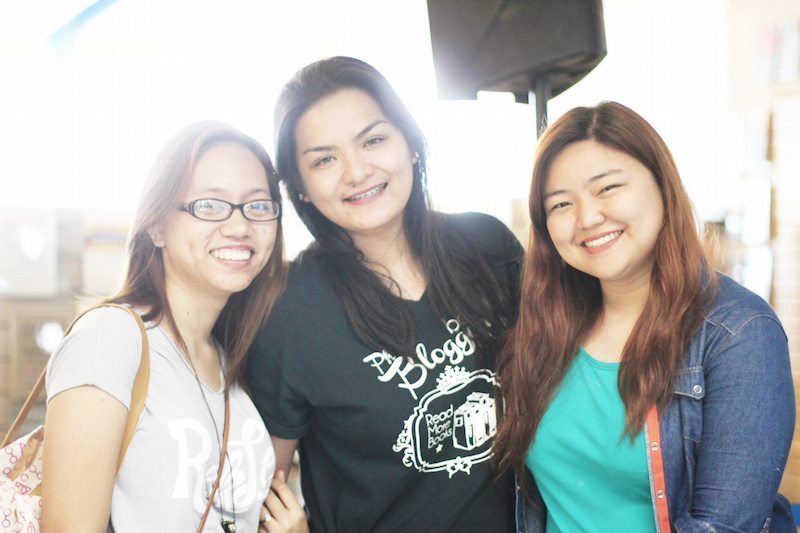 Kazhy of My Library in the Making, Kate of The Bookaholic Blurbs, Algel of Tea-rrific Reads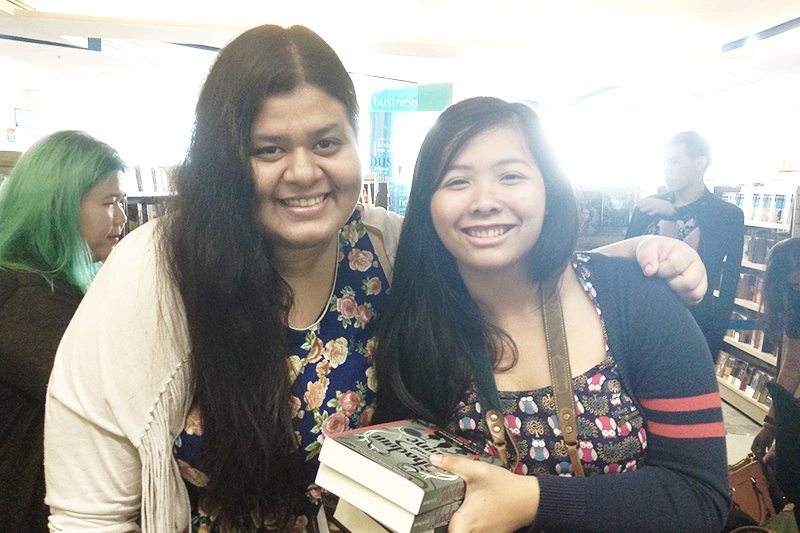 Lyra of Defiantly Deviant + me
When it was finally my turn to get my books signed, I may have been grinning like a fool. Seriously, it was freaking wonderful to meet Leigh and chat with her! We talked about Bellamy (we were both fans of The 100) and I also told her how the last book made me feel all the things and cry. Of course, we also talked about my favourite character- you guessed it: Sturmhond. The whole thing was surreal and Leigh was so enthusiastic and completely lovely. I just adore her to infinity!!!!!!!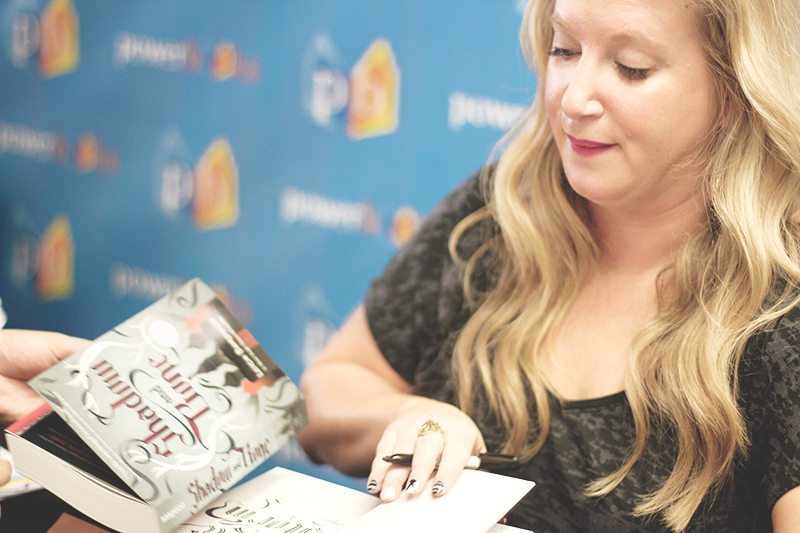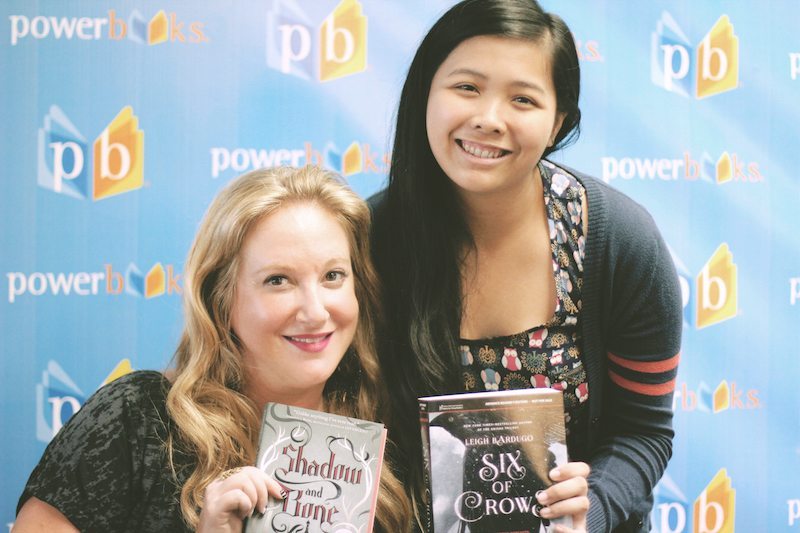 Finally, us bloggers took a group photo with Leigh with our Six of Crows ARCs! (Thank you 5ever, Macmillan and NBS!) I have so much love everyone in this photo who made the event as awesome as it was: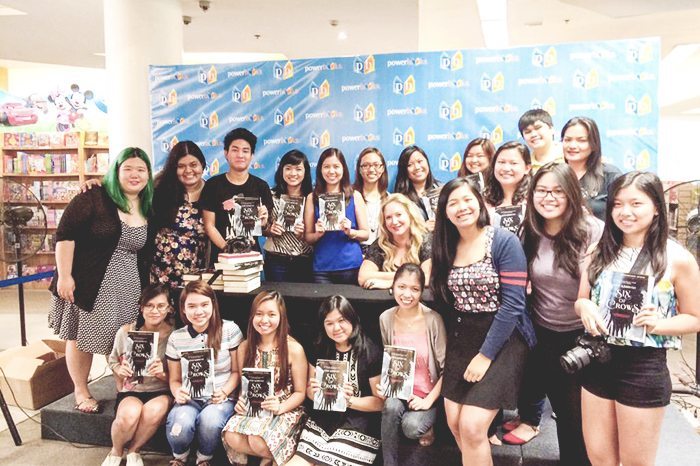 The Books + Swag
It's time to show off my signed pretties! I actually have mixed editions but I only took a photo of the paperbacks! And of course I included my new acquisitions from the signings- an ARC of Six of Crows alongside some bookmarks and a totally accurate "Grisha for life" pin!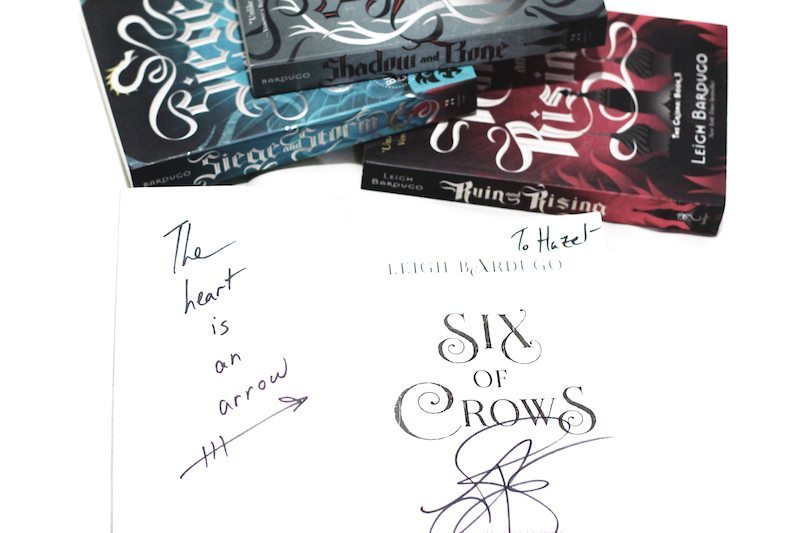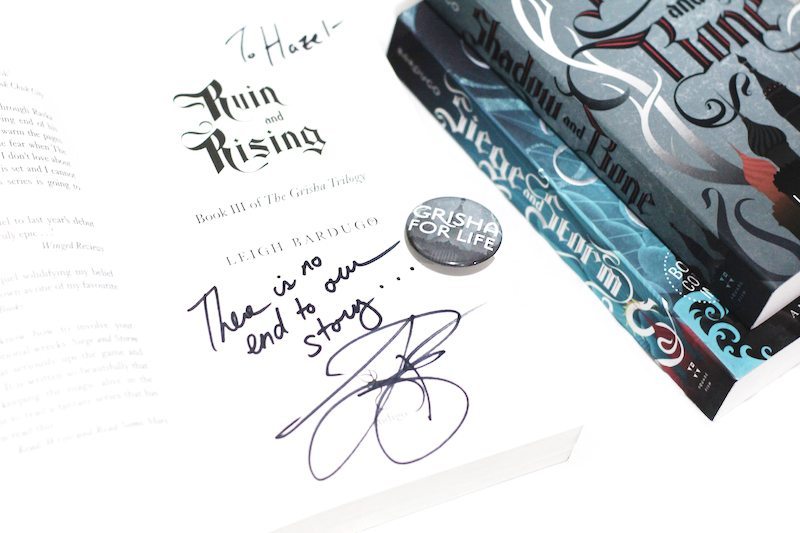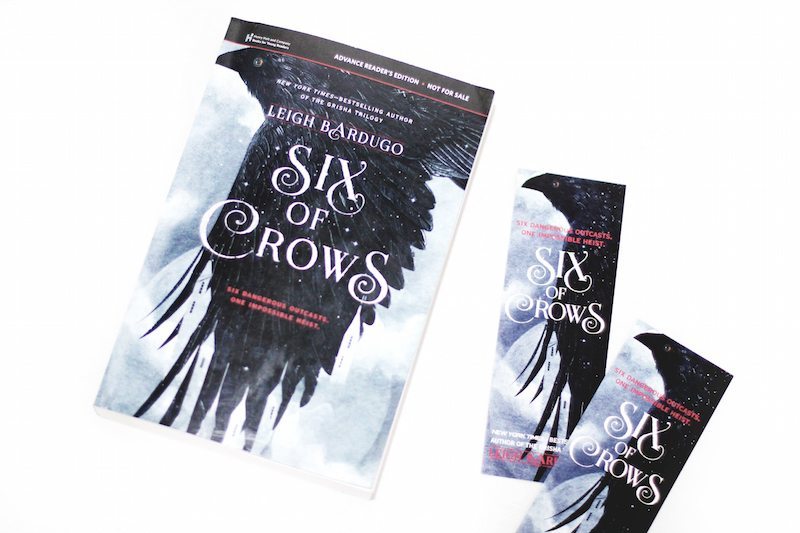 The Giveaway
If you're from the Philippines and missed Leigh's signings in Manila or Cebu, here's your chance to win a SIGNED copy of the first book of the Grisha trilogy, Shadow and Bone! Best of luck! :)