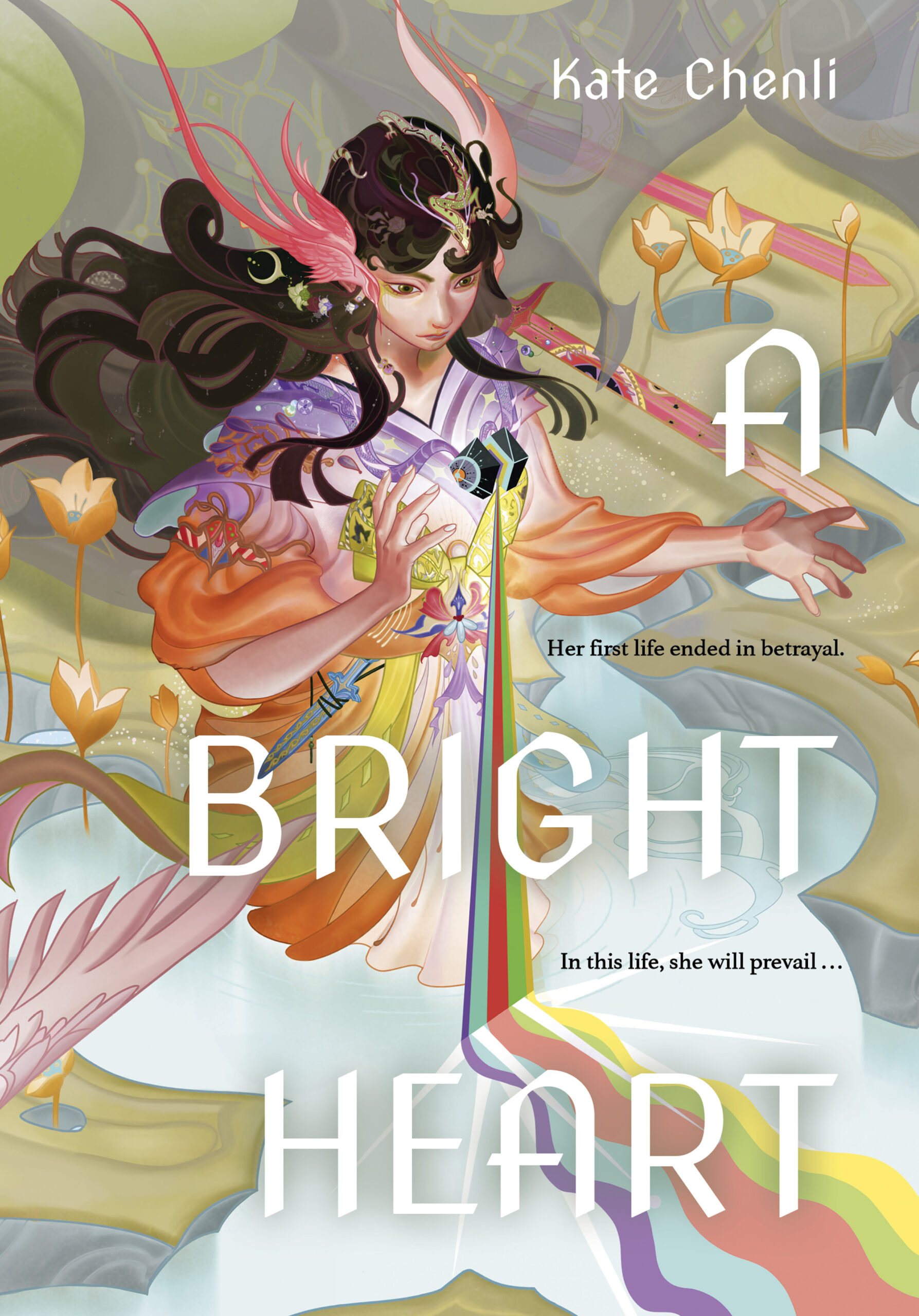 A Bright Heart

by Kate Chenli

Published by Union Square & Co. on October 17, 2023

Purchase on

Amazon
Synopsis
What if you could avenge your own murder? A brilliant young woman gets a second chance at life in this debut YA tale of vengeance, court intrigue, and romance, inspired by classic Chinese tropes.

Mingshin outsmarted three princes to help the man she loved become king. But she doesn't see Ren's betrayal coming, not until she's lying in a pool of her own blood on the palace steps.

As she's dying, Mingshin makes a desperate plea to the gods to turn back time and give her a chance to make things right.

Mingshin wakes up two years earlier, her prayer granted, and swears two things: Ren will never become king, and she will never fall in love again.

But the timeline in this life has changed: a dignitary gifted with dark magic is threatening her kingdom's peace, and Ren's thirst for power runs deeper than Mingshin could have imagined.

She finds herself allying with Jieh, another contender for the throne. Mingshin knows better than anyone not to give her heart to a prince. But in the viper's nest of the royal court, she and Jieh prove a phenomenal team. Can Mingshin avert the catastrophe of her past by once again learning to trust…and maybe even love?

Content warnings: Death, attempted murder, mentions of blood, drowning, violence, loss of limbs
I'm thrilled to be a part of the book tour for A Bright Heart by Kate Chenli! To start, here's some info on the author: Kate Chenli writes adult and young adult fantasy. As a Chinese immigrant, Kate is a proud US citizen who also cherishes her Chinese heritage. She has a Master's degree in Computer Engineering, but has always enjoyed creating elaborate worlds and characters more than designing complex software. Besides reading and writing, her passion is world travel (five continents down and counting.) Visit her website, Instagram or Goodreads for more!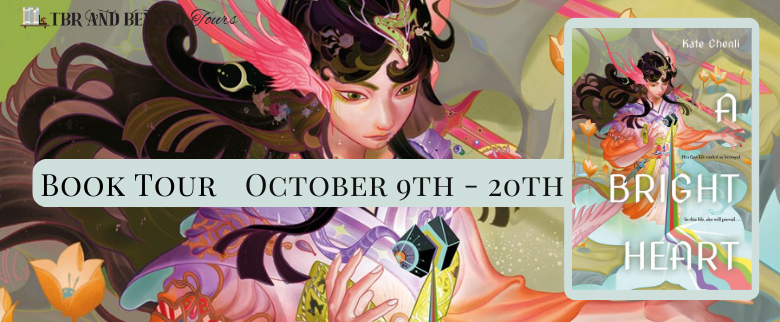 A Bright Heart by Kate Chenli: A Chinese YA Fantasy
When devastating betrayal leaves a merchant's daughter praying to the gods for a second chance as she bleeds to death, her final wish is granted and time turns back to let her learn from her mistakes. Never again will Mingshin trust or fall in love with a royal like Prince Ren, who fooled her and used her to become king in her first life. Instead, she's going to make sure everyone who wronged her will never claim the power they greedily coveted.
Favorite quote: "You have the fiery spirit of the sun and the bright heart of the moon. Remember that."

– A Bright Heart by Kate Chenli
An extra cautious protagonist might not be easy to relate to right away but Mingshin's desire to hone new skills and strategize against cunning traitors will make readers root for her. Avenging your own death is an excellent plot idea and the story develops the main character well enough to do it justice.
Favorite quote: "I hold the iron in my spine. Let my audacity be my new mantle."

– A Bright Heart by Kate Chenli
Chenli's world-building is incredibly immersive and the mysterious magic that enables Mingshin to return to the past is intriguing, especially as it's revealed through legends and intertwined in the kingdom's history. Because of ruthless imperial court politics, there are multiple antagonistic and questionable characters so conflict and tension in the book are abundant as four princes contend for the throne while nobles scheme to be closer to its potential heir. However, the supporting characters who encourage and protect Mingshin are lovely and Prince Jieh is extremely endearing as he is smitten by Mingshin's impressive wits. Overall, A Bright Heart was a compelling young adult fantasy debut!
Perfect for fans of Iron Widow and Descendant of the Crane!
Favorite quote: "I don't climb. I fly."

– A Bright Heart by Kate Chenli
Rating: ❤️❤️❤️❤️
If you're excited to read A Bright Heart by Kate Chenli, then go enter to win a finished copy below! This giveaway is US Only and will run from October 9th until October 15th:
a Rafflecopter giveaway
Follow the book tour for A Bright Heart!
Hosted by TBR and Beyond Tours
October 9th
dinipandareads – Review, Favorite Quotes
October 10th
The Litt Librarian – Review
October 11th
Tales Of A Bookbug – Review, Mood Board
Stay Bookish – Review, Favorite Quotes
October 12th
The Literary Huntress – Review
My Bookish Ways – Review
October 13th
Little Corner Reads – Creative Choice
October 16th
Quill Tree Fox – Top 5 Reasons to Read A Bright Heart
deepireads – Review
October 17th
Stuck in Fiction – Promotional Post
October 18th
The Moon Phoenix – Review, Playlist
itskooreviews – Review
October 19th
Confessions of a YA Reader – Promotional Post
The Clever Reader – Top 5 Reasons to Read A Bright Heart, TikTok
October 20th
Betwixt the Sheets – Review
Books and Bookish – Review, Journal Spread