Hey everyone, I'm so excited to be able to share the exciting cover reveal for Dadhlia Adher's Right of First Refusal today!
Being in the perfect age group for New Adult books, I always wish I could find more to read and love. But I almost always find myself sticking to my favourite authors from the genre, and it's a rather exclusive list.
Dahlia Adler, whose YA books I loved, easily made the list when I read her New Adult debut, Last Will and Testament, the first book in her Radleigh University series. It was sexy-awesome. From then on, I've waited eagerly for Right of First Refusal and I'm absolutely thrilled that we finally have a cover and are a few months away from its release!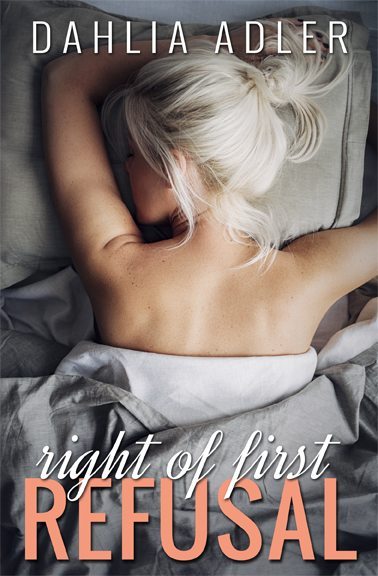 Synopsis:
On the lacrosse field, Cait Johanssen gets what she wants. Off the field is another story. Because what she wants is the school's hot new basketball student-coach, Lawrence Mason, who also happens to be the guy who broke her heart in sports camp two years earlier.
But it's Cait's new roommate who's got him.
Cait and Mase agree it's best to keep their past a secret, but she doesn't expect him to completely ignore their history…or how much it'll hurt when he does. So when a friend on the basketball team asks her to pose as his girlfriend for a night, Cait can't turn down the opportunity for distraction. (Okay, and a little spite.) But what starts as an evening of fun turns into a fake relationship with more lies than the usually drama-free Cait can handle, and it's only keeping her from the one truth that's nagged at her for years: Why did Mase cut her out of his life to begin with?
And is it really too late to get him back?
Expected Release:
March 15th 2016
Have you read a Dahlia Adler book yet? Have you heard of this series? What do you think of Right of First Refusal's cover?