Hi everyone! Last year, I reviewed a gem of a book called The Rule of Thirds, a young adult novel following teen photographer, Pippa Greene! I was able to read the sequel, Depth of Field, a few months ago and found it as enjoyable as the first!
And today, I'm so happy to be sharing a very special post, from the author of the Pippa Greene series herself, Chantel Guertin, for her book's blog tour! Please welcome Chantel on the blog!
---
Depth of Field by Chantel Guertin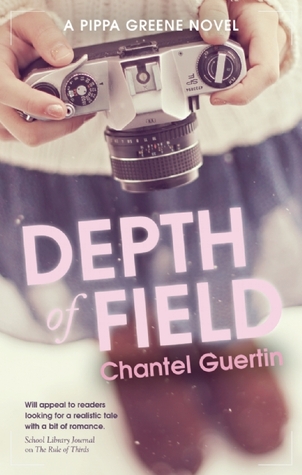 Synopsis:

Two weeks in New York City should be the time of Pippa's life: she's attending the prestigious Tisch Photography Camp, her boyfriend, Dylan McCutter (two months and counting!) is coming with her, and their parents are 500 miles away. Talk about lights, camera, (swoony, unchaperoned) action! But what should be 14 unforgettable days of bliss turns into chaos when her one and only nemesis, Ben Baxter, proves to be surprisingly more complex than she could've ever imagined, and her Tisch mentor, a renowned photographer, seems to have a lot more to do with her parents' past than anyone wants her to know. Is Pippa out of her depth?

Picking up where she left off in The Rule of Thirds, Pippa Greene returns in Depth of Field, in a story full of the same heart, comedic touches, and romance that made readers fall in love with Chantel Guertin's charming YA series.

Expected release: August 12, 2014
Add Depth of Field to your Goodreads shelves!
Tisch Camp 101
Pippa loves making rules (and somehow managing to break them). Depth of Field ends in New York, but here's an imagined set of rules Pippa might have written upon returning home to Spalding.
RULES FOR SURVIVING TISCH CAMP by Pippa Greene
Written upon returning home from Tisch Camp. In other words, these rules were a complete waste of time to write. What good are they going to do me now?!
Don't wear the school sweatshirt to the actual school. This isn't Friday Night Lights. Nobody thinks you're cool.
If you are going to ignore Rule #1, own the look. Actually, this a good rule for every decision in life.
Do not get wasted. Nothing good will come of it!
When Ramona insists just one little drink won't hurt, read Rule #3 again.
Just because the cafeteria has an all-you-can-eat ice cream bar, doesn't mean you should have ice cream at every single meal.
Bring more than one pair of jeans. New Yorkers live in their jeans.
Bring jeans in multiple sizes if you plan on ignoring Rule #5.
Never ever ever agree to a textual communication ban with your boyfriend. What is this, the Dark Ages?
When you think you've taken enough photos, take one more. A picture's worth more than a thousand words. It'll make for a lifetime of memories.
Have fun. And if you must, ignore all these rules. It's only two weeks. What could go wrong?
CASTING CALL
All my favourite YA books (If I Stay, Perks of Being a Wallflower, The Fault in Our Stars) are becoming movies, and I couldn't be happier about this! While there are no plans yet for Pippa to appear on the big screen, you never know, right? Here's my dream cast of the moment. But I'd love to hear who YOU think should play these characters!
Pippa Greene, Our leading girl: Zoey Deutch
Dylan McCutter, OB (Official Boyfriend) of Pippa for two months and counting. While Pippa's in New York, Dylan's on the road with the Cherry Blasters: Dylan O'Brien
Ben Baxter, Pippa's nemesis, who is also at Tisch Camp: Austin Butler
Dace, Pippa's best friend: Taylor Swift

Ramona, Pippa's roommate at Tisch: Dakota Fanning
David Westerly, Pippa's mentor at Tisch, and a friend of her father's: Simon Baker
Julian: Logan Lerman
Izzy: Ansel Elgort
Savida: Keke Palmer 
FINALLY, TISCH
And now, for a little photo montage. While writing Depth of Field I took two trips to New York for research. So I'm going to take you on a little tour of some of the spots that made it into the book!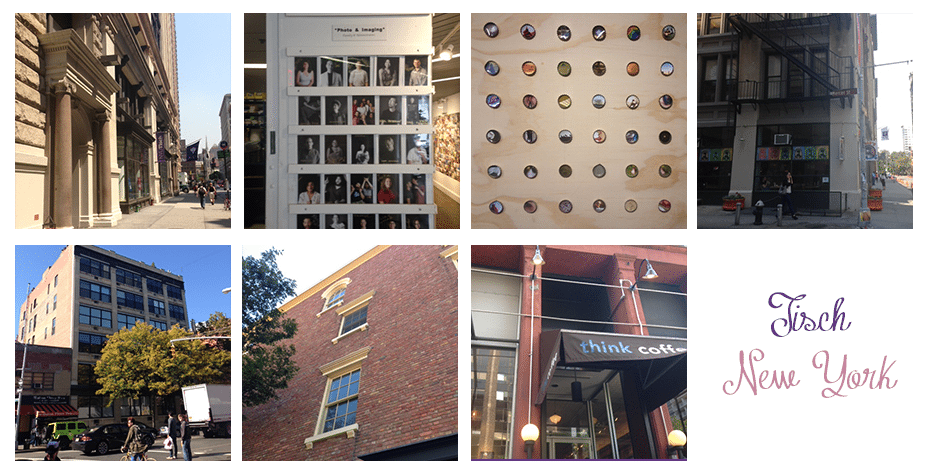 Tisch at NYU. Here's the outside of the building.
The photo wall of students and faculty on the photography floor at Tisch.
One student's work: photos mounted on bottle caps. So cool.
Brad's, where Pippa and Ramona hang out.
The building that inspired David's studio.
The apartment that inspired Aunt Emmy's apartment.
Think, the coffee shop David takes Pippa to.
For more photos that inspired scenes in Depth of Field, head over to my Instagram page (@ChantelGuertin).
BOOK GIVEAWAY!!!
a Rafflecopter giveaway

---
I hope y'all enjoyed Chantel's awesome guest post! That dream cast is utter perfection, right? One thing I really loved about Depth of Field was getting to know Tisch and experiencing photography camp through Pippa so I wanted to share that with you guys! I hope you go check out The Rule of Thirds (if you haven't yet) and the very soon to be released Depth of Field! :)
How did you like Pippa's all-in-one guide to Tisch? Let me know!