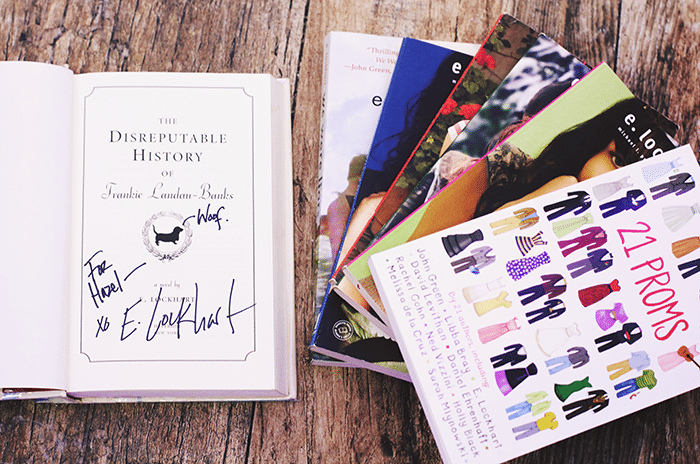 "Be a little kinder than you have to," said the stamp on my wrist over a week ago- a lovely reminder from E. Lockhart, author of We Were Liars and The Disreputable History of Frankie Landau-Banks among several other bestselling young adult novels, and advocate of kindness. Lockhart visited Manila last March 22, to sign books for her Filipino fans at an event hosted by National Book Store.
I first read E. Lockhart a few years ago when I picked up The Boyfriend List from her Ruby Oliver series. Since then and especially after reading the wonderfully deceptive We Were Liars, I've considered myself a fan. As always, it was an awesome experience meeting another author I highly admire and fangirling with fellow book lovers and bloggers.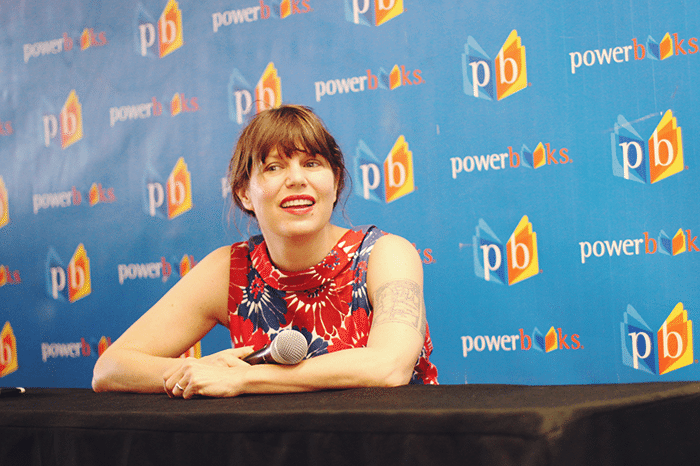 The lovely Emily Lockhart #ELockhartinPH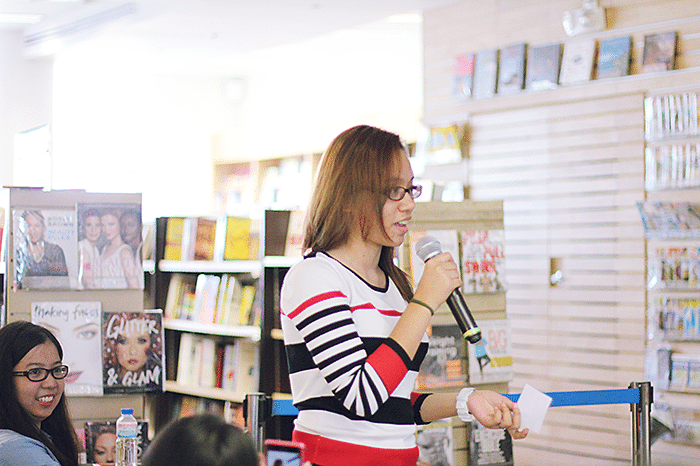 Kazhy of My Library In The Making asking Emily a question
The thing I adored most about Emily was how quirky and witty she was while answering our questions for her. She was engaging to listen to and shared thorough answers that could only come from a seasoned and masterful writer such as herself. Here's a well-summarized list of some facts we learned about her: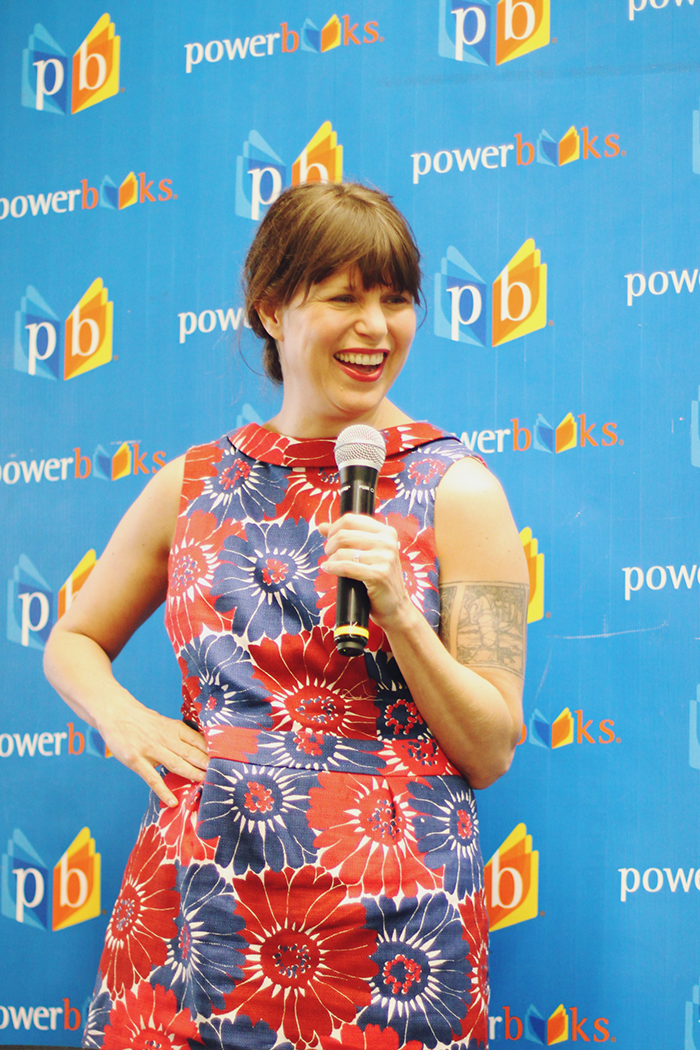 The Disreputable History of Frankie Landau-Banks is Emily's favourite among her written works. She had to do intensive research on pranks for the book but she was proud of writing such a smart character.
When asked about We Were Liars' fairytale retelling aspect, Emily shared that she liked to experiment with formats (like with her Ruby Oliver series, she had footnotes and lists) and she challenged herself by having different structural devices in her books.
Emily used Scrivener to write We Were Liars. The writing software allowed her to see the structure of her book from a bird's eye view which helped her while writing an unreliable narrator.
I asked Emily about developing her writing style (because I found it beautiful) and she shared that most writers had to erase  themselves to find their voice. She tried to write as if talking to a friend but realized that such conversations weren't very chronological, she explained while animatedly giving an example. (So adorbs please!) Ultimately, she found that talking to the page was the way to go.
Emily talked about her younger years- attending different high schools and having very different experiences in each one.
She doesn't ponder on rewriting because she doesn't actually reread her books. She's already writing the next one.
Emily made the book she wanted to make with We Were Liars. She expected commentary on how pretentious the writing style was but was happily surprised that readers liked it.
She first had the idea to write about a wealthy family on an island but couldn't figure out what their story was. She shared the 'real estate' pitch with two editors who basically just face palmed themselves. They recommended that Emily put sexy things (everyone was just laughing out loud at this point) which Emily gave a big hell no to but eventually reconsidered.
Emily's next book will be about con artists, international jetsetting 19 year-olds and murder. (So so exciting!!!!!!)
If the Sinclairs had their own tv show, it'd be a cooking show: 'Secrets Of The Sinclair Family Kitchen'.
Emily likes to write unusual characters/voice/thinking and she made points of connection to match the universal emotion of the book. We Were Liars was a story of families fighting over property and kids fighting over parental love.
The mystery/suspense in We Were Liars was developed through a truism of mystery writing where you have 3-4 suspects. Since all the characters were liars, the suspense came from the truth having to be shaken out.
Emily had an unusual childhood. Having to move a lot, they had no furniture but always had their fairytale books that were from her father and given to her mother during their courthship. This was were Emily developed the idea that objects could have meaning (family baggage as with this case). Emily read lots of fairytales and was fond of the King Lear (three daughters) trope.
Emily avoids emotion in first couple of writing drafts but pushes herself during rewrites.
After the Q&A, Emily signed our books. She had brought along her stamps which we she used to put the reminders on our wrists and hands.
I wasn't able to take a photo of mine but check out Kazhy's stamps: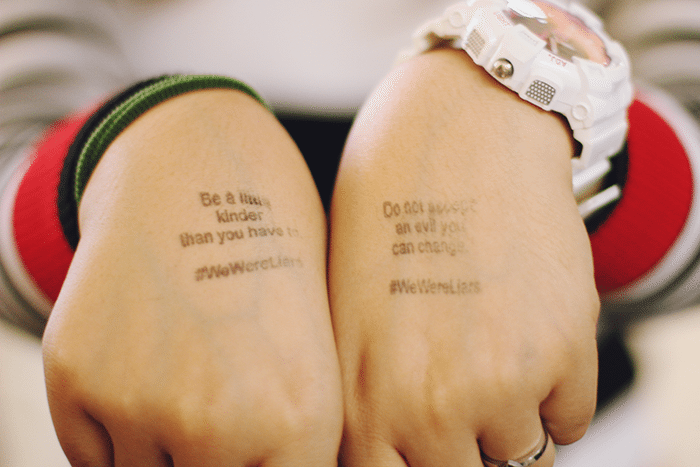 "Be a little kinder than you have to" and "Do not accept an evil you can change" #WeWereLiars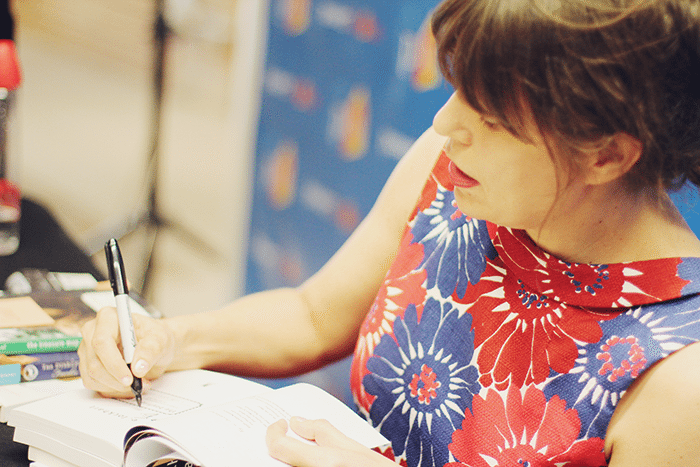 E. Lockhart signing books
Fellow bloggers: Kate of The Bookaholic Blurbs and Jesselle of The Lifelong Bookworm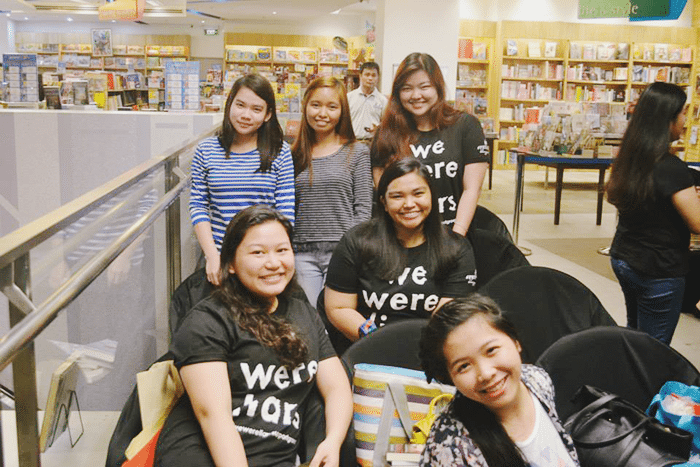 (Credit: Dea of Teen Readers Diary)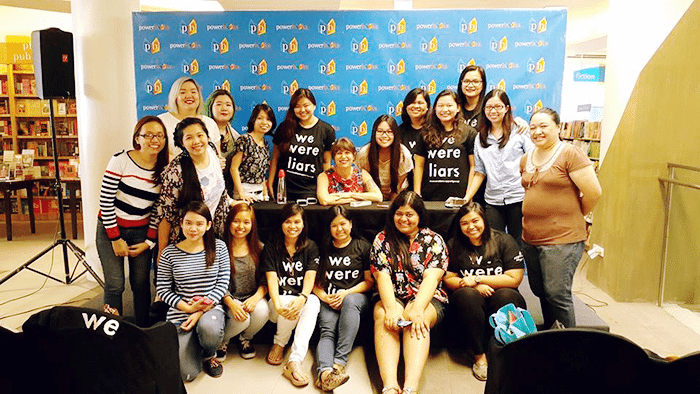 (Credit: Louisse of The Soul Sisters)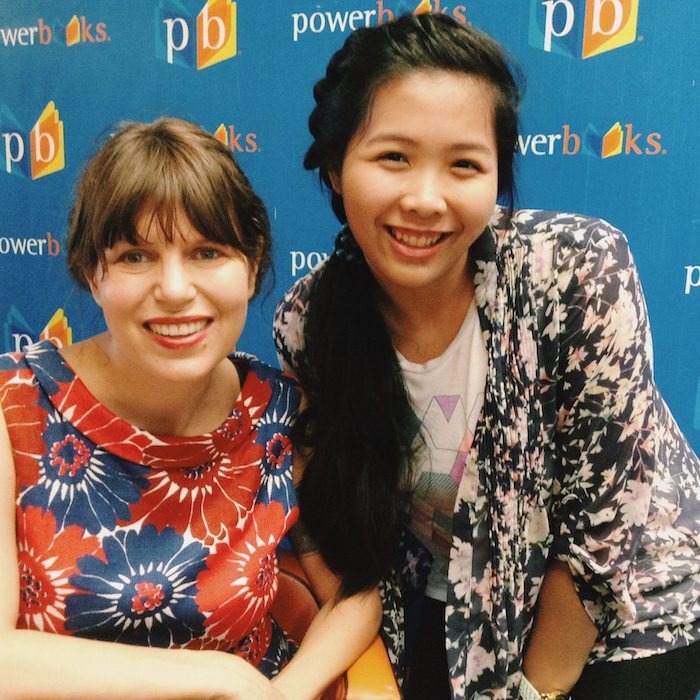 Photo with Emily! ♡ (from my Instagram)
I really had the loveliest time during #ELockhartinPH and I'm so looking forward to more amazing events this year from National Bookstore! Don't forget to follow them on Twitter (@nbsalert) so as not to miss the announcement of their next event this week! Also, check out these recaps if you haven't:
The Lifelong Bookworm ・ Oops! I Read A Book Again ・ Amaterasu Reads  ・ Tea-rrific Reads
Did you attend E. Lockhart's signing in Manila or Cebu? Share your experience!