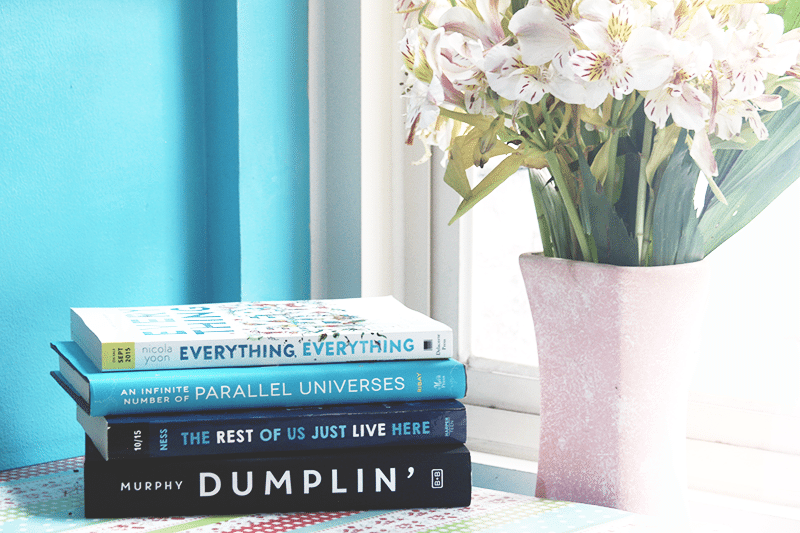 You know what a good day sounds like? A day where I can spend all my time reading. Maybe finish a good book or two. Drink some hot chocolate while I'm at it. Just me, with my book and the fictional characters in the story I'm reading.
Last Saturday, I did just that. I joined the 24 hr Readathon, where I did nothing but read all day. Well, mostly. I've only heard about it the day before I decided to do it and I couldn't help but be excited. The thought of a readathon just sounded awesome. I didn't really care for the mini challenges that happened during the event, I only cared to read as much as I can.
And what do you know- I totally conquered my readathon. (Photo above are the four books I finished within 24 hours.) I've got a few tips for you, if you're interested in doing a readathon of your own. 
Set aside an entire day
Make sure you have no commitments or anything else you need to accomplish on the day you want to do your readathon. You need to have a whole day to read. I, thankfully, was already done with my exams at the time so I didn't have anything important to do except read.
Determine how many books you want to read
I know, I know. You want to read ALL the books. You want to read as many books as you possibly can. But you need to have a quantifiable number of books to read. It's a goal of sorts- so you have something to conquer. It's your objective not only to reach that number but to surpass it. For me, I originally picked only three books to read but I managed to read four.
Figure out what you're in the mood for
It's hard to read a lot of books if you're not in the mood to read them. To make your readathon go as smoothly as possible, you should figure out what you're in the mood to read. Not only that- you should be in the mood to read. If you're in a slump, know beforehand if a readathon can help you out of it or if your readathon will suffer because you're in a reading rut. If you don't know what you're specifically in the mood for, rely on your favourite genre.
Pick books accordingly
Once you know what you're in the mood to read, choose which books you'll be reading for your readathon. This doesn't have to be set in stone, but it's better if you pick with a determination to read these. I recommend reading the first page of the book before you pick just to see if you'll find yourself easily getting into it.
Remove distractions and focus on reading
What gets you easily distracted? If it's Twitter, turn your notifications off. If it's TV, unplug it. If it's music, find a quiet place to read. If it's people, go somewhere you can read alone. When you're on a readathon, you need to concentrate on what you're reading and devote yourself to finishing the books on your readathon pile.
Take breaks
Breaks are fine. Sometimes your book is getting depressing and you need five minutes to find a happy place so you won't get sucked into a miserable black hole. Or sometimes you're just craving for chocolate because it was mentioned in this particular chapter you're on. Go on, have a break. Just make sure that when you take one, you don't find yourself suddenly distracted because you decided to check on Twitter for a minute and the next thing you know it's been an hour. These things happen. Beware.
Check the time
It's good to keep track of the time when you're reading. You don't have to check every few minutes, just maybe after several chapters or so. I recommend noting what time you start reading and what time you finish so that you know how fast you're reading. I knew after finishing my second book that I was gonna conquer my goal because I was only on hour six then. I still had so much time that I lost track of it and procrastinated for a while. Probably could have finished a fifth book, if I didn't.
Finish all the books
Read, read, read, read, read! Turn to last page of last book. Finish.
Give yourself a pat on the back
You did it, you awesome reader you! Tweet about your accomplishment or update your Goodreads reading challenge and feel wonderful about the fact you're now ahead of your goal. Or go to the bookstore and buy more books to read. Whatever floats your boat.
Have you done a readathon before? If not, do you plan on doing one sometime? Do you have any readathon tips? Share them!