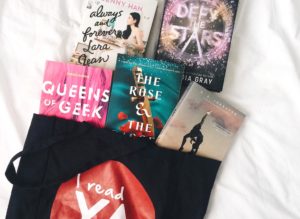 Hi lovelies! Hope you're all having a great May so far! Here's a little book haul for you guys!
In the beginning of the month, I decided to go on a book ban because my bookshelf is currently overflowing with books I have yet to read, but it's already the third week of May and I've managed to break and cave into the power of book sales. 🙈 In my defense, it was a 50% off sale, so I think it was worth breaking my book ban. 😜 Here are the books I bought: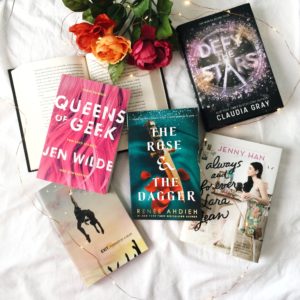 Queens of Geek – Jen Wilde
Exit, Pursued by a Bear – E.K. Johnston
Rose & The Dagger – Renee Ahdieh
Defy The Stars – Claudia Gray
Always & Forever, Lara Jean – Jenny Han
Personally, I'm really excited for Always & Forever, Lara Jean since it's the last book of one of my all time favourite series, so I'll be reading that one first! I've already read Exit, Pursued by a Bear but I loved it so much, I wanted to get a copy of it and it was half off, so why not, right? 😉 The rest are other books I've been eyeing for a while, mostly because their covers are SO nice. The Rose & The Dagger is still my favourite cover redesign ever. 😍 I haven't read The Wrath & The Dawn series yet, but I plan on reading it next!
What about you guys? Have you bought any books you're excited to read recently? See any books I mentioned you've read or want to read? Let me know!