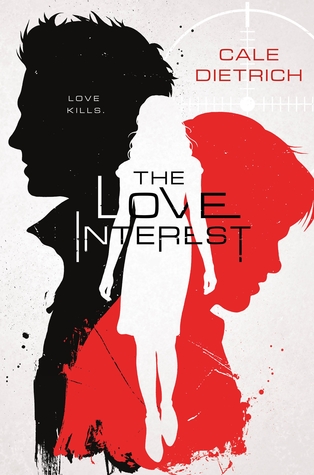 The Love Interest

by Cale Dietrich

Published by Feiwel & Friends on May 16, 2017

Genres: Glbt, Contemporary, Romance

Advanced copy from Blog Tour

Purchase on

Amazon

・

Fully Booked
Synopsis
There is a secret organization that cultivates teenage spies. The agents are called Love Interests because getting close to people destined for great power means getting valuable secrets.

Caden is a Nice: The boy next door, sculpted to physical perfection. Dylan is a Bad: The brooding, dark-souled guy, and dangerously handsome. The girl they are competing for is important to the organization, and each boy will pursue her. Will she choose a Nice or the Bad?

Both Caden and Dylan are living in the outside world for the first time. They are well-trained and at the top of their games. They have to be – whoever the girl doesn't choose will die.

What the boys don't expect are feelings that are outside of their training. Feelings that could kill them both.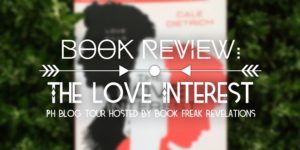 I have to be honest with you all. I was in the middle of the worst reading slump when I picked this book up. I almost lost all hope that I may not be able to finish it, but here I am. And yes, I am proud to say that this lovely book cured that awful slump. (But I have to note that reading a bit of fanfiction helped me to see this book in a deeper perspective.)
Now here's why I loved this book: The Love Interest is definitely a book that offers a refreshing premise. Granted, there has been a lot of books that have dealt with spies and secret organizations before. But if you might ask: what makes The Love Interest so different?
As the synopsis suggests, the people involved in the whole cause trains people to be Love Interests, someone who becomes a powerful person's significant other. But before they become that person's significant other, they must face a love triangle battle of some sorts, a tactic proven effective as it pressures the person in the middle to choose as fast as they could. Our main character Caden has been raised to be a part of that triangle. He has been labeled as a Nice, and he must battle Dylan, who is a Bad. From that alone, you can tell that you're in for a ride.
The Love Interest is a fast paced, plot-driven book that can compel readers with the conflict that arises within. While the book does not certainly lack the unique cast of characters that made the story rise, the voice that overpowers the whole book was Caden's. He may be a Nice, but he had this spunk in him that makes him stand out. I admire the fact that it all centered on him; on finding himself and his true identity. Yet with that in mind, my favorite character would have to be Dylan. Why? Because he basically played jump rope with the stereotypical bad boy persona. He looks like one, but he does things that make you think. This boy toyed with my emotions. One minute he's all brooding, and then he becomes a precious cinnamon roll who cares a lot.
And that is how I ended up with these descriptors:

Caden: Looks like a cinnamon roll, but is actually a sinnamon roll.

Dylan: Looks like a sinnamon roll, but is actually the most precious cinnamon roll of them all.
Another aspect that stood out for me was Caden and Dylan's relationship. It was very fluffy and creative, and their escapades were definitely one to anticipate. The stages that their relationship took is one of the nicest that I have read in a while, because let's be honest: they were supposed to be competing but they ended up finding a friend in each other in the process. And in YA books, it is always refreshing to read non-toxic relationships that build up to somewhat something more. (AND I MEAN SOMETHING MORE.) But overall, the friendship dynamic present in this book was portrayed without a hint of hesitation. That goes for Juliet, Natalie, and Trevor as well.
Why I only gave it 4 stars:
As much as I loved this book, there are some key points that I did not quite get. I would have loved to see more development for Juliet, since she is part of the constructed triad. Juliet gave me the vibe that she was a "Yes" person, and despite being smart, I felt that she was a bit dense at the most part. The LIC felt like it was just there, despite their threats that they would be monitoring their Love Interests. But these aspects can be overlooked, and the story is still quite enjoyable.
In the end, The Love Interest can give you the following conditions:
Cavities – caused by too much fluffiness
Trouble in breathing – caused by the fast pace (AND I MEAN FAST)
A case of too much gasping – caused by plot twists
Don't say I didn't warn you. <3
I enjoyed The Love Interest quite a bit. It's a refreshing take that plays with the usual tropes that we see in YA books, but has put it's foot down as a serious book in terms of the concept that it has offered. With that, I believe it is a book worth recommending especially if you want a palette cleanser or something that can cure a slump.
Rating: 

Again, thank you so much to JM at Book Freak Revelations for being so lovely and for letting me join this tour. The Love Interest is one of my most anticipated reads for 2017, and to be a part of the blog tour gave me the best feeling ever. Honestly, you are just the best. My thanks also goes to Macmillan International for being kind enough to provide us an e-galley for the tour. <3
Now, are you excited to read about The Love Interest?
What books have made you swoon lately?