Happy monday, everyone! Today, I'm happy to have Ellie Cahill (aka the fabulous Liz Czukas) on the blog to share the official playlist for her New Adult debut, When Joss Met Matt, as a part of the blog tour for the book! I adored this novel very much and I so love the songs Ellie/Liz picked. Hope you guys like listening to the playlist!
When Joss Met Matt by Ellie Cahill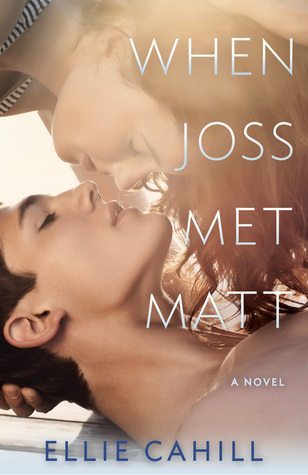 Published February 24th 2015 by Ballantine Books
Purchase on The Book Depository・ Amazon
Synopsis:
What if after every bad breakup, there was someone to help "cleanse your palate"—someone who wouldn't judge you, who was great in bed, someone you were sure not to fall in love with? "Sorbet sex" could solve everything—as long as it never got too sweet.

Joss and Matt have been friends since freshman year of college, meeting one night after Joss is dumped by her boyfriend. After a few drinks, Matt humors her with a proposition: that he'll become her go-to guy whenever she needs to heal a broken heart. In return, she'll do the same for him. The #1 Rule: They'll never fall in love with each other. People scoff at the arrangement. But six years later, Joss and Matt are still the best of friends . . . with benefits.

Through a string of boyfriends and girlfriends—some almost perfect, some downright wrong—Joss and Matt are always there for each other when the going gets tough. No strings. No attachments. Piece of cake. No problem. After all, since they wrote the rules, surely they can play by them. Or can they?
The Playlist: Part 1
This playlist is full of songs that gave me that Joss and Matt vibe. Some of them even helped inspire the original idea. It's more like one of those albums of music "inspired by" a motion picture than a true soundtrack. But I think you'll see how these songs fit with When Joss Met Matt!
Say Goodbye – Dave Matthews Band
It doesn't get much more dead-on for Joss and Matt than this song. It's all about the friend hook-up.
Lovers for tonight, lovers for a night…
Tomorrow go back to being friends.
Need You Tonight – INXS
This song inspired the code phrase between Joss and Matt. Plus, it's just so damn sexy I can't even handle it.
I need you tonight
'Cause I'm not sleeping
There's something about you girl
That makes me sweat
Laid – James
Although the relationship in this song is pretty messed up, there's just something about it that reminds me of When Joss Met Matt. Maybe because it's kind of fun even though it's about an obsessive relationship.
This bed is on fire with passionate love.
Mr. Brightside – The Killers
This is the song that gave me the earliest ideas about writing this book. It's about a guy watching a girl go back to her boyfriend when he wants her for himself but letting her go anyway. The story got a lot more complicated as I started planning it, but that was the very first flash of inspiration.
Now they're going to bed
And my stomach is sick
And it's all in my head
But she's touching his-chest
Now, he takes off her dress
Now, letting me go
Intermittently – Barenaked Ladies
This is one of those songs I've had for a long time, but didn't really pay attention to until one day it came on in my car and it was like a thunderbolt. This song could be about Joss and Matt. Almost every line in the song in applicable, but I'll just give you one of my favorites:
I'm kissing you by proxy
Hope you don't mind
Completely Pleased – Semisonic
Okay, straight up, I love Semisonic and I don't care what anyone else thinks about them. So it's possible I'm biased in my affection for this song, but come on. How sexy are these lyrics?!
Want to see you smiling, weak in the knees
I want to see you come, come, completely pleased
Use Somebody – Kings of Leon
I can't help but picture these words tripping off Joss's tongue the first time she propositions Matt.
You know that I could use somebody
Someone like you
Secret – Maroon 5
Maybe this song is a little too dramatic for Joss and Matt, but I like the secrecy it alludes to, and of course I love the little twists of dirty gotta-have-you sentiment.
And as you wipe off beads of sweat
Slowly you say "I'm not there yet!"
Part 2
Consider this your personal soundtrack. Get these songs cued up and ready to play while you read and I'll give you the chapters that go with them. Warning: the following playlist may contain spoilers.
Never Getting Back Together – Taylor Swift
Ben. What a jerk. This is definitely the song Joss would have on repeat during chapter 3 when she's trying to get over being dumped.
Sex on Fire – Kings of Leon
Chapter 6. Joss learns what she's been missing all this time. Yum.
Come A Little Bit Closer – Jay and the Americans
In chapter 9, poor Matt realizes what kind of girl Her Highness is (just like the one in this song). Thank goodness he has Joss there to help him in his time of need.
Criminal – Fiona Apple
Joss embraces her inner bad girl in chapters 11, but it doesn't suit her very well. So she spends chapter 12 "feeling like a criminal" and trying to figure out how to fix everything.
Heart Skipped a Beat – The xx
Chapter 14 finds Joss and Matt spending the summer with a series of short-term relationships and plenty of each other.
Eleanor – The Low Millions
Martin was never going to be The One, but it was good while it lasted. In chapter 15, Joss has the nicest break-up ever, but still—ouch.
Apologize – OneRepublic
Chapter 16 is all about heartbreak and how hard it can be to get over it when the person you thought you loved turns out not to feel the same about you.
Paper Doll – John Mayer
After Joss runs out on T.J. she counts on Matt to get rid of all the ickiness. Chapter 19 is about Joss finally starting to figure out what she wants.
Gives You Hell – All American Rejects
Ah, crazy Christine. Chapter 21 calls for a good riddance song for sure. Matt and Joss are both happy to see the back of her. Hard to say which one is happier.
Beam Me Up – P!nk
In chapters 23 and 24 Joss finally realizes what she's got with Matt is something she doesn't have with anyone else. When he's at his worst, she wants to be there. But how do you make the leap?
I Won't Give Up – Jason Mraz
Joss has some serious work to do as chapter 27 opens, but she's determined not to give up. Even if it means facing her worst fear.
This Year's Love – David Gray
If you're not saying "FINALLY!" by the time you get to chapter 28, I have failed you as an author. This song is perfect for the least first first-time scene ever.
Save the Last Dance For Me – Michale Buble
If a book had credits, this song would absolutely be playing over them. As it is, you can start playing it as soon as you get to chapter 29.
Giveaway:
About The Author:
Ellie Cahill is a freelance writer and also writes books for young adults under the name Liz Czukas. She lives outside Milwaukee, Wisconsin, with her husband, son, and the world's loudest cat.