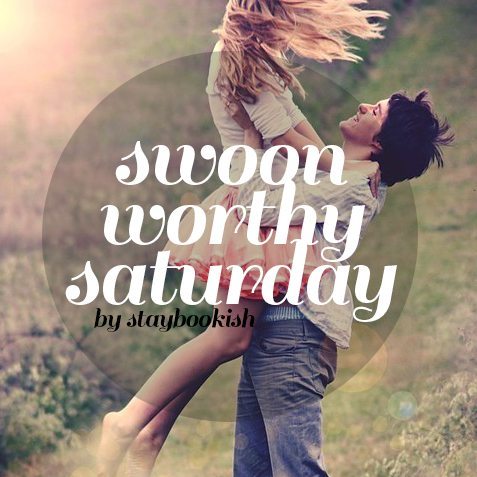 Saturday is a day for swooning. Swoon Worthy Saturday is a weekly meme where in we present a fictional boy who has swept us off our feet, given us butterflies, made our heart do acrobatics and driven us absolutely crazy! (Join the fun here.)
This lovely saturday, I shall introduce to you Cade Winston from Cora Carmack's Faking It!!!!!
The Gist of Cade Winston:
1. Golden boy
2. Had his heart broken by his bestfriend
3. He's musically inclined; he wrote a song once and he has a 'rich and resonant' voice
4. He does theatre; he's an actor
5. HE IS NOT GAY (proven very much by a steaming make out sesh)
6. MFA student, volunteer, mom-hugger, and pretend boyfriend
Cade Winston's Swoon Worthy Moments slash Quotables:
Faking It
Max's POV of Cade
"Except I wasn't drunk. Not really. I had no excuse other than stupidity for my own behavior. Well, that and how hot Cade was. Yep, we should definitely lay the blame on his hotness."
xx
"Now, a truce."
I rolled my eyes.
"Stalker."
"Liar."
"Jerk."
"Loving girlfriend."
"You suck at insults."
"You cringed when I said loving, so it counts."
"Golden Boy."
"Angry Girl."
xx
"My heart is fickle and inconstant, and I'm terrified I'll wake up one day and feel differently."
He smiled sadly and said, "I think you're terrified that you won't."
My mouth snapped shut. As was becoming a pattern . . . he was right.
He continued, "And if you do wake up one day and don't want to be with me, I will fight for you like I am now." His thumb brushed against my lip, and he pulled me into his chest. "I'll remind you every day how amazing it feels when your body touches mine. I'll remind you of the good times, and help you forget the bad. I'll remind you who you are when life has beaten you down and made you doubt it. I'll bust down your door in the middle of the night and kiss you until you remember that your fears are just that, and they can't control you. I'll take my chances against your fickle heart if it means it's mine."
Cade's POV
"You're Golden Boy. You're good at everything. You're sweet, gorgeous, and probably stop to help little old ladies cross the street. If you can't compete, the rest of us are completely fucked."
I smiled. Hearing her say I was gorgeous was a pretty good consolation prize.
"The other guy is British."
xx
"You're kind of funny, Winston."
She took a sip of her coffee, and what was left of her lipstick left a red smudge on the rim of the cup. It drove me crazy.
I said, "I'm more than kind of funny. You'll see."
"And cocky." She smiled up at me. "You're a little hard to puzzle out, you know."
"I'm willing to spend as much time with you as you'd like while you try to figure me out."
xx
Cade to Max
"You're wrong. You couldn't ruin me, because everything about you makes me better. You make me take chances and make bolder choices. You make me less concerned with being perfect and more concerned with being real. You make me want to be fearless."
xx
I love love love Cade. He was a great guy and I was really sad that he was left heartbroken in Losing It. When I read Faking It, I found out that Cade wasn't just great, he was F-ING AMAZING. Srsly, you need to pick up this series NOW!!
Who's had you swooning lately?
Leave your link at the comment section!