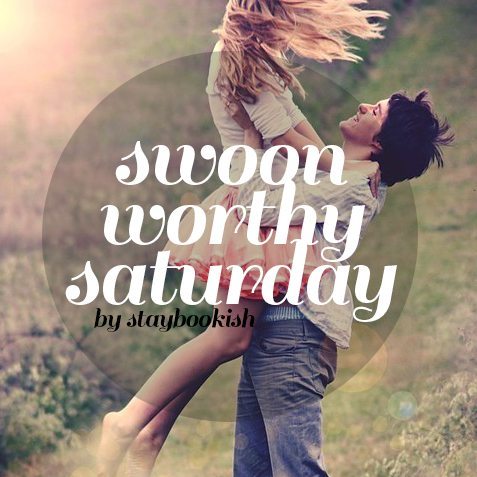 Saturday is a day for swooning. Swoon Worthy Saturday is a weekly meme where in we present a fictional boy who has swept us off our feet, given us butterflies, made our heart do acrobatics and driven us absolutely crazy! (Join the fun here.)
This lovely saturday, I shall introduce to you Wesley Rush from Kody Keplinger's The DUFF!!! :)
The Gist of Wesley Rush:
1. Man slut and womanizing playboy
2. Wesley Rush doesn't chase girls.
3. Coined the term The DUFF- The Designated Ugly Fat Friend
4. Has an awesome body and awe-inspiring abs (his words, not mine)
5. Cocky and thinks he's amazing in everything (not that  I disagree)
6. Drives a porsche
7. Despite being slimy and horny, Wesley is one of the smartest kids in Hamilton High
8. Also, he's a good listener
9. Theme song:  Sexyback and Womanizer
For more info about Wesley, you can read the author's profile of him here
Wesley Rush's Swoon Worthy Moments slash Quotables:
Wesley was grinning at me as I spun around to face him.
"I just wanted to let you know that is you plan on stopping by tonight, I might be a little busy. With it being the day of love, I have a pretty full schedule." Now he sounded like a professional man-whore.
"But if you're desperate to see me, I should be free around eleven o'clock."
"I think I can survive one night without you, Wesley," I said. "In fact, I can survive an eternity."
"Sure you can." He released my arm and winked. "I'll see you tonight, Duffy."
xx
I jerked out from under Wesley's hand and spun around to face him, gripping my pencil like a dart and aiming it right at his Adam's apple.
He didn't even flinch. His gray eyes examined the pencil with feigned curiosity and he said, "Interesting. Is this how you greet all the boys you like?"
"I don't like you."
"Does that mean you love me, then?"
xx
"Spanish, huh?" he said, glancing down at the scattered papers as he grabbed them. "Can you say anything interesting?"
"El tono de tu voz hace que quiera estrangularme." I stood up and waited for him to hand over my papers.
"That sounds sexy," he said, getting to his feet and handing me the stack of Spanish work he'd swept together. "What's it mean?"
"The sound of your voice makes me want to strangle myself."
"Kinky."
xx
"Wesley Rush doesn't chase girls, but I'm chasing you."
xx
Moving on after you is impossible. No other girl can keep me on my toes the way you can. No one else makes me WANT to embarrass myself by writing sappy letters like this one.
Only you.
xx
Okay, if you are not swooning right now, there is something seriously wrong with you. I absolutely loved The DUFF! Not only because of Wesley (although that was a MAJOR factor) but because of Bianca and the story line itself. This book is a def must-read. Stay tuned for who I'll be featuring next Saturday!
Who's had you swooning lately?
Leave your link at the comment section!