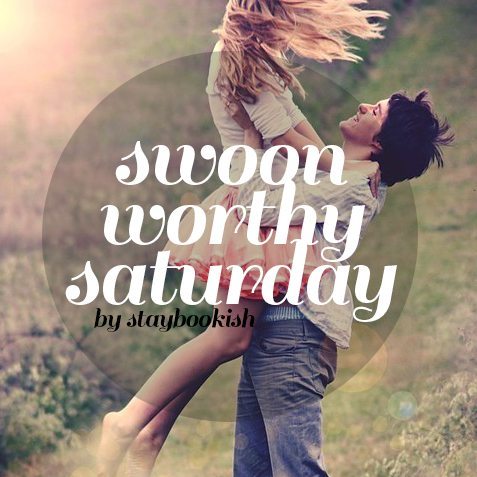 Saturday is a day for swooning. Swoon Worthy Saturday is a weekly meme where in we present a fictional boy who has swept us off our feet, given us butterflies, made our heart do acrobatics and driven us absolutely crazy! (Join the fun here.)
This lovely saturday, I shall introduce to you Marcus Flutie from Megan McCafferty's Jessica Darling series!!!!
The Gist of Marcus Flutie:
1. A druggie and a stoner, he's your typical slacker with an unknown genius
2. Widely known by the moniker "Krispy Kreme" because he's always "burnt to a crisp" and is rumored to have "bought three boxes of donuts"
3. Wears Backstreet Boys shirts as a joke
4. He writes poems and songs; he's also a musician
5. He's a noncomformist, doesn't give a damn about what people think of him
6. Sexy and enigmatic, an oxymoron of sorts
7. Ultimate bad boy
Marcus Flutie's Swoon Worthy Moments slash Quotables:
Sloppy Firsts
A poem by Marcus
We are Adam and Eve
born out of chaos called creation
Ribbing me gave you life
yet you forget
there will always be
a part of me in you
xx
"Did you know that the average American spends six months of his or her life waiting for red lights to turn green? Six months wasted, waiting for permission to move on. Think of all the other stuff you could do with that time."
I was totally confused. "In the car?"
"In your life," he said."
Second Helpings 
Crocodile Lies (A song written and sung by Marcus for Jessica)
You, yes, you linger inside my heart
The same you who stopped us before we could start
I didnt want to leave, but you began to believe
The only person stopping you is yourself,
You wont accept that I want no one else,
So until you do, Ill let someone else have you
Every day, I live the lie
But not the crocodile kind.
Charmed Thirds
I WISH OUR LOVE WAS RIGHT NOW.
It is. It is. I kissed him until I heard the tiny hairs prickling on his belly.
"You must be a long phase for me, Marcus Flutie."
"The longest, Jessica Darling," he replied.
Yes. Love has the longest arms.
Fourth Comings 
A handwritten letter from Marcus to Jessica
The tales we tell ourselves about ourselves make us who we are. To know them, dear Jessica, is to know you. And I want to know you always.
Forever, Marcus
xx
And so I'll let you go, and let it be.
Perfect Fifths
"Where have you been? I've been waiting for you forever."
"I was waiting for you," Marcus says. "The whole time."
xx
Gone for a while
Hoping, always, to return
If you will let me
MARCUS FLUTIE, OH GOD. (I'm reliving my love for this man as I write this post.) Megan McCafferty's Jessica Darling series is quite unforgettable. Seriously, it is. It's impossible to forget how much I related to Jessica, how much I loved reading her, and of course, how much I FELL IN LOVE WITH MARCUS. Marcus is a freaking DREAMBOAT. 'Nuff said.
Have you read the Jessica Darling series? (If you're a teenage girl and you haven't read it, you're missing an incredibly large part of life.) If you've read the it, what did you think of Marcus? Did you love him too? Share what you loved about him or the book and comment below! And don't forget to come back again and swoon with me over book boys next Saturday!
Who's had you swooning lately?
Leave your link at the comment section!