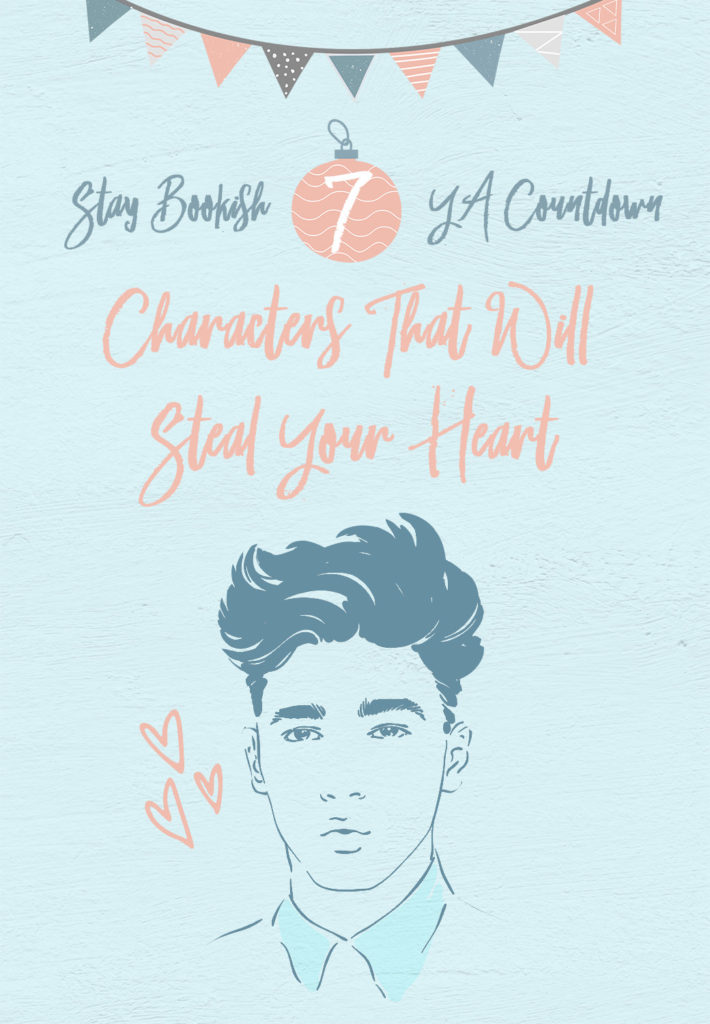 Hello everyone! Bianca here. (Still cramming my shows and books for the remaining days of the year haha) 2017 has introduced me to a lot of interesting characters, varying from one genre to the other. Certainly, such characters had the charisma that they figuratively radiate off the page. It usually depends on the reader, but these characters managed to hook me in and had me swooning and cheering for them. I admire good character development, and it is one of the things I often look for when I read. With that, I could say that my year was made with these characters. Each one now has a special place in my heart, and here are 7 of them.
Gifford Dudley || My Lady Jane
Okay technically, MLJ came out in 2016 but it's hard not to fall in love with the characters of this epic tale. While inspired by a real person, Gifford "G" Dudley is a handsome Tudor lad who turns into a horse. He has caring and sweet, a loyal fellow to the person he loves, and has a way with words. (Hah! Beat that Shakespeare!) I swear Jane is so lucky to have this guy. //faints
Molly Peskin-Suso || The Upside of Unrequited
I think it's kind of ironic but I dig it. Molly is absolutely crush-worthy. She has all the qualities of a person that I would admire in real life. I'm swooning over her in the sense that I really want her mason jar cookie dough and eat Cadbury mini eggs with her all the time. Does that make sense? Who wouldn't want to be best friends with Molly? She's too adorable. Wait, aghhh blushies.
Henry "Monty" Montague || The Gentleman's Guide to Vice and Virtue
Monty is a sassy soul. Though he slowly developed into the rogue-ish bisexual MC that we all know and love, Monty is the star of the best grand tour that I have ever read. Ever since his loving mother Mackenzi Lee introduced him to the world, I have been swooning over him because his story is truly interesting. Having read his story in full, it's no surprise if you will fall in love with him, too. But yeah, so sorry to all those who hope with me but he's smitten. ;)
David Drucker || What To Say Next
Look, I'm not the smartest when it comes to Algebra, Quantum Physics, or Calculus. But when David Drucker started talking about equations, I found myself blushing. While reading Julie's sophomore novel, I immediately fell in love with David. He has Aspergers, but it does not make him less of a great guy. He's too cute. Imagining him as an anime character did not help. When I imagine him, I just go "Yeah David. Talk Quantum Physics to me."
Hacker? Check. Rainbow-colored hair? Check. Amazing female lead? Check, check, check. At first, I actually considered putting Hideo Tanaka on the list but then I realized, eh. Emika deserves to be on this list. She is incredible, with her skill set at the age of 17. I admire her spirit and will to live, as well as her talent to adapt quickly in the fast-paced world of Warcross. You wouldn't know it for sure, but she'll have your heart one way or another.
Where do I even start with this gal? She's fierce, she's badass, she can make you kneel to the ground with her presence alone. If you have read Nevernight, you know that she's someone who will do anything to get justice for her Familia. In Godsgrave, she becomes this untouchable goddess. I can't say much without spoiling anything, (and I might have overexaggerated just a teeny tiny bit) but flaws and all, Mia brings the house down.
Saaket "Scott" Ferdowsi || Down and Across
I know most of you have yet to meet Scott because his story is not due until 2018, (don't worry but you will just have to wait for a little while) but I can assure you that he is certainly one of the best. His voice is unique, and there's this coolness to it. Relatable to a certain point, and an all-around nice guy who has the spunk and will. Thank goodness that we don't have to wait longer for his debut.
Who are the characters that stole your heart this year?