Having an author visit the Philippines is awesome- but three authors visiting? Triple awesome.
Saying I was excited for last Saturday is probably the understatement of the year. I was just SO psyched when I heard that Ransom Riggs and Tahereh Mafi were coming back to the Philippines, after having met them last year. I was even more thrilled when I heard that Veronica Rossi, whose books I only recently fell in love with several months ago, will be coming with them. "VTR in PH" as National Book Store nicknames the event on Twitter, turned out to be fun and memorable for me.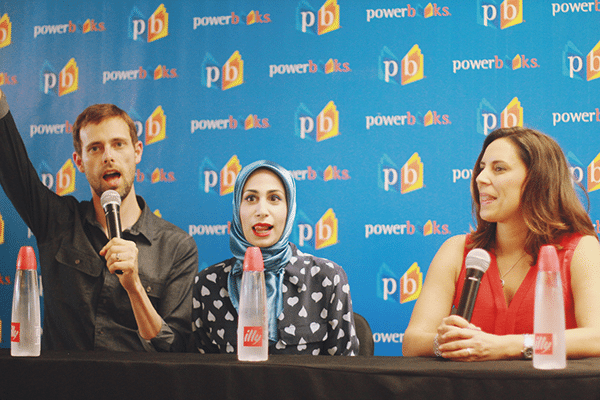 The first part of the event's lineup was the Bloggers Forum with the three authors. Getting to meet them and having more than a few words with Veronica, Tahereh and Ransom upclose was great and I'm very thankful to have had the opportunity. Several bloggers got to ask their questions for the trio and I was more than happy to just listen to the authors elaborating on their answers. Ransom was quirky and funny, Tahereh was a sweetheart and Veronica was epically friendly and overall very lovely when it came to answering questions and chatting with the bloggers.
Although the forum was quite hurried, it was nice to have learned more about the authors and their books. To share a few, here are some notes from the question and answer portion:
On their characters and stories
Veronica Rossi shared that she had always set Aria and Perry to be each other's love interest.
Tahereh knew beforehand who Juliette was going to end up with by the end of Shatter Me.
Ransom explained that the photos was always the guide for his story. He mentioned that he traveled and scoured markets to find the photos used in his books.
Veronica didn't regret any of the deaths in her book, although she did rethink Vale's. Still, she felt that the deaths were necessary to her story. She told us about how her publisher made a bad pun on her being cutthroat about character deaths.
If Tahereh were to choose a character from her book as a confidante, she'd choose Kenji. She explained that Kenji is based from her own brothers, who she seemed fond of. (Tahereh mentioned that she'd also love to be friends with Roar from Veronica's series and Emma from Ransom's.)
Ransom shared that if his books were represented by a single picture, it'd be a photograph of the inside of his heart.
Veronica didn't intend to convey a message behind her books at first, saying, "The most important lesson I wanted you to take away is the one you needed to hear the most." However, two ideas did emerge from her: finding happiness and finding what home means to you.
Tahereh elaborated on why she made Juliette's character weak, saying that she wanted her to grow. She said that she wanted to write about that kind of character (growth) because the strongest people she knows are physically weak but mentally strong.
On writing
Veronica was most challenged writing her second book, Through The Ever Night, because she really tried to dig deep into her characters then.
Tahereh said that she developed her writing style freely so that she could be able to explore her characters during the first book. For the second book, she focused on plotting and world-building.
Veronica mentioned that she had fun writing and playing around with Boomerang, an upcoming New Adult novel she is co-authoring.
After the forum's Q&A portion, the authors were asked to share their message to their fans!
Veronica: Mahal ko kayo– that's my message!
Ransom: You guys are amazing. You make us feel like we're coming back home.
Tahereh: We love you, guys. Seriously, truly, absolutely do. Salamat po forever (again).
And then we got our books and #VTRinPH quote shirts signed!
The next agenda for the day was the public signing where over 2000 people came. I'm still truly amazed by how dedicated Filipinos are to these awesome authors. They braved the longest lines and some got up crazy early (hands to down to Ms. 1:54 am!!!) and was still super enthusiastic when the authors finally came to meet them. I didn't attend the public event anymore, but did watch it from afar. (Note that the next photos were taken from the 2nd floor, with my 70-200mm lens so they might be kinda shaky.)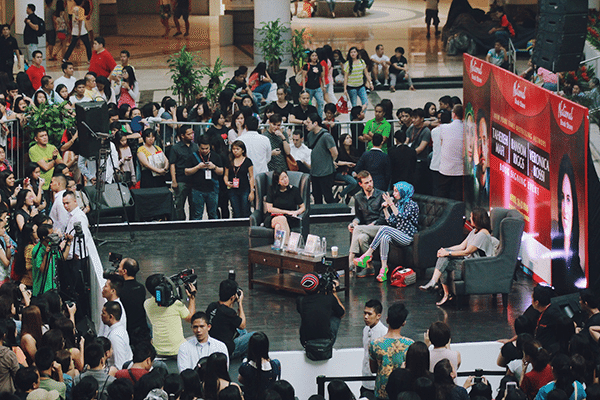 The public signing event at Glorietta Activity Center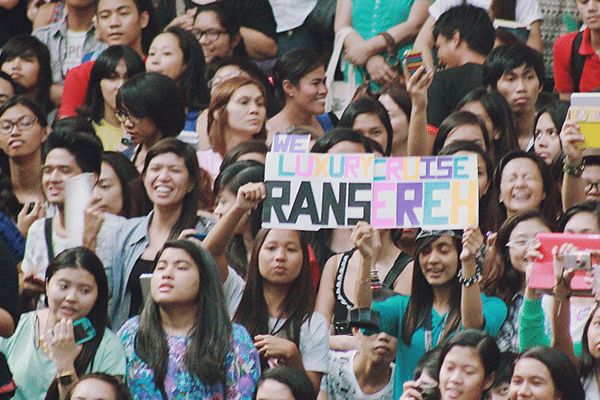 Luxury cruise >>>>>>>> ship (Ransereh 5evaaa!!!)
Public interview with the authors // Tahereh saying hi to fans
The mob of people got kinda chaotic with the fangirling so I didn't hear much of what had been said. There really was an overwhelming number of people and craziness + haggardness was inevitable. That said, I think the event was still a success!
Highlights of #VTRinPH: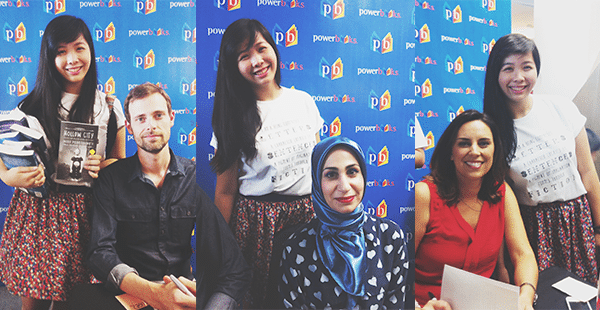 Getting to meet Ransom, Tahereh and Veronica!! *flails* *fangirls*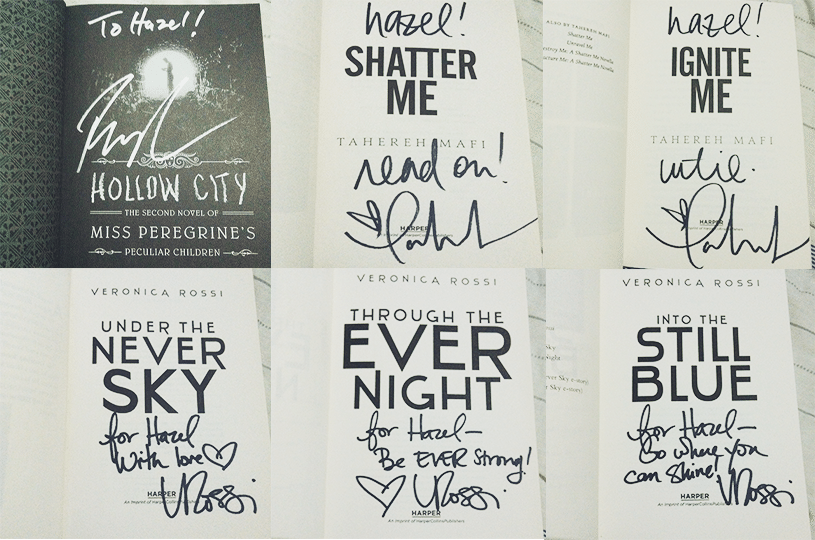 Signed books!!!! (Forgot to take a pic of my signed Unite Me eeep)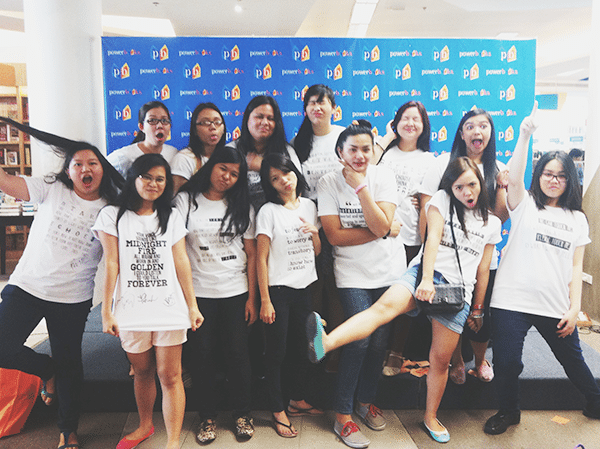 PH YA Bloggers x Quote shirts (designed by yours truly)!!!
RANSEREH ♡♡♡♡♡♡ (Right photo – Tahereh signs that she loves Ransom on Louisse's shirt)
Meeting Jasmine of Flip That Page and Shannelle of The Art Of Escapism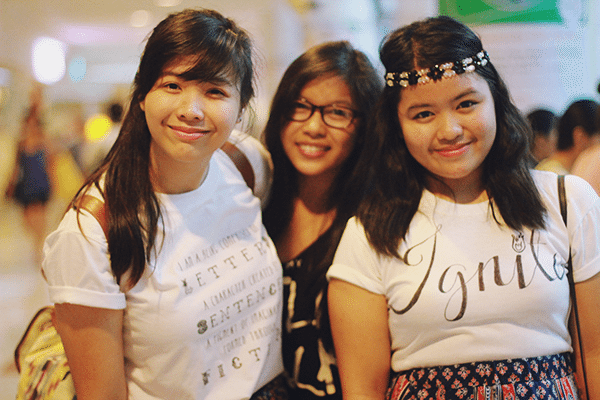 Hanging out with my best bookish buddies!!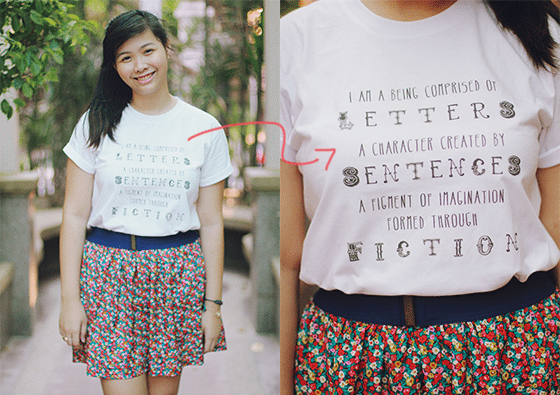 Book blogger turned fashion blogger… kidding. I just wanted to show off my shirt. ;)
That's it, I think! I cannot express how grateful I am to be a part of this unforgettable event! It was tiring and exhausting, but worth it. THANK YOU, National Bookstore, for always bringing us the authors we love! To my fellow bloggers and also to my bookish friends, thank you for making this event more fun! Love you guys!
Since this happy bookworm wants to share the love- I'll be doing a giveaway of an extra (copy) of my tshirt, signed by Tahereh. Oh, and I also have a link-up so I can stalk your post about the event! Do join/sign up! :)
Giveaway:
a Rafflecopter giveaway
Link-up: