Jamie from The Perpetual Page-Turner came up with a cool new survey! Basically you just have to use book titles to answer each question about your YA life. Since I'm still a teenager myself, I'll be pretty much just describing my life right now. This is such a fun way for you guys to get to know me a little better so I'm really excited! :)


You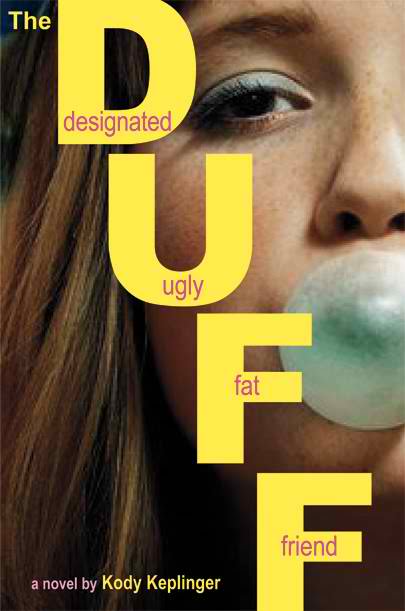 How would you describe your 16 year old self? The DUFF: Designated Ugly Fat Friend
When You Looked Into The Mirror What Did You See:  Not Pretty Enough (True. In other news, I'm currently reading this one!)
Your 16 your old self outlook on life/motto: The Sky Is Everywhere (Hard to explain this but mostly, I just felt that life was limitless, y'know?)
How You Think People Would Describe Your Personality:  The Good Girl (Nice and pleasant.)
Describe An Insecurity In High School: Speak (I was and still am a terrible conversationalist. I was always insecure that people around me felt awkward or disinterested.)
Describe Your Worst Trait As A Teen: Speechless (Unless it was about books, I never have anything to say.)
Describe the contents of your diary/journal: The Book of Broken Hearts (I've never been heart broken- except for fictional characters- but I mostly rant on my journal about my disappointments.)
Your biggest Fear: Never Enough (I'm not a perfectionist or anything but I was always striving to be good.)
You excelled at: Just Listen (I was good at listening to people's dilemmas.)
You were always concerned about:  Pushing the Limits
You Thought Your Life Was: Something Like Normal (It ain't special or anything endearing.)

Love Life
How would you sum up your high school love life? The Lonely Hearts Club (Also known as The-I-Have-No-Love-Life club.)
Describe your most serious boyfriend from high school? Silence (Can't give you an answer because I've never had a boyfriend.)
Describe your first kiss: Anna and the French Kiss (I'm kidding. I've never been kissed. Do I hear you gasp? Well, it isn't a big deal.)
Your philosophy on dating/love: One Day (I'll find someone soon enough.)
Describe Your Worst Break Up: Getting Over Garrett Delaney (Obviously, I've never gone through a break up. That would entail being in a relationship with someone. But Getiing Over Garrett Delaney's a really good book though! If I ever go through a break up, I'll read it again.)
Family
Your relationship with your mom as a teen: Parallel (My mom and I were okay.)
Your relationship with your dad as a teen: Bloom (My dad and I weren't close when I was a kid but as I grew up as teen, our relationship developed.)
Your relationship with a sibling: Love You Hate You Miss You (I only have my younger sister. We were hellbent on pissing off each other before, but now we've become more sisterly. Sadly, she's away right now, studying abroad.)
What you thought about your parents rules/parenting style: Be More Chill (My parents were chill when it came to rules but I wish they were cool and more friendly with my friends.)
Friends
Describe you and your best friend/s at 16: Tangled (Yep, we were a very clingy mess.)
Your Social Status: Geek Charming (Yeah, I have a geeky streak but I was friends with most of my batchmates.)
Describe Your Group Of Friends: Crazy (You don't even want to know the things we did.)
School
Your Perception Of High School Upon Entering: Pandemonium (Imagine this: First day of school. You're the new girl. You enter your classroom. There are girls screaming at each other, like they haven't seen each other in a 100 years. They're screaming really loud. So yeah, complete pandemonium.)
Your relationship with academics: Bittersweet (I used to have a brain in high school. College obliterated it.)
Your Weekends Were: Breathe (Yep, it's a time to relax and just breathe.)
If Your High School Life Was A Movie It would be called: Sorta Like a Rock Star (LOL, I wish.)
A Class You Wish High School Would Have Offered: Megan Meade's Guide to the McGowan Boys (I came from an all girls high school. So yeah, a class about what to do around boys would have been helpful.)
Your Senior Year Was: Golden (No, actually, not really.)
Describe prom: Forever (Yeah, I wish it could've gone on that long.)
When High School Ended It Was: The Corner of Bitter and Sweet (A part of me was sad but a part of me was glad it was over.)
The Future
How You Felt About The Prospect of College: Take Me There (I dreaded it but at the same time, I was really excited to start.)
How You Thought Your Life Would Be At 17 (insert whatever age you are now): The Moon and More (I thought I'd be successful at things.)
Your Life Now
Describe Your Love Life Now: The Art of Wishing (Love life is still nonexistent. I'm forever wishing for it to happen already.)
Describe The State Of Your Friendship With Your High School BFF/s: Hush, Hush (We haven't been in touch much lately.)
Your Relationship With Your Parents Now: So Much Closer (I'm slowly feeling like I can tell them things now.)
Your Thoughts On Your High School Reunion (either if you had it or if it's upcoming): Amplified (I'm sure it'll be loud and insane.)
Biggest Lesson You Learned In High School: A Really Awesome Mess (That's what life is.)
One Thing You WISHED You Had Learned: Being Friends with Boys (I'm still really awkward when it comes to them.)
Advice You Wish You Could Have Given Your Teen Self: Sometimes It Happens (Don't let failures get you down.)
Something You Could Learn From Your 16 Year Old Self: This Is What Happy Looks Like (I was really happy then. Now, not so much.)
So… what do you guys think? Any comments you want to make about my YA life? (Go ahead, you can make fun of it. Seriously.) What would your answer be to some of the questions? Leave your thoughts below!
PS: If you guys are planning to answer this survey too, you can go ahead and grab the banner I made. I'd love it if you could link it back to me. :-)

Did you enjoy reading this post?
Subscribe now to receive fabulous freebies and get the latest bookish reviews and features straight into your inbox.