Hello, awesome readers! Today's post is a little different from the others- it's a special feature on the writing process, specifically for Cammie McGovern with her upcoming and highly awaited novel: Say What You Will. Cammie reveals all on how she came up with such a heartfelt book! Go read what she has to say. ;)

Say What You Will by Cammie McGovern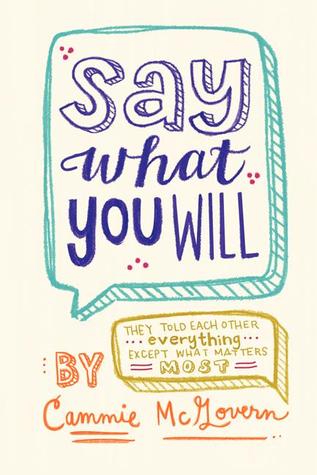 Writing Say What You Will
It took me an embarrassingly long time to write Say What You Will. Almost eight years, in fact, with very different drafts and other books in between. I admit this because I take such comfort when other writers admit that a book which might seem like a relatively straightforward story took a long, long time to arrive. Though I'm not comparing myself to John Green, I love that he says The Fault in Our Stars took many years and many different drafts to get right. I love it because when you're in the throes of wrestling with a book that has good elements and much that doesn't work, it's hard not to feel incredibly stupid.
You think: I've got this one charming character, why can't I put her in a story that works? For years, this was my dilemma with Amy. I had her in an adult book which took place after her graduation from Stanford. She was a highly intelligent, very disabled young woman who disappears while on a date her parents have set up for her the summer after her college graduation. After her date is cleared of any wrongdoing, (Amy excused her herself to go to the bathroom then disappeared out the back door of the restaurant,) her parents gather her old "friends" from high school—her hired peer helpers—to piece together their memories of the year they spent with Amy to figure out where she might have gone.
It sounds okay, doesn't it?
Maybe it even sounds pretty good. I still like the idea that girl who has accomplished so much hasn't figured out a way to determine her own path without disappearing from the one her parents have charted out for her. The problem was: it never worked.
The plot got bogged down in logistical details. I over-researched disappearances and put in way too many scenes of people hanging flyers and combing through woods. It was convoluted and surprisingly boring. When I returned to it after a few years hoping it would be better than I remembered, it wasn't. If anything, it was worse. The only part I liked was a relatively small subplot where one of her old peer helpers—Matthew—talks about the year they spent together and how he felt like Amy was the best friend he'd ever made.
For no reason that I planned ahead of time, he was her only peer helper who hadn't gone to college. He still worked the movie theater job he had in high school. He was, by most estimations, far less successful than the others, including Amy, but he was—somehow—the most appealing thing in the book.
So I started over.  I threw away years of work and wrote a bunch of new scenes with Amy and Matthew back in high school. Talking honestly. Getting to know each other. Once I had picked this path, the book took about eight months to write. So altogether: seven years, plus eight months.
I think this encapsulates the highs and lows of the writing life pretty well. There are years spent with stories that never succeed. Years devoted to characters and a plot no one will ever know because I wasn't a good enough writer to get the idea out of my head and down on paper in a way that came alive and made sense.   I suspect every writer knows this feeling—as if you are running, headlong into the wall of your own limitations. I remember early in my time as a creative writing student, sitting in classes where I was both—if this is possible—the most enthusiastic student and also the worst. I wrote VOLUMINOUSLY, long long stories that cracked me up and made no sense to anyone else, judging by the polite silence that settled over the room any time my stories were being discussed.   The excruciating, "I wasn't sure, was this meant to be funny?"
Oh, it's torture to recall but it should also be reassuring for every young writer out there. I stuck with it and got better. I wrote stories I was less sure about which eventually worked better. In fact, I learned an interesting lesson: this constant uncertainty about yourself, your story, your ability to pull it off—is kind of the best part. It's the reason I remain addicted to this process. Because sometimes in the rubble of your own failure, you can spot a little glimmer of hope. Wait a minute, you think after reading something so bad you feel sure you may never write again.  There is this one character I still like a lot. He's only got twelve pages now, but maybe I can write a little more about him…
There's always a chance that you can make it better. Maybe you can even make it good enough that your characters can actually come out in public and meet a few readers…
You've come such a long way, Cammie, and we all cannot wait to finally read your years worth of work! Book nerds, if y'all enjoyed this lovely guest post, do add Say What You Will to your to-read shelves and watch out for its release next month!
Want a chance to win SAY WHAT YOU WILL? Enter the giveaway below:
To win a gorgeous finished copy of Say What You Will, as well as other awesome prizes, join the #AhMAYzingReads twitter party on May 30th, 9pm EDT/ 31st 9AM PHT! :-)
Author Bio: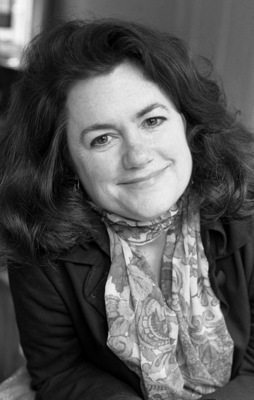 Cammie McGovern was born in Evanston, Illinois, but moved to Los Angeles when she was seven years old. She is the author of three adult novels, The Art of Seeing, Eye Contact, and Neighborhood Watch. Say What You Will will be published by HarperTeen in June, 2014. She currently lives in Amherst, MA, with her husband and three sons, the oldest of whom is autistic.