Hi everyone! Today, I'm interviewing Anne Blankman, whose debut novel, Prisoner of Night and Fog, came out a month ago! Prisoner of Night and Fog has one of the most thrilling premises I've heard of and while I've yet to read it myself, I am very much eager to know all about it! I hope y'all are too!
The Author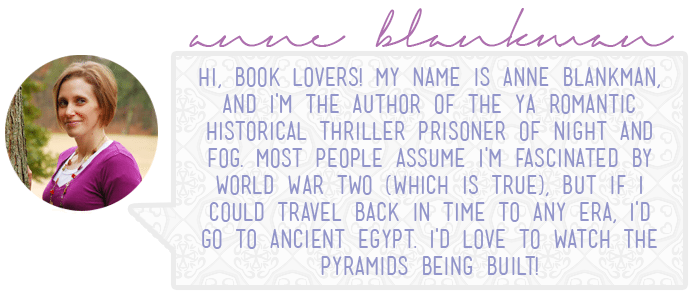 Writer loves
Comfort food – Apple slices with peanut butter. Yum.
TV Show – I just started watching "The Vampire Diaries" on Netflix, and I'm officially obsessed. Team Stefan all the way!
Writing 'fuel' (beverage) – Water. I know, can I sound more boring?
Fill in the blanks
One thing that I both love and hate about writing is… research. I adore learning about different time periods, but it can be frustrating when I come across amazing details that I can't use for a variety of reasons–sometimes it's information that my protagonist wouldn't know or it's an event that occurs after my story's time frame. (For example, in PRISONER OF NIGHT AND FOG, I would have loved to share with readers that Hitler's favorite movie was "King Kong," but the film came out two years after PRISONER takes place).
My usual writing routine is… I have to be very disciplined since I have a young child. Every morning, I get up early and run five miles, using that time to brainstorm and plot out my next scene. As soon as I drop my daughter off at preschool, I race home and write as much as I can.
The best tip I could give to aspiring writers is… write. We're always told to read, and reading is important, too. But the best way to learn how to write is to do it a lot.
The Book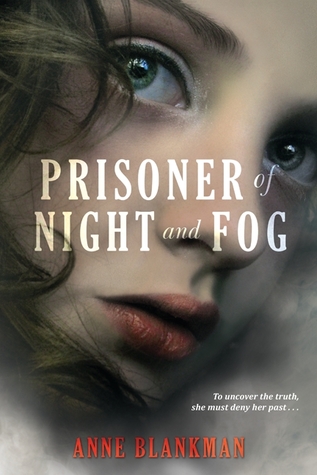 Your debut novel, Prisoner of Night and Fog, is a YA Historical Thriller, set in Munich at the time of Hitler. What made you want to write this unique story?
A couple of years ago, I read a nonfiction book called HITLER & GELI by Ronald Hayman. It's about Hitler and his little-known, much younger half niece. By all accounts, he loved her very much, and for a few years when he was an emerging politician, she even shared his luxurious apartment in Munich. Long after I finished the book, I couldn't get Geli out of my head. What must her life have been like, growing up within Hitler's inner circle? Living with one of the most evil men in history? I knew I had to write a story about someone similar, but I needed the freedom of a fictional character, so Gretchen Müller was born.
Gretchen, your main character, is the favorite of his Uncle "Dolf" a.k.a. Adolf Hitler. How did you develop the relationship between Gretchen and this famous dictator?
This is the first time I've ever been asked this question! The answers is: research. Lots and lots of research. I modeled Gretchen's friendship with Hitler on the relationships he had with three other young women: his half niece Geli Raubal, his eventual mistress Eva Braun, and the daughter of his favorite photographer, Henny Hoffmann. Incidentally, all three of them are characters in PRISONER OF NIGHT AND FOG. And for those of you wondering about Hitler's "attempted kiss" scene–if you've read the book, you know what I'm talking about–that part was inspired by a real incident, when Hitler asked the fifteen-year-old daughter of one of his Party followers for a kiss.
Despite being a Historical Thriller, your book also focuses on the romance between Gretchen and Jewish reporter, Daniel. How would you describe Daniel as a love interest?
Intense, ambitious, sarcastic, quick-witted, and fearless. Some people assume that Daniel's based on my husband, but they're actually quite different. I was inspired to create Daniel's character by the real-life heroic anti-Nazi journalists of the Munich Post (the newspaper where Daniel works in the novel) and my own father, who was a reporter as a young man.
I bet you had to do so much research to piece together this extraordinary novel! Where there parts of the story that featured real-life events?
Oooh, I have to be careful how I answer this so I don't give away any spoilers! Yes, I wound PRISONER around several real events, including the Beer Hall Putsch of 1923, the Nazis' disastrous attempt to overthrow the government in Munich, which ended in a street shootout in which Gretchen's fictional father is killed. There's a certain event that occurs near the story's end that really happened, too–and I don't dare reveal it here and ruin any surprises for readers!
Dedication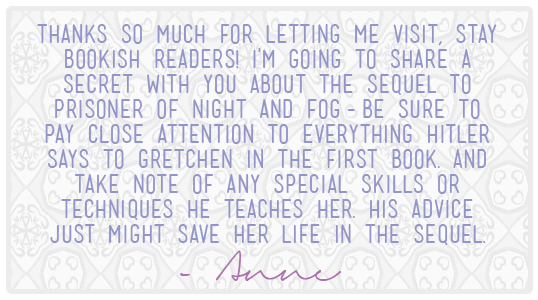 Eeeep, yey for sharing secrets! Thanks so much, Anne- especially for the chance to interview you and ask you about your awesome novel! Book nerds, don't forget to add Prisoner of Night and Fog to your to-read shelves! Looking to follow Anne? Check out her website, Twitter and Goodreads!
Wanna win PRISONER OF NIGHT AND FOG? Enter the giveaway below: