Hello, everyone! Can you believe we're at the final week of Ah-MAY-zing Reads? I sure can't! Anyway, to kick-off this last week, I'm interviewing Jillian Cantor, whose  novel, Searching For Sky, was released earlier this month! To learn more about her and her book, check out this slam book interview:
The Author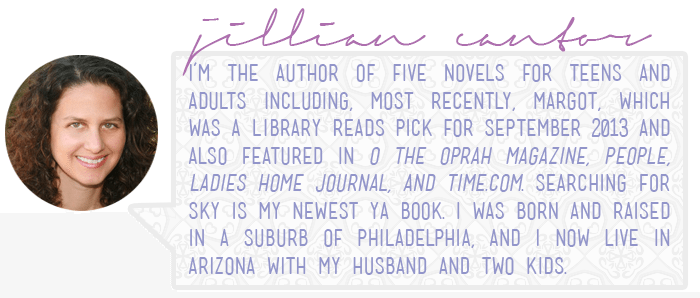 Writer loves
Music album – Right now, what's been playing over (and over) in my house is the soundtrack to Frozen. (It's addicting!)
Classic novel – The Great Gatsby
Breakfast food – Granola
Fill in the blanks
My usual writing routine is… Coffee and my laptop, first thing in the morning.
If I weren't a writer, I'd be a… writer. Seriously, I've gotten so much rejection in the span of my writing career and there were so many times when I could've given up, but I kept writing. I don't think there's anything else I'm suited for.
Of all the books I've ever written, I'm closest to… I can't answer that. I'm usually closest to whatever I'm working on at the time. But I get close to all my books, or I wouldn't be able to put in the time and energy to follow through with them in the first place!
The Book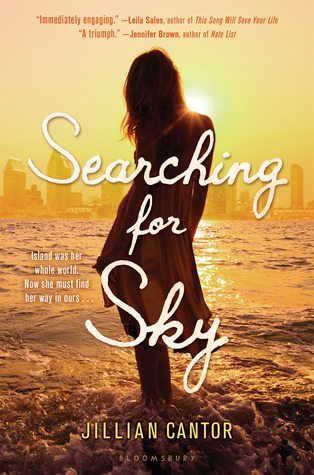 Searching for Sky has such an interesting synopsis! How did you come up with the idea of the book?
To really answer this question I'd have to give a spoiler about the plot so I'll try to answer it generally so as to not give anything away. I first had the idea for the book after the movie theater shooting in Colorado. I had the thought that our world was pretty awful and nowhere was safe anymore, and the idea of Sky, this girl who has been raised on a deserted island, came to me. How would she view our world? And what's really better, our modern world, or the life Sky lived on her island? These were the questions I was interested in exploring.
What inspired Sky's character? Is there anything about her that you could relate to yourself?
Having grown up and survived on an island, I wanted Sky to be tough and fearless about survival skills that I would not be tough about at all (trapping and killing animals for food, fishing, building fires, etc.).  But I wanted her to fear things she comes to discover in our modern world. So Sky is not very much like me at all. Except that Sky is intensely loyal to River (the boy who grew up on Island with her), and I'm like that with my close friends too.
You've written several other books before. How did writing this Searching For Sky differ from any of them?
I wrote the first draft of Searching for Sky really fast, in about a month. The idea came to me and I couldn't stop writing it. I was just sitting there every day for hours writing. I've never written a draft that quickly or easily before and I don't think I ever will again. Sky's story was special to me and I couldn't forget about her or let the draft go, even when I should've been doing other things. That said, I also ended up adding a lot to the book (more than I usually would) in the revision stages, which I think was definitely a result of me drafting it so fast.
I think the cover of Searching For Sky is real pretty! How would you relate it to your story?
I agree that the cover is pretty, but I can't take any credit for that at all! (Bloomsbury did the cover.) I think the cover is showing Sky coming out of the middle of the ocean, looking towards San Diego.
Dedication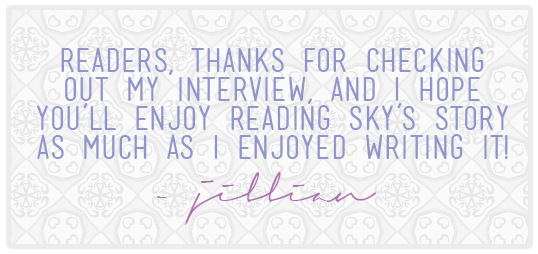 We can't wait to read Searching For Sky, Jillian! Thanks for sharing about you and your book today! Book nerds, don't forget to add Searching For Sky to your to-read shelves! Want updates from Jillian herself? Check out her website, Twitter, Facebook and Goodreads!
Wanna win SEARCHING FOR SKY? Enter the giveaway below: