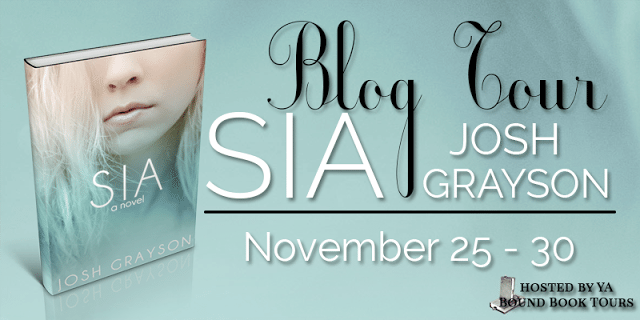 Title: Sia
Author: Josh Grayson
Publication: November 20, 2013
Genre: YA Contemporary
Goodreads / Amazon / Kobo
Synopsis: 

When seventeen-year-old Sia wakes up on a park bench, she has no idea who or where she is. Yet after a week of being homeless, she's reunited with her family. At school, she's powerful and popular. At home, she's wealthy beyond her dreams. But she quickly realizes her perfect life is a lie. Her family is falling apart and her friends are snobby, cruel and plastic. Worse yet, she discovers she was the cruelest one. Mortified by her past, she embarks on a journey of redemption and falls for Kyle, the "geek" she once tormented. Yet all the time she wonders if, when her memories return, she'll become the bully she was before…and if she'll lose Kyle.
Excerpt:
By the time we return to the bakery, it's ten o'clock. We stand outside the door talking for a while.
I glance at my wristwatch. "I have to head home," I say reluctantly.
"Let me drive you," Kyle offers.
"You have a car?"
He offers a little shrug. "Not exactly. Wait here." He disappears into the store, leaving me to wait on a bench outside. A few moments later he returns via a side alley, astride a small, beat-up motorcycle. Exhaust rattles against the alley's brick walls. Kyle grins at me and holds out a white helmet. "Climb on!" he shouts over the noise.
I look at the bike, hesitating.
Kyle laughs. "What? You'll take on the psychos of LA at night, but you're afraid of a little bike ride?"
Determined not to appear weak, I garner my courage and climb on behind him. He tugs his sweater over his head and hands it to me.
"It'll be cool once we get going," he warns. "You should wear this."
"But what about you?"
He shrugs. "I'm used to it."
There's already a chill in the air, and I have no doubt the bike ride will be freezing. As much as I want to refuse, I decide the sweater is a necessity. "Okay, thanks." I pull his sweater on and can't resist inhaling as it slides over my head. I think of Amber complaining about him, but again my nose is graced with that doughy, cinnamony sweet smell, and I don't see how she could insult him. I hug my soft, woolly arms around my body, feeling absurdly pleased. Being with Kyle is making me happy. I start to wonder if he feels the same way about being with me. Could he? After everything I've done in the past? Probably not. I mean, really, we have nothing in common. Until a few hours ago he couldn't stand me. There's no point in getting interested in him that way, I tell myself.
"Do you know where I live?" I ask.
He rolls his eyes. "Everyone knows where you live, Sia. Helmet."
I slide it over my head.
Kyle looks back. Once he sees that it's on right, he gives me a thumbs up. "Hold on," he suggests.
Battling an insane rush of shyness, I lean against him and wrap my arms around his waist. He's lean, I discover, but not as skinny as I'd originally presumed. Muscular, not weak. When he pulls into the street I squeeze my eyes shut, expecting a crash at every turn. But after a while I relax and start to enjoy the ride. And though I know I have no right, I secretly relish the strong, solid feel of his body within my arms. By the time we get close to my house, I wish we could just keep on driving.
About the Author
Josh Grayson was born in Mexico, raised in Massachusetts, and now lives in Martinsville, Virginia. It was his move to the South that stirred his imagination and gave him the courage to start writing. During his free time, Josh enjoys reading, jogging, swimming, and watching YouTube videos.
 Josh currently works as a medical driver, shuttling people all over Virginia and North Carolina. He has also worked as a machinist, film sales rep, administrative assistant, and telemarketer (he apologizes if he called you). Sia is his debut YA novel.