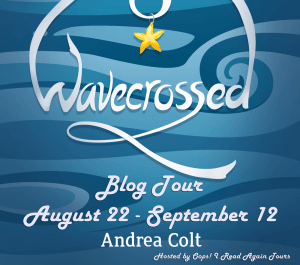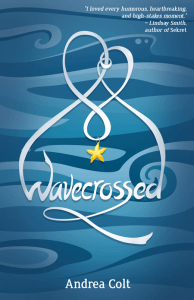 Title: Wavecrossed
Author: Andrea Colt
Date of Publication: August 22, 2013
Genre: paranormal YA
Purchase: Amazon / Barnes and Noble / Createspace
Add Wavecrossed to your Goodreads shelf!
Blurb:

A young-adult paranormal novel about selkies, tasers, kissing and secrets.

To Cassandra Kelleher, trust is a dirty word.

A teenage selkie who grew up on land, all she wants is to free her family from the man who stole their sealskins long ago. With her twin brother Brennan losing hope and her window of opportunity disappearing like the beach at high tide, she'll try anything.

Before long, however, Cassandra can't tell whether her biggest threat is the man holding her family captive, a classmate who's discovered her secret, or her own paranoia. Battling broken friendships and alarming romantic entanglements, Cassandra finds that trust could be the key to winning her family's freedom … or losing her own.
Excerpt:
From Chapter 11, in which Cassandra is on a mission:
He brushed a lock of hair from my face. "You know, you never told me your name."
I hesitated. "Anna."
Paul cocked his head. "Is that really your name?"
"Um." Caught off guard, I knew by Paul's frown that my expression had given me away. I needed to get my head back to my real mission; Paul was way too sharp. "No," I admitted.
On my back, his hands tensed.
"Tell me your real name."
Thinking fast, I tossed my hair flirtatiously.
"I'll tell you later. If you impress me."
"I have to earn your name?" Paul raised a brow, but thankfully seemed to relax. "What do I have to do?"
"You'll think of something." I was about to suggest finding a room to ourselves when Paul tilted his head down with a sudden quick grin.
"What about this?" He pressed his mouth to mine.
Want to know what Cassandra's mission was, and if it worked? Read Wavecrossed, out now.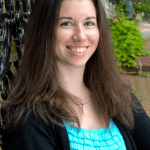 About Andrea Colt
Andrea Colt grew up reading and squabbling with her identical twin. She lives in Alexandria, Virginia with her husband, a fridge full of cheese, and two feline muses. Visit andreacolt.com to get to know her better.
Links: 
Website / Twitter / Facebook / Newsletter