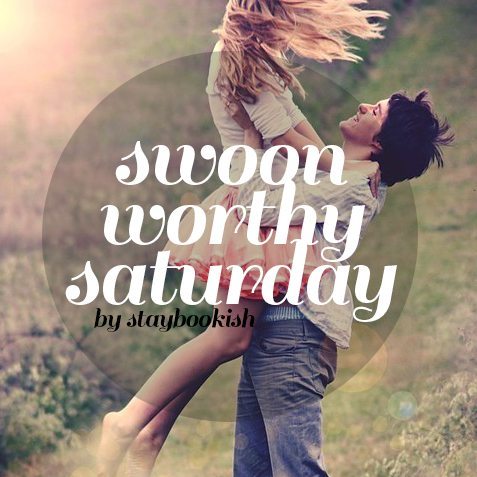 Saturday is a day for swooning. Swoon Worthy Saturday is a weekly meme where in we present a fictional boy who has swept us off our feet, given us butterflies, made our heart do acrobatics and driven us absolutely crazy! (Join the fun here.)
Coincidentally, the book I just finished today, The Edge of Never by J.A. Redmerski, had me swooning SO SO MUCH. I'm hoping this SWS post will help ease all my feels. Now, let me introduce Andrew Parrish to you.
The Gist of Andrew Parrish: 

1. Bewitching green eyes, tousled hair, dimpled heart-warming smile = EPITOME OF GORGEOUSNESS
2. He's a hopeless romantic.
3. He thinks simple is sexy; he likes a woman who knows what she wants.
4. He has a dirty mouth that is full of snarky yet funny remarks.
5. He gets really deep and philosophical sometimes. His words are quite awe-inspiring.
6. He plays the guitar and sings. Also, he likes classic rock.
7. He is so SEXYYYYYY! (Srsly his level of hotness rivals hell)
Andrew's Swoon Worthy Moments slash Quotables: 
"Just that dwelling and planning is bullshit, you dwell on the past, you can't move forward. Spend too much time planning for the future and you just push yourself backwards, or you stay stagnant in the same place all your life. Live in the moment, where everything is just right, take your time and limit your bad memories and you'll get wherever it is you're going a lot faster and with less bumps in the road along the way."
"I don't think you ever really fall out of love with someone. I think when you fall in love, like true love, it's love for life. All the rest is just experience and delusions."
"The heart always wins out over the mind. The heart, although reckless and suicidal and a masochist all on it's own always gets it's way. The mind may be what's best but I don't give a shit what my mind is telling me anymore. Right now I just want to live in the moment."
"For the first time in my life, I've felt whole, alive, free. You were the missing piece of my soul, the breath in my lungs, the blood in my veins. I think if past lives are real then we have been lovers in every single one of them. I've known you for a short time, but I feel like I've known you forever."
Andrew Parrish can't be my book boyfriend. This guy is totally book-husband level! Perfect words, a beautiful voice, gorgeous bod, good in bed, sweet and caring- he's the type you wanna get tied down to forever. I didn't expect to fall in love with Andrew so much! I am dying to read The Edge of Always! I'll try to write a review for The Edge of Never soon but I first have to find words first. (Good luck with that.) Anyway, have you guys read this book? If you haven't, I really really recommend you do so, especially if you like NA. If you have read it, what did you think about Andrew?
Who's had you swooning lately?
Leave your link at the comment section!