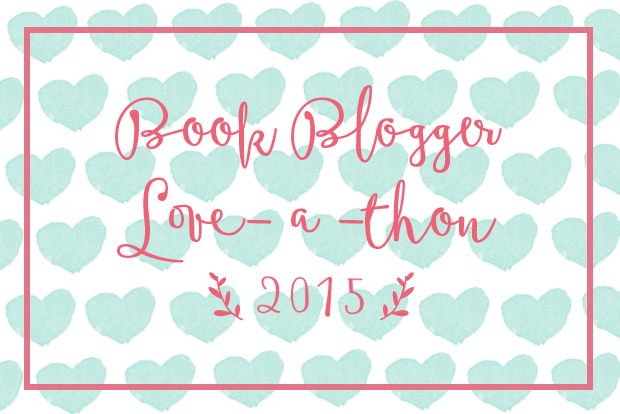 Hello, my darlings! It's time to kick-off the Book Blogger Love-a-Thon this 2015! Having been a part of last year's event, I'm totally excited to be joining again! To start, I'll be sharing my answers to the Love-a-Thon interview questionnaire!
1. What's your name?
H-A-Z-E-L. Hazel. Yes, like the nut. Yes, like the eye color. Yes, like the MC of TFIOS.
2. Where in the world are you blogging from?
Manila, Philippines!
3. How did you get into blogging in the first place?
I started on Tumblr, where I once had a personal blog. I tended to talk a lot about books there, and I thought to myself, "Why not just create a book blog?" and so I did.
4. How did you come up with your blog name?
My aim upon initially creating my blog was to have it focus on books. So while trying to come up with a blog name, I was pondering what I wanted from this (book blogging)- and I realized that the goal was for me to stay bookish.
5. What genre do you read and review the most on your blog?
Contemporary Romance, most of the time- varying from Young Adult to New Adult! I do like Fantasy and Dystopian books but I still tend to lean to my favourite genre when it comes to what I read/review.
6. What other types of posts do you do on your blog, apart from reviews?
I share lots of book photography (Novel Portraits), a few discussions (Little Talks), some favourite quotes (Quote Book), and also book playlists (Story Soundtracks). I also do interviews with authors and sometimes share promos.
7. Best blogging experience so far?
Last month, I got to do a one on one video interview with Michelle Hodkin. It's definitely my best/most unforgettable blogging experience so far.
8. Favorite thing about the blogging community?
This event itself is the epitome of what I love about the book blogging community. There's so much love to go around!
9. Name the 5 books you're most excited for this 2015!
10. What's an underrated book or series that you think everyone should read?
Trish Doller's Where The Stars Still Shine and Kasie West's Pivot Point duology!
11. Which book boy or girl would be your book BFF?
I'd be great friends with Emily from Since You've Been Gone because we're so much alike. I reckoned we'd stick together.
12. Apart from reading, what are your other hobbies or interests?
I love designing stuff and I actually have a design shop where I offer my services to other bloggers. I also love photography and I've recently made a blog (Films & Reveries) that serves as my photo journal.
13. Apart from book shopping, what else do you like shopping for?
I love shopping for pretty trinkets and pretty stationery items!
14. At a party, the DJ suddenly changes the song – and it's your song. What song would be playing?
Either Shut Up and Dance by Walk The Moon or Greek Tragedy by The Wombats. I love turning these songs up and putting them on replay!
15. Pick out either a book you want turned into a film/TV show, or a film/TV show you want turned into a book.
It's already been optioned actually- I'd love for Gayle Forman's Just One Day to be adapted in film soon!