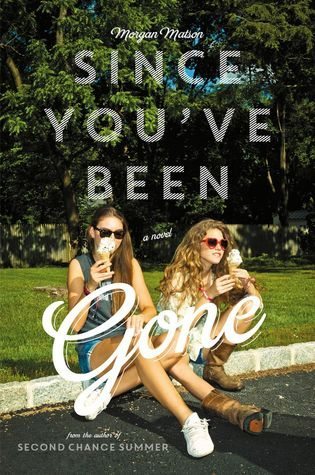 Since You've Been Gone

by Morgan Matson

Published by Simon & Schuster on May 6th 2014

Purchased copy from Fully Booked

449 pages

Purchase on

Amazon

・

Fully Booked
Synopsis
It was Sloane who yanked Emily out of her shell and made life 100% interesting. But right before what should have been the most epic summer, Sloane just…disappears. All she leaves behind is a to-do list.

On it, thirteen Sloane-inspired tasks that Emily would normally never try. But what if they could bring her best friend back?

Apple picking at night? Okay, easy enough. Dance until dawn? Sure. Why not? Kiss a stranger? Um...

Emily now has this unexpected summer, and the help of Frank Porter (totally unexpected), to check things off Sloane's list. Who knows what she'll find?

Go skinny-dipping? Wait...what?
In a well-ordered universe…
#1: Best friends didn't leave their best friends behind without a word. This is how Since You've Been Gone starts: After two years worth of a solid friendship, the kind where one is never without the other, Emily finds her best friend, Sloane, just gone. Emily has zero clue why Sloane suddenly disappeared like that- only a list, from Sloane herself, of things to do. Thinking that the list might help her find her best friend, Emily dares herself to check off every item on it, which involves skinny-dipping, stranger-kissing and apple-picking at night. As Emily spends her summer accomplishing the list, in the process, she finds growth and new friendships.
"I don't think you have to do something so big to be brave. And it's the little things that are harder anyway."
#2: I'd be spending my whole summer just reading and devouring this book over and over. What I'm saying here is that: I absolutely loved Since You've Been Gone! I have to admit that I went into the story with certain expectations, as this was one of the books I was just crazy excited about, and I'm so happy that these expectations, namely being able to enjoy the book and embrace the characters, were met. Morgan Matson is seriously an excellent writer and I am in awe with how she continues to create such amazing contemporary YA novels. I utterly need for there to be more books by her. Since You've Been Gone is by far my favorite Morgan Matson book for so many reasons.
#3: I'd to be able to connect to main characters the way I did with Emily. I didn't simply get Emily's character- I knew her. Understanding Emily came easy for me because reading about her felt like looking through a mirror and seeing myself. She's a passive girl- timid and isn't much for talking to people which is why she's usually unnoticed. Unlike her best friend who could chat and be friends with anyone, Emily prefers interaction with others to be kept at a minimum because she's pretty awkward at them. As I learned more about her character, all I could think of was that she was so me. In fact, I think there's an Emily Hughes persona in everyone which is why her character is so relatable. It's because I related so much to Emily that I rooted for her and felt so proud as she stepped out of her comfort zone and learned to shine on her own.
She was my heart, she was half of me, and nothing, certainly not a few measly hundred miles, was ever going to change that.
#4: Friendships would be valued. I was really looking forward to reading about Emily and Sloane's friendship and was so glad to find out how significant it was to the story. I love it when books emphasize positive friendships. What makes Since You've Been Gone stand out is that it explores Emily and Sloane's bond and yet it allows them to discover who they are apart from when they're with each other. That summer, Emily also learns to make new friends, namely, Frank, Collins and Dawn. I had so much fun reading these characters, who were all so interesting in their own way, but mostly, I loved how they gave Emily the courage to step out of Sloane's shadow and do things for herself.
"You're the brightest thing in the room."
#5: Frank Porter wouldn't be a fictional character. I know I've fallen in love with another book boy when I'm extremely devastated by the fact that he isn't a real live person. That's the case with Frank Porter, the over-achiever and all-around nice guy who helps Emily with Sloane's list. Frank Porter with his smarts, good-naturedness, love for The Beatles and codes, fear of heights, and secret rippedness makes me melt. *turns into puddle* Seriously though, I love Frank. He's such a solid and dependable guy, so one-in-a-million. I would like him to be handed on a silver platter to me- thank you very much.
It was like swimming under the stars, like sleeping outside, like climbing a tree in the dark and seeing the view. It was scary and safe and peaceful and exciting, all at the same time. It was the way I felt when I was with him. "Like a well-ordered universe."
#6: Romance build-up would be as wonderful as Frank and Emily's. I am all for slow-burn! I love it when romances start as friendships and I couldn't be more happy with the way Frank and Emily's relationship happened. There's no instalove, there isn't even an instant attraction between them. They get to know each other for real and become really good friends. I just adored that so much. And how cute is it that Frank and Emily swapped iPods? I ship them so hard.
#7: There would be awesome playlists in every book I read. I have a strong passion for book playlists. I love them to infinity. Like Morgan Matson's Amy & Roger's Epic Detour, Since You've Been Gone also features music through Emily and Frank's running mixes. I'm completely fond of them! Especially Frank's Mix #14. *hearts everywhere*
#8: Book covers would be as fabulous as the cover of Since You've Been Gone. 'Nuff said!
It was a list of outlandish things, all outside my comfort zone, all things I would never normally do.
#9: People wrote more lists. I love lists! Sloane's list for Emily is not the most outrageous but there's definitely some rebellious streak in it. I loved that the list really helped me get to know Emily and also her friendship with Sloane, their past experiences hidden under the reasons why Sloane chose those things for her to do. More so, I loved that it moved along Emily's character development and that it contributed to some very fun to read moments in the book.
#10: Everybody would read this book. Since You've Been Gone is so beautiful in such a down to earth way and I just wanna book-push it to everyone I know. The writing, the story, and the characters- everything about this book was genuinely lovely. If you're looking for the perfect summer read, this is IT.
I closed my eyes only to open them once more, and make sure it was all still there – the riot of stars above me, this whole other world existing just out of reach.
*Bonus: Stories taught readers to find themselves and take chances. I guess I still live in a well-ordered universe after all. I have this book and Morgan Matson to thank for that.
Rating: