As I talked about earlier on the blog (and on Twitter), I've been in a bad blogging rut the past weeks which led to an inevitable hiatus from me. Your comments on my most recent post + your tweets, however, are giving me some perspective on things. I started thinking about the posts I loved doing on the blog and so I decided to do my usual book haul post, which I adore mostly because it's a chance to share pretty books + pretty photos of books. Here are the books I got during my hiatus: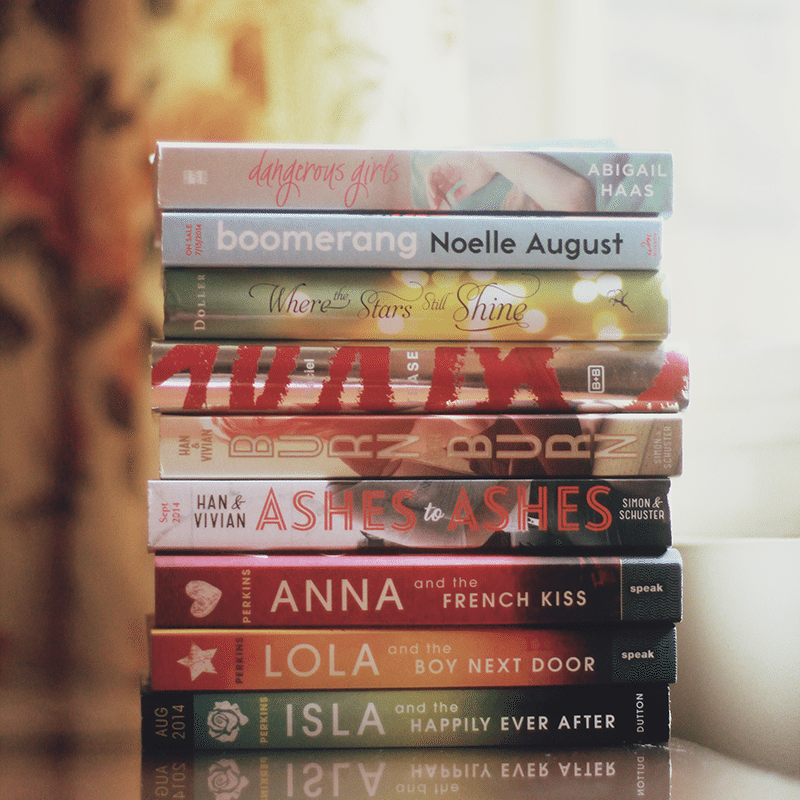 Bought
Dangerous Girls by Abigail Haas
For Review
Boomerang by Noelle August (ARC)
Won
Where The Stars Still Shine by Trish Doller
Tease by Amanda Maciel (Signed)
From book signings
Burn for Burn & Ashes to Ashes (ARC) by Jenny Han
Anna, Lola & Isla (ARC) by Stephanie Perkins
From Netgalley
Just Like The Movies by Kelly Fiore
One Past Midnight by Jessica Shirvington
Let's Get Lost by Adi Alsaid
Thank you Bloomsbury, Harlequin Teen, National Bookstore, Simon Teen, Penguin Teen, and Harpercollins INTL for the galleys and ARCS! Also, thanks to Dahlia Adler for my BTS twitter party prize! ♡
Just because I was on hiatus doesn't mean I stopped reading/buying books, does it? I've actually been ordering a lot through BookDepo, where I spend my earnings from designing blogs! I ordered Ruin and Rising and Wish You Were Italian last month but they still haven't come. I'm also still waiting for other books, payments from designing blogs too, to arrive at my local post office.
As for going to the bookstore, I actually haven't visited that much lately, except for that time I bought Dangerous Girls. I mostly only went because I had to buy books for the signings, like with Burn for Burn, as well as Anna and Lola. I actually already had Anna and Lola before but gave away the old copies that I read because I wanted the new covers so that they matched Isla. Speaking of Isla and the Happily Evera After, I never imagined that I'd get an ARC. (Okay, I might have daydreamed about it.) I read it as soon as I could and JUST LOVED IT. Definitely pre-order if you haven't yet, so you can get the cutesy buttons that come with!
From the rest of my haul, I've already read Boomerang (which hopefully I can review soon because I have an extra ARC I can give away then) and Just Like The Movies, which I both enjoyed. I've read a lot of good books during my hiatus actually, which totally doesn't add up. Hopefully, after this book haul post, I'll really get my blogging vibe back again!