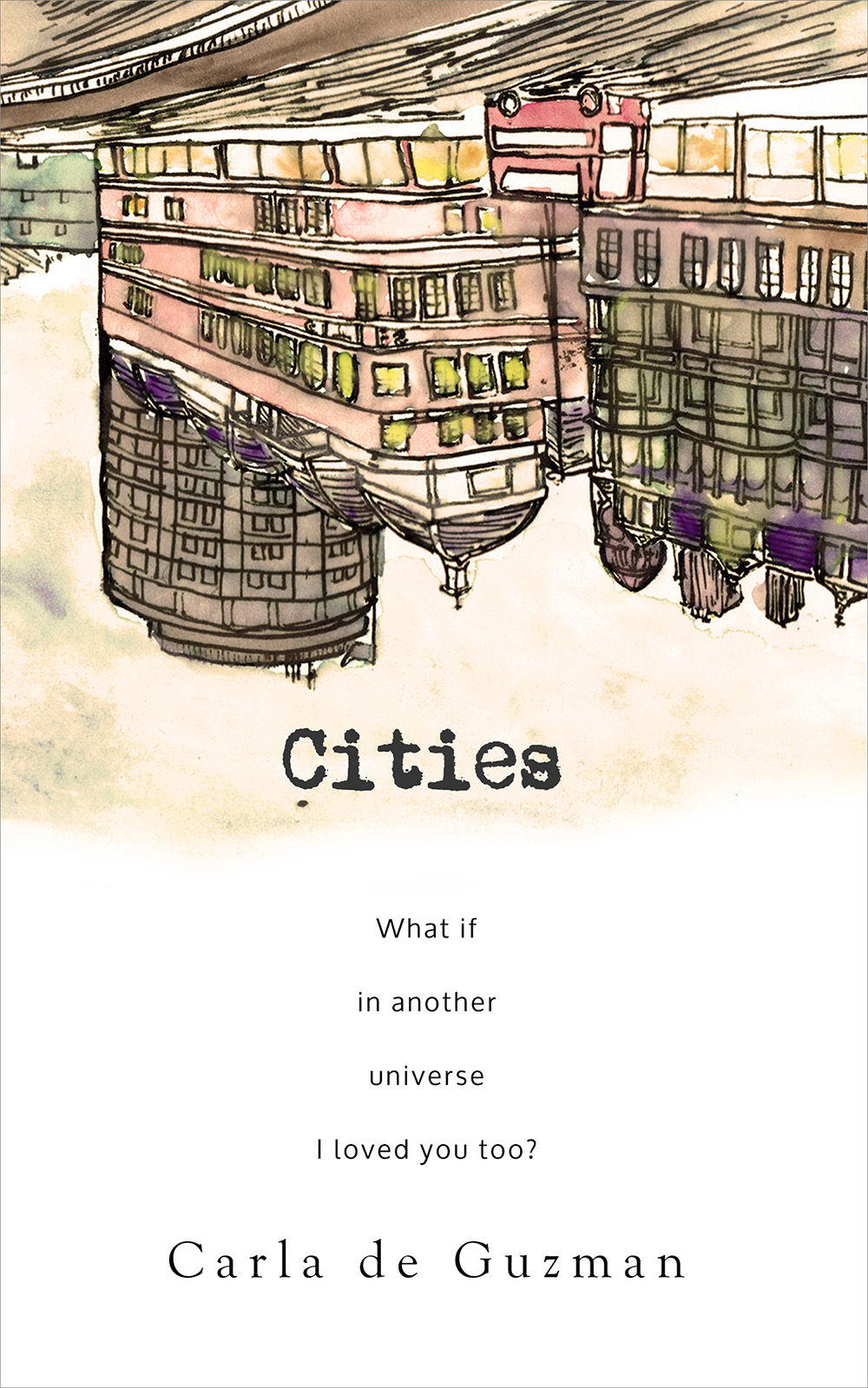 Cities

by Carla de Guzman

Published by Midnight Books on November 30th 2014

Finished copy from Blog Tour

106 pages

Purchase on

Amazon
Synopsis
Celia has dreams. She dreams of going to Seoul for that scholarship she never took, of leaving everything behind and moving to New York. In all those dreams, she finds herself attached to Benedict, the boy she has always loved, who didn't love her back.

Ben believes in parallel worlds. Worlds where the things you didn't do come true—worlds where he went to London and fell in love with Celia, where he shows up on the day she needed him most. He believes that dreams are glimpses into that parallel world, and it's not a coincidence that Celia's been having them too.

It's the day of Ben's wedding, in the middle of a typhoon in Manila. How will these dreams and unmade decisions change their lives? Will they bring them closer together, or just drive them further apart?
Manila, Seoul, London and New York- different cities, different multiverses- and in each one, Celia Alix is in love with Ben. But in Manila, her current multiverse, he's getting married. As Celia travels through different possible lives through her dreams, she finds out whether she and Ben will ever belong together in another universe.
I think my favorite aspect of Cities is the various settings for each multiverse. Aside from being a book nerd, I love love traveling and I've already visited both Seoul and London (and of course I live in Manila!!) so I've seen most of these places for myself and I have to applaud Carla De Guzman for capturing them so well in the story. The book surely brought up the feeling of wanderlust for me, making me wish I could travel to those places again and also finally go see New York. Alas, unlike Celia, I'm unable to even dream of a different multiverse where I'm exploring beautiful cities.
Anyway, I think Celia was a good main character- quite easy to connect to if you've ever had to deal with confusing and impossible feelings for a friend. There's definitely that angst in the book that comes from being in love with the your best friend's husband-to-be. The drama that ensues between the weird love square Celia, Ben, Vivian and Henry are apart of would make quite the telenovela if you ask me. Anyway, I liked how these emotions were drawn out with each multiverse and despite my frustrations, I really enjoyed reading Cities.
Carla De Guzman's writing was also to my liking. I usually have problems with third person narratives but this one went smoothly. The concept of the multiverses was creative too, although it may get a tad bit perplexing at first if you think about it too hard. I say just go with the flow and take in the story.
I think I'd have loved this book if only it went deeper into the characters (Vivian and Henry most especially), but I did like Celia's story, the one in Seoul most of all because it was super cute. The ending was wrapped-up satisfyingly and I was fond of the way the book changed my perspective on "what-ifs" and "could've-beens". Cities is an inspired story of love and the complexity of destiny and will take you to lovely places and interesting multiverses. I'm always on the look out for books written by Filipino authors and I'm glad Carla De Guzman's turned out to be a nice read.
Giveaway: