So if you've read Cora Carmack's Rusk University series (in case you haven't started it you need to do that asap and read All Lined Up already, which I utterly loved btw, then go read All Broke Down), you're probably looking forward to All Played Out, the upcoming third novel. Well, guess what we have for you today? THE COVER REVEAL!!!! Just look at Nell and Torres getting all lovey-dovey on the book's cover: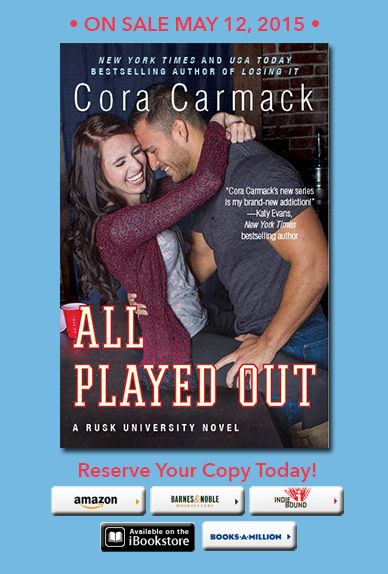 All Played Out by Cora Carmack
He's looking away from me and out at the party as he says, "For you, Nell, I'll make as many bad decisions as you want." Then his gaze tracks back to mine, and he winks, and I know if I touched my skin now, it would be burning.

– Excerpt from All Played Out from Cora's blog
Synopsis:
First person in her family to go to college? CHECK.
Straight A's? CHECK.
On track to graduate early? CHECK.
Social life? Yeah, about that….
With just a few weeks until she graduates, Antonella DeLuca's beginning to worry that maybe she hasn't had the full college experience. (Okay… Scratch that. She knows she hasn't had the full college experience.)
So Nell does what a smart, dedicated girl like herself does best. She makes a "to do" list of normal college activities.
Item #1? Hook up with a jock.
Rusk University wide receiver Mateo Torres practically wrote the playbook for normal college living. When he's not on the field, he excels at partying, girls, and more partying. As long as he keeps things light and easy, it's impossible to get hurt… again. But something about the quiet, shy, sexy-as-hell Nell gets under his skin, and when he learns about her list, he makes it his mission to help her complete it.
Torres is the definition of confident (and sexy and wild), and he opens up a side of Nell that she's never known. But as they begin to check off each crazy, exciting, normal item, Nell finds that her frivolous list leads to something more serious than she bargained for. And while Torres is used to taking risks on the field, he has to decide if he's willing to take the chance when it's more than just a game.
Together, they'll have to decide if what they have is just part of the experiment or a chance at something real.
Expected Release:
May 12th, 2015
Add ALL PLAYED OUT on Goodreads
Dear me, I'm dying to read the story! Torres was just super hilarious + hot when I read All Broke Down and I can't wait to read about him here. And of course, there's studious Nell to look forward to reading about as well. Really, I can't go wrong with a Cora Carmack book. By which I mean, you my dear reader, should totes check out her books if you like NA. Go grab the first two Rusk U books for only 99 cents!!!!
ALL LINED UP, Book 1
"Then in the interests of honesty, I should say I'm trying really hard not to kiss you."
"Why would you tell me that?"
"So that when I slip up and break my promise, you'll at least know I tried."
Purchase on Amazon ・ Barnes and Noble ・ iTunes
ALL BROKE DOWN, Book 2
 "You're really hitting on me? After we just met in jail?"
"Is it working?"
Purchase on Amazon ・ Barnes and Noble ・ iTunes
What are your thoughts on the cover? Have you read the series yet? Are you looking forward to reading Cora Carmack's All Played Out too?