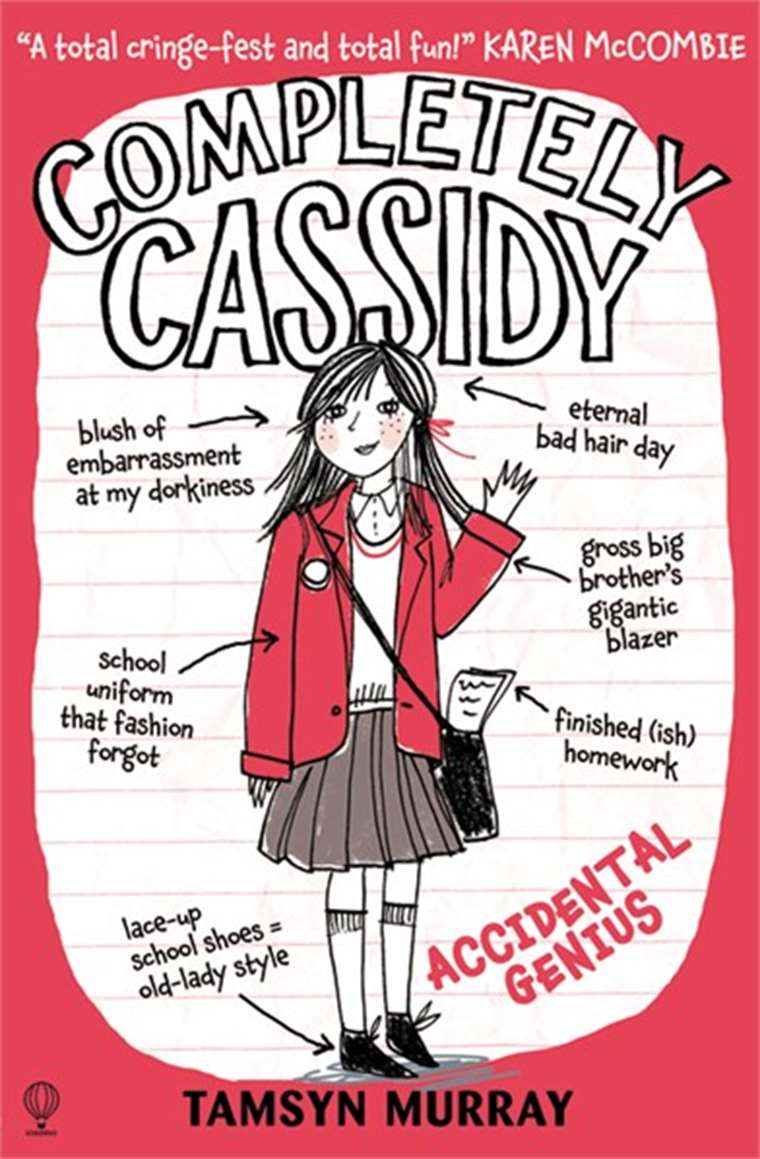 Completely Cassidy: Accidental Genius

by Tamsyn Murray

Published by Usborne Publishing Ltd on June 1st 2014

Finished copy from Publisher

Purchase on

Amazon

・

Fully Booked
Synopsis
With my embarrassing Dad, pregnant Mum, loser brother and knicker-chewing dog, I'm practically invisible in my family. So even though starting Year Seven is totally nail-biting, I'm *hoping* this is my time to shine. Because guess what?

We had to take this test at school, and I am officially Gifted and Talented. It's a bit weird as I picked my answers at random, but the school wouldn't make a mistake about my genius... would they?
After a long run with only reading Young Adult novels, reading Completely Cassidy: Accidental Genius was a breath of fresh air. I can't believe it's been so long since I read a fun Middle Grade book! This one reminded how enjoyable and how easy to read light-hearted tween stories are and made me want to read more hilarious young protagonists like Cassidy Bond.
As Cassidy goes into secondary school, she holds on to the hope of a great school year and the possibility of being noticed for the gifted and talented girl that she is, even though she doesn't know what her particular talent is yet. That is until she scores the highest mark for the Cognitive Abilities Test and discovers her accidental genius. While her annoying older brother, Liam, and his band as well as Cassidy's BFFs, Molly and Shenice, get ready for the St. Jude's Has Got Talent show, Cassidy is preoccupied in proving her intellect as a quiz team member, all while catching the attention of the coolest boy in Year Seven, dealing with her mom's pregnancy and her dog's crazy antics.
My favourite thing about this book is how Tamsyn Murray perfectly captured the over-exaggerated, dramatically comical voice of a quirky tween girl through Cassidy. I liked her narration right away despite initially thinking I might have trouble relating to the really young disposition. I found her quips funny and I enjoyed her strong personality. I couldn't help but think that if I were still eleven years old, I would have totally been friends with this girl!
Speaking of, I liked the focus on friendship as Cassidy goes through a squabble with one of her best friends. The plot revolves around the slightly overwhelming changes that Cassidy experiences (like starting Year Seven and expecting new family members) so some estrangement between friends fitted right in. Despite everything though, Cassidy and her BFFs still supported each other. Huge YAY for girl friends who have your back through the tragically embarrassing moments of being a tween, hair disasters and knicker horrors included.
Some extra details I also really liked in the book were the cute illustrations in every chapter. I'd imagined it'll be quite attractive to young readers. Also, there were some laugh out loud letters, diary entries, lists included in the story which I think were really great companions to the story.
On the whole, Completely Cassidy: Accidental Genius was very adorable. It's a great Middle Grade book for kids and also a fun quick leisure read for those who remain kids at heart.