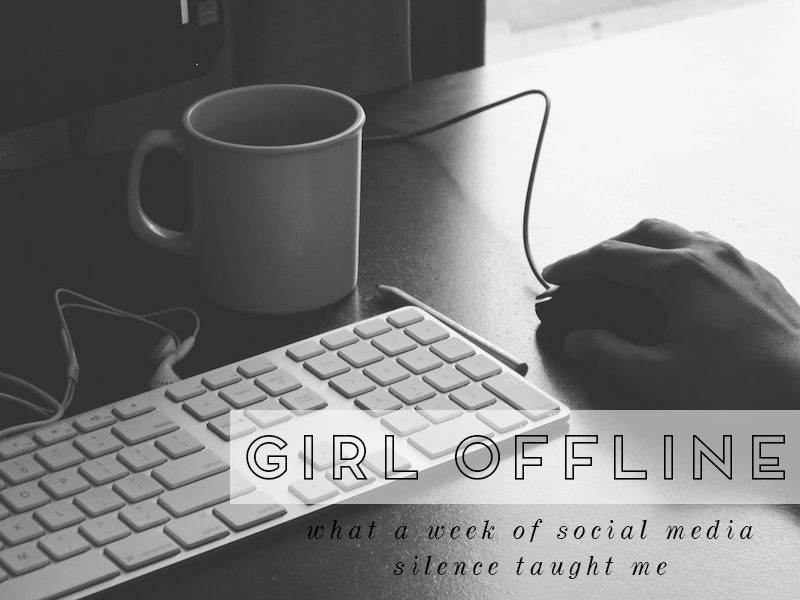 Think about the last time you posted a tweet or shared a post or updated your feed. Was it just five minutes ago? Now, think about the last time you willingly took a break from obsessively checking and keeping posted on your social media.
For most internet geeks like myself, the common answer would be never or forever ago. When you're always connected online, it's really hard to break away and stay offline for awhile. Recently, I decided to take on that challenge and distance myself from the internet community. I wasn't completely disconnected per se since I had to do research and collaboration for my academics online, but I stayed away from my usual social media time suck aka Twitter, Instagram and my blog for a whole week.
The week of social media silence has now passed and I'm finally back. Did I learn anything from my short internet retreat? Sure. That's what I'm here to talk about after all. 
You don't have to be connected online to connect with people.
Obviously, you'll miss your internet friends but that doesn't mean you have to be alone through your social media vacation. One thing I found really hard last week was not being able to converse with people online about share-worthy moments and thoughts. I craved that connection. Since I couldn't talk to Twitter about it, I found people offline to discuss them with. Like after watching Paper Towns last week, I wanted to post about how I enjoyed it and since I couldn't, I rambled to my mom (who I watched it with, along with my sister) instead and she shared her favourite moments from the movie as well as the changes from the story she wished they'd retained (yep, she read the book). It was nice.
Anxiety that you're missing out is normal- you'll live through it.
Weird how we think about how we're missing out with what's going on in the world when we're offline, when in actuality, we also could miss out a lot in life when we're online. I must admit- it was tough, not being updated with the latest happenings in the bookish community, since I loved my daily routine of reading bookish blog posts, watching out for awesome cover reveals and book news and scrolling my Instagram feed for awesome bookstagram photos. I would be so close to opening my social media apps and I'd have to remind myself of my promise to stay away. I told myself that I'd just have to catch up when I'm back online and the temptation to check in online slowly went away.
Put your focus elsewhere.
One of the reasons I actually went offline was because I really wanted to not be distracted by social media so I could work on few things, specifically school work and writing. Truth be told, I still wasn't as productive with those as I'd hoped I'd be but retreating from the internet sure helped me focus on them. Not being sucked in by social media left more time to concentrate on other things and in the last week, I was able to keep up my reading, put my energy into academics, bond with my family and move forward with WIP revisions.
Enjoy the quietude.
Being online sometimes feels like being in a middle of a busy street- there's so much coming and going and noise. It's not a bad thing exactly. I love how the internet community is so dynamic. But it's nice to take a break from the usual hustle, embrace the calm and be able to sort out my thoughts off the record.
Look forward to reconnecting.
After a week of disconnecting from the internet, there's a sense of rejuvenation and I feel very much ready to get back on track with the online community. More importantly, I'm really excited to return to blogging.
How have y'all been while I was away? Have you ever taken a social media break before?