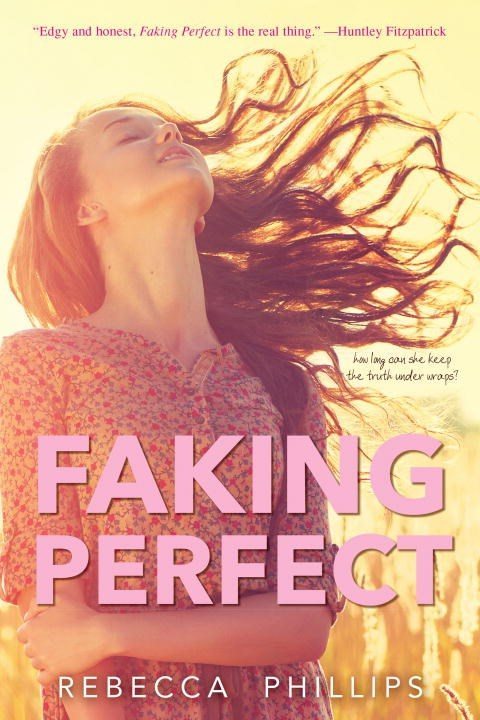 Faking Perfect

by Rebecca Phillips

Published by Kensington on June 30th 2015

ARC from Netgalley

272 pages

Purchase on

Amazon

・

Fully Booked
Synopsis
When Lexi Shaw seduced Oakfield High's resident bad boy Tyler Flynn at the beginning of senior year, he seemed perfectly okay with her rules:

1. Avoid her at school.
2. Keep his mouth shut about what they do together.
3. Never tease her about her friend (and unrequited crush) Ben.

Because with his integrity and values and golden boy looks, Ben can never find out about what she's been doing behind closed doors with Tyler. Or that her mom's too busy drinking and chasing losers to pay the bills. Or that Lexi's dad hasn't been a part of her life for the last thirteen years. But with Tyler suddenly breaking the rules, Ben asking her out, and her dad back in the picture, how long will she be able to go on faking perfect?
As a reader, I love coming across characters who have their flaws, who make mistakes and learn from them. I love the truthfulness in the books that tell the stories of these kinds of people. I guess that's the reason why I liked Faking Perfect as much as I did.
Lexi Shaw keeps a perfectly pristine high school image. She never leaves home without a perfect appearance and always hangs out with the popular crowd. She's even got a crush on the most perfect boy in school. Despite her obsession with perfection, her reality is far from it- what with an alcoholic mother, absentee father and a vice she can't quite shake off (a.k.a. late nights with Tyler Flynn, resident bad boy).
"Sometimes you get an image of someone stuck in your head and then you can't let go of it even after they show you they've changed. All you can see is that one side of them."
It may sound ironic, but despite Lexi literally faking perfect, she was still an honest character. Phillip's characterization is skilful and it's what stands out most about her writing. Even though I wasn't a fan of the things Lexi does, what matters was that I understood what drove her. I liked how realistic the portrayal of her character was, as well as the rest of the cast in the book. Like with Lexi's "friends" for example- despite not liking them at all, I appreciated that they were exposed for their true asshole jerk selves.
Another thing that I liked was how the story approached parental issues very straightforwardly. It was sad to see how little Lexi's mother cared about her but I think it was also eye-opening, reading about how such a negative relationship could affect a person. It was reassuring to know that Lexi still had people who love and supported her- her next door neighbour and childhood friend Nolan (yay for a completely platonic boy-girl friendship btw!), and his mother, Teresa.
"First you steal my rum and now my cigs," Tyler said indignant. "What's next? You want my wallet? My heart? No, wait… you already stole that."
Now, onto the romance. To be honest, I went into the book expecting this to be a major part of the story so I was slightly disappointed that it was more of a background plot and that the romantic interest wasn't as well-realized. While I quite swooned over Tyler and I really liked him and Lexi together (never mind Ben), it would have been nice to have more than just a few sweet scenes here and there. Still, I recognize that the book was more character driven and I guess that's a good thing because it made the Lexi's character development in the book better.
"There were two sides to everything and everyone, and somewhere in the middle was the truth."
Faking Perfect was a surprisingly thoughtful book on how overrated perfection is. I think it's a book that people can either love or love to hate and in my case, I recognized both its strengths and shortcomings. Still, it encourages readers to own our flaws and mistakes and always be true to ourself, no matter how imperfect. That, I think, is worth reading about.