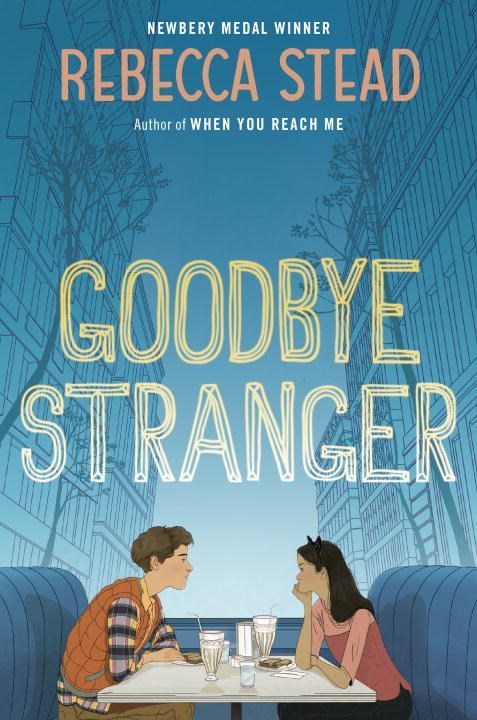 Goodbye Stranger

by Rebecca Stead

Published by Wendy Lamb Books on August 4th 2015

ARC from Publisher

304 pages

Purchase on

Amazon

・

Fully Booked
Synopsis
Bridge is an accident survivor who's wondering why she's still alive. Emily has new curves and an almost-boyfriend who wants a certain kind of picture. Tabitha sees through everybody's games--or so she tells the world. The three girls are best friends with one rule: No fighting. Can it get them through seventh grade?

This year everything is different for Sherm Russo as he gets to know Bridge Barsamian. What does it mean to fall for a girl--as a friend?

On Valentine's Day, an unnamed high school girl struggles with a betrayal. How long can she hide in plain sight?
I've heard nothing but great things about Rebecca Stead's writing and this sparked my interest in reading Goodbye Stranger. Finally having read one of her works, I see the appeal and wonder why I didn't take to reading her books sooner. With Goodbye Stranger, Stead expertly intertwines multiple stories and multiple viewpoints, layered with depth and complexity.
"You're going to think I'm weird."
"I already think you're weird."
I don't read a lot of younger YA/MG books these days but if most of them are like this one, I'd definitely be picking them up more often. There's a certain lightness in reading Goodbye Stranger, being set in middle school and featuring realistic middle school characters, despite tackling some weighty themes. There's a girl who's pondering life after a near-death experience, a boy who writes letters to a grandfather who walked away and an unnamed high schooler who's struggling with a treacherous friendship. They're all connected somehow, and not just because they're going through the same muddle that is the in-betweens of early teenage years.
"Everyone feels different on the inside. It doesn't mean you have a secret mission."
There are just so many aspects that I enjoyed in Goodbye Stranger- the mysterious narrator, the positivity and support between Bridge, Emily and Tabitha, the adorable mild romance between Sherm and Bridge, the way the story tackled sexuality and body image, the feminist outlook and the impactful writing. It all ties up together very well and makes for an engaging ornate plot. I'd go into detail but I feel it's best to start the book with a vague idea and discover for yourself what it's truly about.
"Life isn't something that happens to you. It's something you make yourself, all the time."
Goodbye Stranger is not at all your typical cute YA/MG crossover novel. It's a lovely narrative of young teenagers who feel and think deeply and an introspective story exploring friendship and growing up. I strongly recommend picking it up if you're looking for a quick but meaningful read.