If you must know, I have a huge undying love for Damsel Distressed, one of my favourite books from last year and pretty much ever. It's been half a year since its release and you know what that means? It's time for a bookiversary bash!!!!!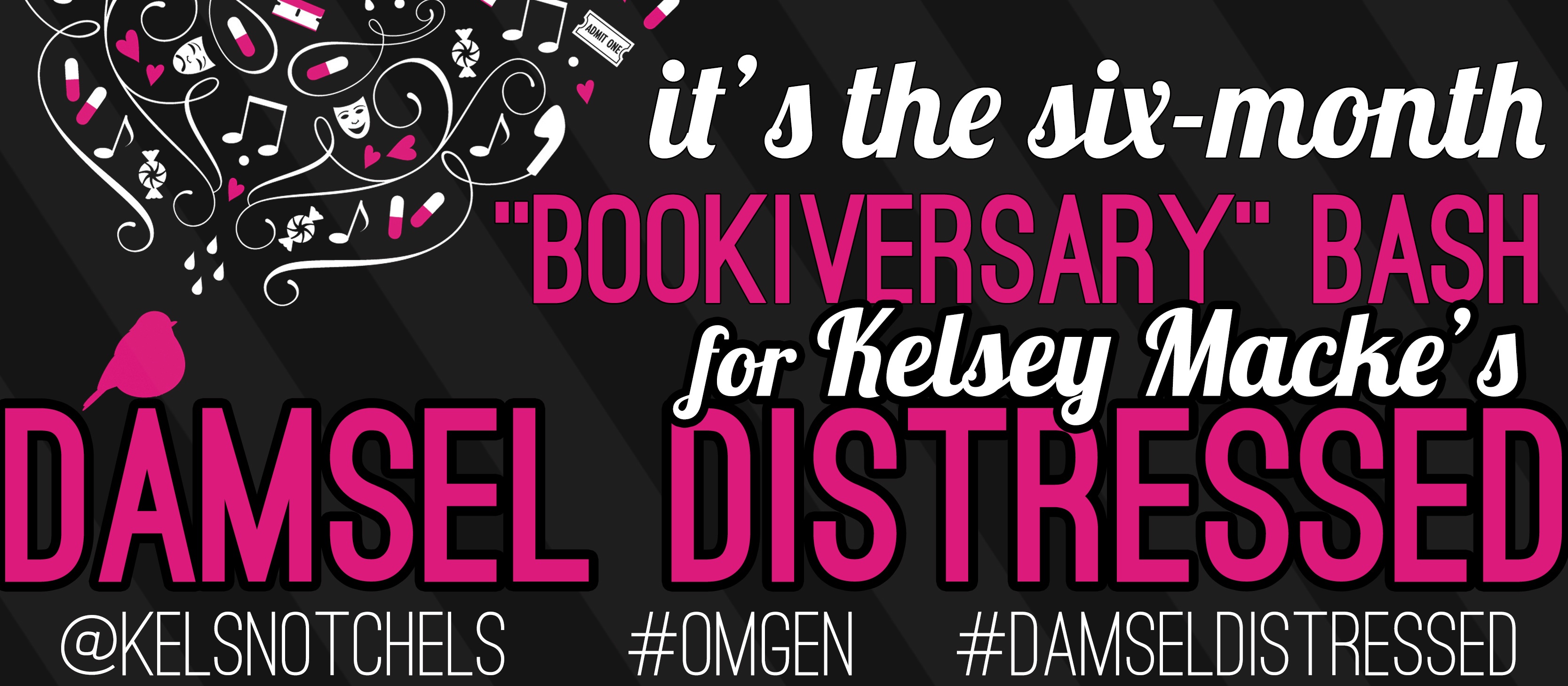 To celebrate six months of Imogen & Damsel Distressed being out in the world and inspiring teenagers everywhere, I'm sharing a very very fabulous deleted scene from the book. THERE IS A LOVE CONFESSION. Yep, you know you want to read it. Go ahead.
Damsel Distressed by Kelsey Macke
Published October 14th 2014 by Spencer Hill Contemporary
Add on Goodreads ・ Buy a copy
Hot girls get the fairy tales. No one cares about the stepsisters' story. Those girls don't get a sweet little ending; they get a lifetime of longing

Imogen Keegen has never had a happily ever after–in fact, she doesn't think they are possible. Ever since her mother's death seven years ago, Imogen has pulled herself in and out of therapy, struggled with an "emotionally disturbed" special ed. label, and loathed her perma-plus-sized status.

When Imogen's new stepsister, the evil and gorgeous Ella Cinder, moves in down the hall, Imogen begins losing grip on the pieces she's been trying to hold together. The only things that gave her solace–the theatre, cheese fries, and her best friend, Grant–aren't enough to save her from her pain this time.

While Imogen is enjoying her moment in the spotlight after the high school musical, the journal pages containing her darkest thoughts get put on display. Now, Imogen must resign herself to be crushed under the ever-increasing weight of her pain, or finally accept the starring role in her own life story.

And maybe even find herself a happily ever after.

Enhance the experience with the companion soundtrack, Imogen Unlocked, by the author's band, Wedding Day Rain.
Deleted Scene:
[alert type="warning"]*Spoiler alert! In case you haven't read the book, the following deleted scene may ultimately spoil you what happens between Imogen and Grant. No one's stopping you if you want to read it though. ;)*[/alert]
I pull into our neighborhood, take the curves slowly, and pull all the way around to the last few houses, into the darkened, circular bulb of concrete at the end of our neighborhood.
Imagine that feeling, when the ocean is laid out in front of you, and you see, off in the distance, the round and mellow swell of a wave coming to life. That sense that it's coming, and it could knock you down, but you have no idea if it will be rough and wild, or die off gently…
I feel like I'm in that moment. Waiting for the wave.
"Okay, I'm just going to start talking… please, please don't interrupt," he says.
I'm officially and completely in an official tizzy by this point. I turn off the ignition, but leave my hands on the steering wheel, because I'm worried if I take them off, I'll have left giant sweat stains on the damn thing.
"Okay." I say, without looking at him.
He inhales, and then breathes out through pursed lips. His breath makes a loud rushing sound that reminds me of trying to learn how to whistle when I was little.
"For a long time, you've been pretty much the only person in my life. I mean, I've had other friends, but not many of them have been girls, and even fewer of them have been anywhere close to what I'd call a 'best friend'. I think we both know that the title has belonged to you, and you alone for pretty much as long as I can remember."
So far so good.
"But we're not kids anymore… and as we've started to grow up and become more aware of the other facets of human relationships, it's become more and more obvious to me that I'm really feeling ready for something more."
In my peripheral vision, I see that he's looking straight ahead and trying not to look over at me with all his might. The rushing water is swelling in front of me, and my heart is starting to tremble with fear as the wave is crawling closer and growing with his every word.
"I think what I'm trying to say is that, I am so, so glad to have you to laugh with and joke around with and watch amazing yet under-appreciated sci-fi movies with."
But. I can sense a "but."
"But, being with you all the time, and being your best friend means that I'm missing out—we're both missing out— on some of the other things that make life even more amazing… like slow dancing and holding eachother and kissing and being nervous about kissing… and everything."
"I don't want to hold you back—"
"Gen, please… You said you wouldn't interrupt me."
He's still staring straight ahead, as the approaching wave looms higher before me. I think I knew this day would come, but I hoped it wouldn't be so soon. I want him to be happy… and I want him to have that special person in his life. I always expected that eventually, when he found a girlfriend, our relationship would have to die, or at least change. What girlfriend wants their boyfriend to have a girl best friend?
"I think that I'm ready to have those things… and I really want our friendship to survive, but I think that I've got to at least try to have that other piece of the puzzle. I've really fallen for someone, and because you're my best friend, you've got to be the first to know."
Crash. The wave in my mind breaks over me, knocking me down and filling my eyes and lungs with the sting of salt water. I feel as if I'm gasping for air, but can't find it, and eventually I stop fighting.
The feelings of sadness and disappointment are swirling into a bitter cocktail in my mouth. What girl could possibly be good enough for him? She'd have to be smart to keep up with his brain. And she'd have to be funny because he has the most incredible, contagious laugh. And beautiful. She'd have to be beautiful because he deserves that. Because he is… because beautiful things should have a way to find each other.
"I'm really happy for you…I… I can't wait to meet her." I finally say. I look down into my lap, and realize that my eyes are filling with tears. "I'm sorry. I'm such a weirdo, getting all teary. Really, I really am happy for you, and of course, I just want you to be happy."
I hear him snicker in the seat beside me, and then his snicker turns into his full, loud laugh. I'm not sure if I want to join him in laughing at my antics, or be hurt that he thinks the sight of me in tears is so funny.
"Gen. I swear to God. If you weren't so smart you'd be the stupidest girl in the world." He shifts in his seat, finally facing me head on. I turn to mirror him. He deserves my full attention.
"Gen, I love you. Like, I completely, totally, completely love you."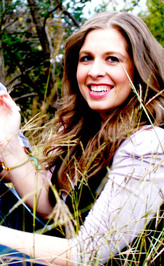 About The Author: