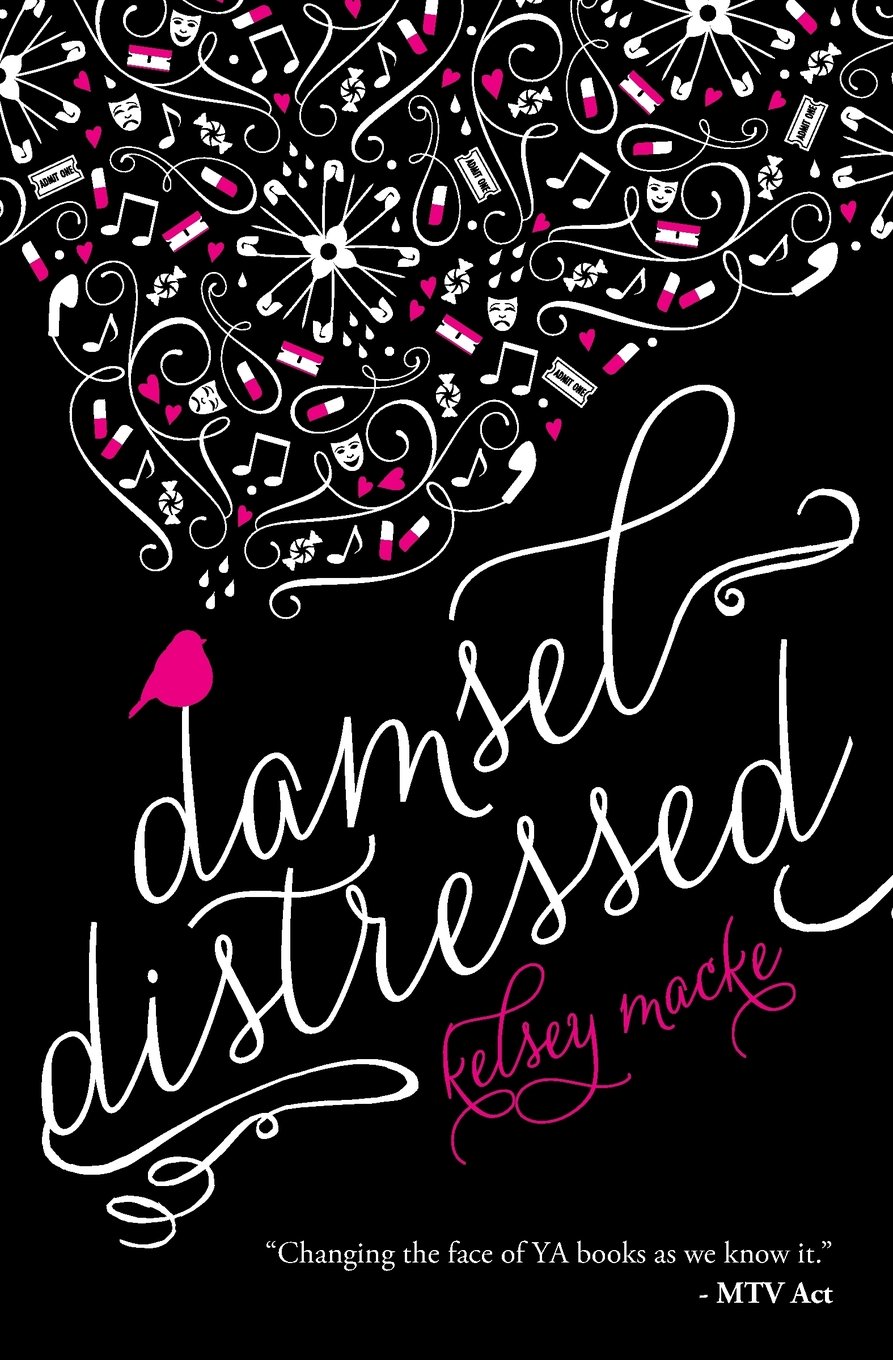 Damsel Distressed

by Kelsey Macke

Published by Spencer Hill Contemporary on October 14th 2014

Purchased copy from Amazon

321 pages

Purchase on

Amazon

・

Fully Booked
Synopsis
Hot girls get the fairy tales. No one cares about the stepsisters' story. Those girls don't get a sweet little ending; they get a lifetime of longing.

Imogen Keegen has never had a happily ever after–in fact, she doesn't think they are possible. Ever since her mother's death seven years ago, Imogen has pulled herself in and out of therapy, struggled with an "emotionally disturbed" special ed. label, and loathed her perma-plus-sized status.

When Imogen's new stepsister, the evil and gorgeous Ella Cinder, moves in down the hall, Imogen begins losing grip on the pieces she's been trying to hold together. The only things that gave her solace–the theatre, cheese fries, and her best friend, Grant–aren't enough to save her from her pain this time.

While Imogen is enjoying her moment in the spotlight after the high school musical, the journal pages containing her darkest thoughts get put on display. Now, Imogen must resign herself to be crushed under the ever-increasing weight of her pain, or finally accept the starring role in her own life story.

And maybe even find herself a happily ever after.
Have you ever had a book speak to you even before you actually read it? Because I can confidently say that Damsel Distressed spoke to me. It wasn't even a case of 'judge a book by its cover' because I knew about this book before it had its gorgeous cover. I'd simply read the summary and some more bits that Kelsey shared about the book and I knew I needed to read Damsel Distressed. I was so excited about this one that I even preordered it on my kindle app (just so I could read ASAP) despite already ordering a physical copy, which is a first for me.
When are we gonna get a fat princess? How about a princess with bad acne and crappy posture and the mouth of a sailor? Probably never. Every. Single. One. Is the same. Totally hot. Totally predictable. Snow White has the attention of seven little men, not because she's the only one who can reach the top of the bookshelf, but because she's a porcelain-skinned, ruby-lipped knockout. The Little Mermaid got a prince because she shut her trap for five whole seconds and looks fierce in a bikini. And Cinderella? She's a girl who clearly demonstrates to the prince that she's got lots of experience on her knees and doesn't mind getting dirty.
Anyway, after finally getting to read Damsel Distressed, I had a newfound love for the book and it knows no bounds. Damsel Distressed was all I ever expected to be and much much more. There was snark and banter and swoons and tears, but most of all, there was heart. In fact there was so much of it that my own heart was filled to the brim. A reversed fairytale retelling of Cinderella, Damsel Distressed explored the story of the 'ugly step sister' who in this case was our female lead, Imogen Keegan.
I am whole. I am more than just the pieces that I see. I am stronger than I seem.
Imogen thinks that a happily ever after for a broken, overweight girl like her is impossible. She's meant to be behind the sound booth not center stage of a theatre performance. Her prince charming best friend, Grant, won't ever fall for her the way she has with him. She'll never live up to her princess step sister, Ella Cinder, who is perfect and gorgeous (not to mention evil). Life is a constant struggle for her as she deals with these harsh realities, as well as the death of her mother and the absence of her father. I felt for Imogen so much. The thoughts and feelings her character conveyed stunned me and moved me- they were so honest and heartbreaking.
People should treat each other with kindness, but I'm not talking about them. You can't fix them. I'm talking about you. You deserve better treatment from yourself.
Imogen's insecurities about being heavy-set which were something I especially shared with her. At almost 160 lbs, some people might say I'm only slightly overweight compared to Imogen's 200 lbs, but when you're the oddball among your petite friends and when your own family likes to remind you about how your voracious appetite and addiction to sweets is getting you bigger, confidence doesn't come easy. You start to wonder if being chubby is the reason why you're so unpopular or why you've never had a boyfriend. Like Imogen, I rarely had the luxury of feeling pretty. When you see yourself in a character like that, and you root for her to realize that she's beautiful inside and out and she finally does, there's a feeling in your chest that's warm and radiant. So thank you, Kelsey Macke, for writing Imogen the way she was. 
"What if I broke us?" In less than a breath, a smile—his real smile—breaks across his face, and his eyes stare straight into mine as he shakes his head, laughing. "Oh, would you stop being dramatic? Nothing's broken. A little bruised, maybe, but not broken. Never broken. Not us."
Now, let me talk about Grant, Imogen's bestfriend. OH THIS BOY. I love him to death.  I love him because he wears cute geeky shirts and because he always makes Imogen happy. I love him because he is loyal, caring, sweet, wonderful, hilarious, charming and REAL. I love him because he accepts Imogen wholly and believes in her. I love him because he gets her and because he know's what's best for her. I love him because he is the anchor that keeps Imogen grounded. There are a million reasons to love Grant but I love him most because while Imogen may feel alone in battling the darkness that attempts to consume her, he always has her back. No matter what and no matter how bad things got, as he promised her once upon a time.
Someday you'll have to let some of that pain go to make room in your heart for something even bigger.
Aside from Imogen and Grant, the rest of the Damsel Distressed cast left such significant marks as well. I loved watching Imogen develop such strong friendships with Brice, Jonathan and Antonique. Imogen's relationship with her family, her stepmother Evelyn, her dad (and even how she deals with her horrid stepsister) was moving. Honestly, I ugly cried a whole lot especially during the last few chapters. And really, the best books are the ones that go so deep and awaken so many many emotions inside of you.
I feel like a door has been unlocked by a key that was in my pocket the whole time. I've been broken, but I'm not broken. That pain won't disappear anytime soon, maybe not ever, but it's not all I have.
Damsel Distressed is a beautiful emotional journey. Mixed with amazing music and artworks, Kelsey Macke has created a phenomenal debut novel, one I'm sure will leave a huge impact on its readers as it did for me. Despite grappling with tough issues of grief, self-harm and depression, this book is a shining ray of light- one that promises hope and happy beginnings. This is a story that deserves to be read and I highly recommend it.
To share the wonderful reading experience that Damsel Distressed was, I'm giving away a copy of the book to one lucky winner. Open internationally. Join by entering the rafflecopter widget below: