It's the time for celebrating love and so today, I also want to celebrate my favourite genre- YA contemporary romance! Through these kinds of books, I've fallen in love over and over again, a precious feeling I will always treasure.
This 2015, there are so many amazing upcoming YA contemporary romances I'm absolutely looking forward to reading. And since I want to spread the love for the genre, I'm giving you (yes, you!) a chance to win a preorder of any of these titles: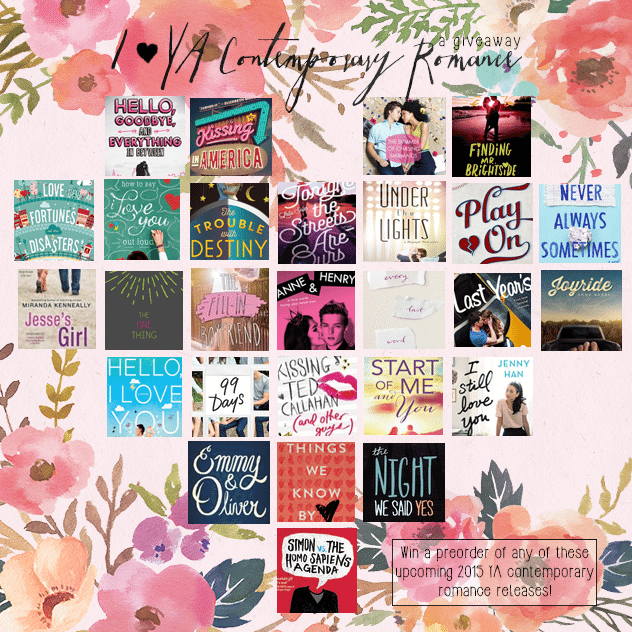 Hello, Goodbye and Everything in Between ・ Kissing in America ・  The Summer of Chasing Mermaids  ・ Finding Mr. Brightside ・ Love Fortunes and Other Disasters ・ How to Say I Love You Out Loud ・ The Trouble With Destiny ・ Tonight The Streets Are Ours ・ Under The Lights ・ Play On ・Never Always Sometimes  ・  Jesse's Girl ・ The One Thing ・ The Fill-In Boyfriend ・ Anne & Henry ・ Every Last Word ・ Last Year's Mistake ・ Joyride ・ Hello, I Love You ・ 99 Days ・ Kissing Ted Callahan ・ The Start of Me and You ・ PS: I Still Love You ・ Emmy & Oliver ・ Things We Know By Heart ・ The Night We Said Yes ・ Simon Vs. the Homo Sapiens Agenda
I'll be picking two winners for the giveaway and they'll receive the pre-orders through The Book Depository. Open internationally! Just enter the rafflecopter widget below to enter. Best of luck!
Happy Valentine's Day, my lovelies! <3