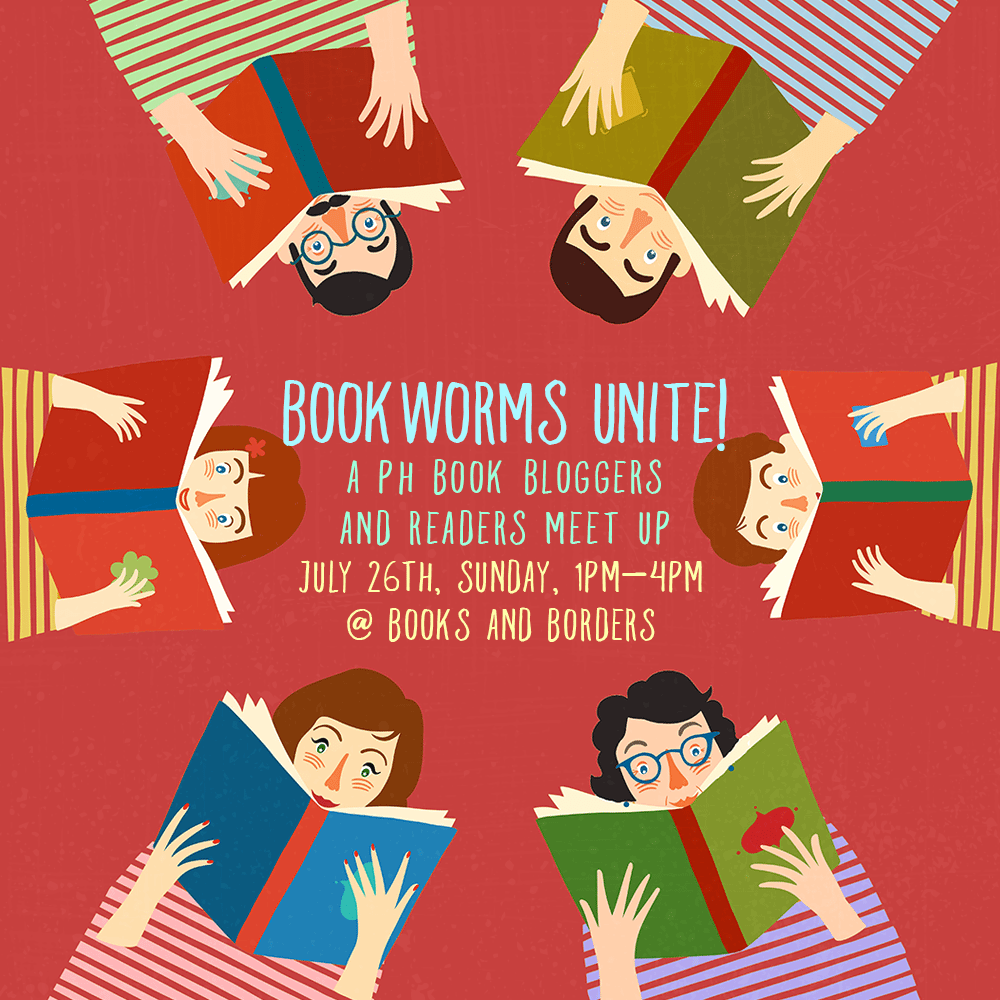 One of the things that make this bookish girl incredibly happy is meeting other bookish people in real life. I've had the pleasure to meet more than several over the two years I've been book blogging but I know there are so many more of you out there who I must hang out and talk books with. Several of my fellow book bloggers have expressed the same enthusiasm to meet more fellow Filipino bookworms, so we've put our heads together to arrange a fun meetup and we would like to invite YOU. YES, YOU.
BOOKWORMS UNITE!
A PH Book Bloggers and Readers Meet Up
WHEN: July 26th, Sunday, 1:00p.m. – 4:00p.m.
WHERE: Book and Borders Café, 281 Tomas Morato, Diliman, Quezon City
The invitation is extended to anyone who loves books, blogger or reader. So if you're from Metro Manila (or can teleport there from wherever you are *wink*), do come and join us! Aside from the fact that you'll be meeting and chatting with fabulous bookish people like my fellow organizers, Shelumiel from Bookish and Awesome, Inah from The Bibliophile Confessions, Dianne from Oops I Read A Book Again, Aimee from Deadly Darlings and Faye from The Social Potato, there will also be fun games and raffles and blind dates with books!
If you want to participate in the Book Blind Date, please wrap your books in a non-transparent paper and write some key words describing the plot of the book, including the genre. Books will then be collected and shuffled and participants will pick a book based on the keywords written on the books. Please be noted that in Book Blind Date, the number of books you'll bring will be equivalent to the number of books you'll acquire in the activity.
Sounds good? Hell yeah, we cannot wait to see you there! Don't forget to join the Facebook event and let me know in the comments if you'll be coming!