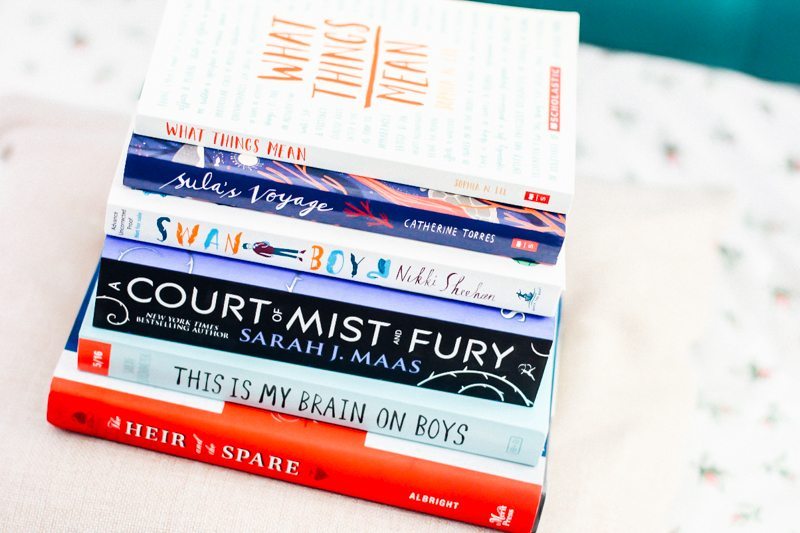 Just last month, I participated in Dewey's 24 hour readathon. This May, I'm doing a week-long readathon instead. Joining Bout Of Books has always been something I wanted to do but previously had the worst luck when it came to timing. The readathon almost always happened right around exams or a particularly busy week. Fortunately, this time around, I'm on summer vacation and can take part!
I plan to catch up on reading review copies through Bout of Books so I'm picking up the ones Scholastic sent me last week, What Things Mean by Sophia N. Lee (already finished reading!) and Sula's Voyage by Catherine Torres, as well as Nikki Sheehan's Swan Boy from Rock The Boat, Sarah Strohmeyer's This Is My Brain On Boys from Harper Collins, and Emily Albright's The Heir and the Spare from Merit Press. The only personal copy that I'm reading is Sarah J. Maas' A Court Of Mist And Fury, which I'm hoping is five hundred plus pages filled with my fave Fae bad boy Rhysand. I've managed to avoid spoilers about ACOMAF so far and I'm so excited to discover what shenanigans and sexy times will transpire in the story.
Finishing all these will be my goal but depending on my mood, I might pick up an audiobook or an e-book in between. So excited to read ALL THE BOOKS!
The Bout of Books read-a-thon is organized by Amanda @ On a Book Bender and Kelly @ Reading the Paranormal. It is a week long read-a-thon that begins 12:01am Monday, May 9th and runs through Sunday, May 15th in whatever time zone you are in. Bout of Books is low-pressure. There are challenges, giveaways, and a grand prize, but all of these are completely optional. For all Bout of Books 16 information and updates, be sure to visit the Bout of Books blog.
Are you joining Bout Of Books? What are you reading this week?