Hell yeah, Stay Bookish has a new feature! I have always loved book cover features- my favourites including A Reader of Fiction's Cover Snark, Pop Goes The Reader's Do! Judge A Book By Its Cover, What She Reads' Cover Palette, The Novel Hermit's Holy, Mother Cover!- and have always wanted to do one here on the blog too. So I came up with Cover Creatives.
As a design enthusiast, I want to focus on the creative aspect of book covers: the ideas, the process and the creative designers behind it. While I'll do the usual 'collective' of book covers, I will also be having some wonderful book designers over for interviews, guest posts and such. Today, I'll be kicking off this new feature with a Q&A with the one and only Regina Flath, along with all the beautiful covers she's worked on! :)
Cover Creatives Interview: Regina Flath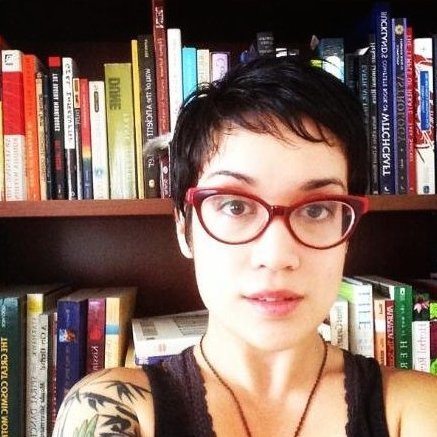 Hi Regina! To start- how did you get into the book cover design business?
I went to the University of the Arts, Philadelphia, as an illustration major, originally intending to be a children's book illustrator. As I went through the program and did projects where I placed my illustrations in context (ie, designed them into book covers and interiors) I fell in love with that process. Around my junior year I switched my focus from primarily illustration to primarily book design. One of my professors is married to an art director at another publishing house who very graciously let me interview her about her career. After speaking with her at length, I was decided: working in house as a book designer was what I needed to do. So for every illustration project I did at school, I did another design project to go along with it. I did my thesis project (4 pieces in a series for your target market) as book jackets. During our portfolio day I happened to meet an art director at Houghton Mifflin Harcourt who spoke to me and liked my work. I impressed upon her that while I was an illustrator, I saw myself as a designer and really wanted to work in-house. A few days later she called me in for an interview and just after graduation I started my first design job at Harcourt. From there, my career took off and now I'm working happily as Designer at Simon Pulse, an imprint of Simon and Schuster.
How would you describe your creative process?
When I get a project, the first thing I do is dip into the manuscript. I read 98% of the books I work on (but for a series paperback repack, for instance, I'll read book 1 but probably not the other books in the series unless I get sucked in!). Reading the manuscript completely informs my design choices. From the tone of the story to the overarching themes to the visuals present in the plot, I pull on text heavily as I formulate my ideas. Depending on the book, the budget, and the schedule, I'll approach my concepts in a couple different ways. Sometimes I'll dive into one of my favorite stock agency sites and then start combing through with key words to try to find a compelling image that hits all the relevant points for me (tone, theme, visuals, as well as market considerations like what's already out there/what would work on the shelf next to this book). Other times I'll be struck with a specific concept that I want to execute and depending on the complexity I'll either find stock and photoshop it together myself or I'll hire a photographer and do a photo shoot. After I have imagery, I work on the typography to pull it all together.
Which book cover you've designed are you most proud of or is your favorite?
My favorite cover is always the most recent cover I finished! Right now it's a tie between Diary of a Haunting (which is going to have OFF THE HOOK special effects like a printed case cover and a clear acetate jacket; I also made an animated gif of the cover so you can see the creepy effect the acetate will have on the print book when you check it out on the web!!) and Anne & Henry, which is my take on some of my favorite things: historical retelling and punk rock posters.
Have you experienced any challenges when it comes to designing book covers? What are they and how do you deal?
There are almost always challenges when designing covers. Any kind of commercial art requires pleasing a lot of audiences. For a book designer, that includes the design team internally, the editorial team, the marketing and sales team, the book buyers, the author, and hopefully the consumer. That's a lot of people who have to agree on something that's pretty subjective! Often that will be the biggest hurdle, making sure everyone is on board with a particular design. If not, I'll have to go back to the drawing board, which happens pretty frequently. The good thing though, is that there is ALWAYS another idea. That's the creative part of being a creative professional.
Where do you find inspiration for your designs?
The short answer to this is everywhere. The fun answer to this is tumblr. To be honest, it depends on the book in question, where I'll pull inspiration from. I've always been of the mindset that if you're working as a creative professional, you have to be able to take your personal experiences from the world and combine that with what your source material is (books in my case) and cook that up in your brain to create interesting design. I mentioned the gif I made for Diary of a Haunting above. My love for gifs comes from haunting tumblr for funny gifs from movies or shows I like. Sometimes a silly tumblr post about whatever fanfiction I'm into currently will jog my brain into thinking about a romantic book cover I'm working on in a different way. I did a super fun cover shoot for a book called The Summer of Chasing Mermaids that was inspired by my love of a burlesque dancer here in NYC named Veronica Varlow. On the surface, the 2 have nothing to do with one another, but this dancer had a great portrait done with a bunch of stuff she likes surrounding her and I was able to translate that into the cover imagery for The Summer of Chasing Mermaids which is about a singer who loses her voice and uses things around her to communicate (and get involved in some romance!).
Which is more important for you when it comes to book covers- illustration/photography or typography?
I think this depends on the cover (I say this a lot I guess!). If it's a type driven cover, then for sure the typography is most important. If it's a cover that's a strong visual, then the imagery is most important. For any good design, there's hierarchy. Something needs to have the most importance visually (whether type or imagery or whatever) in order to organize the image elegantly for your eye.
What do you think makes a great book cover?
A great book cover to me is one that invites you into the book, engaging the viewer by making him/her think, feel, or just plain get interested. Book covers don't exist without the books they wrap around and that interplay of interesting and arresting design/imagery that works to entice a reader is what I hope to do with my work. There are a ton of designers I know that knock this out of the park! I totally have design envy/crushes on Lucy Ruth Cummins here at S&S, Erin Fitzsimmons at Harper, and Sara Wood, also at Harper (in the adult book team) who is a fellow UArts alumna! Those ladies do work that exemplifies what I think makes great cover design.

Thank you so much for imparting us your wisdom on book cover design, Regina! You rock! I look forward to seeing more of your designs on bookshelves. Book nerds, do check out more of Regina's work on her website and give her a follow on Twitter!
What do y'all think about this new feature? What else do you want to see related to book covers & their designs? What do you think of Regina's works? Leave some love!