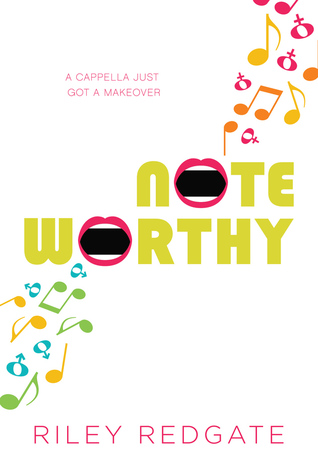 Noteworthy

by Riley Redgate

Published by Amulet Books on May 2, 2017

Genres: Contemporary, Romance

Finished copy

Purchase on

Amazon
Synopsis
A cappella just got a makeover.

Jordan Sun is embarking on her junior year at the Kensington-Blaine Boarding School for the Performing Arts, hopeful that this will be her time: the year she finally gets cast in the school musical. But when her low Alto 2 voice gets her shut out for the third straight year—threatening her future at Kensington-Blaine and jeopardizing her college applications—she's forced to consider nontraditional options.

In Jordan's case, really nontraditional. A spot has opened up in the Sharpshooters, Kensington's elite a cappella octet. Worshipped…revered…all male. Desperate to prove herself, Jordan auditions in her most convincing drag, and it turns out that Jordan Sun, Tenor 1, is exactly what the Sharps are looking for.

Jordan finds herself enmeshed in a precarious juggling act: making friends, alienating friends, crushing on a guy, crushing on a girl, and navigating decades-old rivalries. With her secret growing heavier every day, Jordan pushes beyond gender norms to confront what it means to be a girl (and a guy) in a male-dominated society, and—most importantly—what it means to be herself.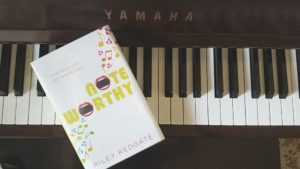 /I'm gonna apologize ahead of time for any sudden transition to lapslock, it's become a habit.
Me: a queer dfab Chinese-American teen who likes to sing (but can't sing high notes and can only kinda sorta sing low)
Noteworthy MC: a queer Chinese-American teen girl who likes to sing (and can't sing high notes but can definitely sing low tho)
So I'm not 100% the MC of this book (though I wasn't expecting to be, and that's definitely not the point of representation) but I was still really excited to see a book with a queer Chinese MC.
As the summary says, Noteworthy is about a girl who cross-dresses and auditions for an all-male a capella group at her elite boarding school for the arts. The main character is a Chinese-American teen named Jordan Mingyan Sun, and Noteworthy follows her growth as a person during her attempt to save her high-school/arts career; more than just being about Jordan trying to not get caught, Noteworthy shows how this experience changes the way Jordan thinks of herself and addresses topics such as racism, classism, sexism, and homophobia. And once Jordan joins the Sharpshooters (the aforementioned all-male a capella group), Noteworthy becomes about them, too, as they become friends with Jordan and go through their own ups and downs and have personal issues and fights.
Noteworthy was an amazing read, with incredibly real characters and writing and I'm this close from looking it up on AO3 because I never want to leave this universe. Also, Noteworthy was just fun to read, literally, with a light tone and witty humor. I really enjoyed reading it, but honestly, I started skimming near the end; I needed to know how it finished. And then of course I had to read each and every word once I actually got closer to the end, because no? Don't stop? There needs to be more? Unfortunately, there was no more. I may or may not have died a little inside.
My favorite things about Noteworthy:
the Sharps – the all-male a capella group that Jordan joins. Their dynamic is amazing and they all just

fit

together. Also, they're diverse. There's a Japanese-American who's definitely the most eccentric of the group (Isaac Nakahara), an Indian-American Sikh who wears a turban and is the human embodiment of

looks like a cinnamon roll and is actually a cinnamon roll

(Nihal Sehrawat), a 14-year-old boy who's

uh…

passionate about voter participation in politics (Marcus Humphreys), the only one in their a capella group who actually cares about a capella (Traveler Atwood), an inseparable pair who are almost complete opposites yet somehow the best of friends (Jon Cox and Theodore "Mama" Pugh), and last but not least the obnoxious freshman who you learn to love anyway (Erik. Erik doesn't get a last name because I can't find it in the book). More importantly, none of them are reduced to stereotypes and they're all three-dimensional characters with unique personalities and backstories.

the side characters all have their own unique characterizations and are important for the story

the

representation

– the microaggressions (in both a race and sexuality context), the class division, the way allyship is presented (like, those cishet people who think having a rainbow pin on their backpack is a free pass to say whatever they want), the fact that there's more than one lgbtq character and poc character aside from the mc, and especially that there's more than one queer poc (aside from the mc!!)

there's more representation at a private boarding school where tuition probably costs as much as an Ivy than there is in other books set at public high schools

like this is the first time I've felt

represented

by a book

on that note, also subverting stereotypes, like the fact that the Chinese character is lower class, and the Japanese character's family has lived in America for generations

the discussion on pressure to excel, for whatever reason (and there are a lot)

Jordan's mom's

āi yā

at the end of the book, because what Chinese parent doesn't say some version of

āi yā

the ost

that riley redgate made like w o w she's so talented??? wtf??? #goals

Jordan's character growth!! No spoilers, but I love the way Jordan's character develops throughout the story.
Noteworthy is definitely worth a read, if you're considering it! The characters are my favorite lead and ensemble (literally all of the characters except Michael) in a while.
I may or may not have looked up a bunch of a capella songs after reading. Do you guys listen to/like a capella? Have you read Noteworthy?