While I find most children cute, I'm not the type to hang out with kids in real life. They're never as adorable or as quirky as kids in books. If you guys don't know yet, I love kids in books! Whether they be a baby or someone just relatively young, like a kid sister or brother. For this week's List Of Awesome, I'll be listing down my favorite kids from several contemporary books!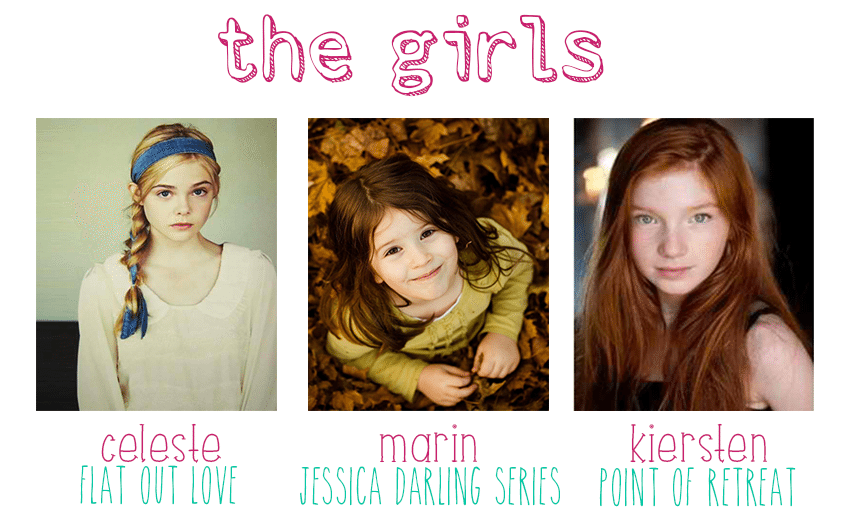 1. Celeste from Flat Out Love
Quirk factor: Matthew Wattkins' little sister. She has a life-size cardboard cutout of their other sibling, Finn.

2. Marin from the Jessica Darling Series
Quirk factor: Marin is Jessica Darling's uber cute niece. She answers questions for her aunt.
Quirky quote: 
"Aunt J.?! You haven't answered the most important question of all!!!"
"I haven't," Jessica says, crawling on her hands and knees. "Have I?"
"I'll answer it for you," Marin announces in the same all-business tone that declared she couldn't wear the fugly tracksuits.
"Oh, really?" Jessica spots the paper underneath the desk, reaches for it.
"And the answer is …" Marin takes a dramatic breath and delivers a speech that draws upon everything she has ever learned about love from watching too much reality television with her nanny. "YES! You and Marcus still LOVE LOVE LOVE each other because you and Marcus are TRUE SOUL MATES even though you haven't seen each other in, like, FOREVER, but it's just like MOM and E-CAR JERRY, who didn't see each other after, like, FOREVER, and it was, like, WHAMMO! BLAMMO!"
3. Kiersten from Point of Retreat (Slammed Series)
Quirk factor: Thinks cuss words are just a a mix of letters and believes that if people were to start saying them all the the time, they wouldn't be bad anymore. (How butterflying intelligent is this eleven year old kid? Yeah, she's also the one who came up with butterfly as a cuss word.)
Quirky quote: "I'm going to let that insult slide because you're in a bad mood. But for future reference, I don't play."
4. Jonah from The Last Song
Quirk factor: Brother to stubborn, moody, rebellious Ronnie. This little cutie thinks PMS means pissed-at-men syndrome.
5. Kel from the Slammed Series
Quirk factor: Kel is Layken's awesome little brother. He talks backwards, has darth vader house shoes and is very intelligent. He hates basagna because it means something bad has happened.

6. Caulder from the Slammed Series
Quirk factor: Caulder's parents are gone and he only has his brother, Will, to take care of him. Caulder is more than excited when he gains a new friend- his neighbor, Kel. (So adorable how they are bffs) Caulder recites slam poetry to thank Will during Point of Retreat. (It was heart-wrenchingly sweet)
Quirky quote: I thought my brother was going to be your boyfriend."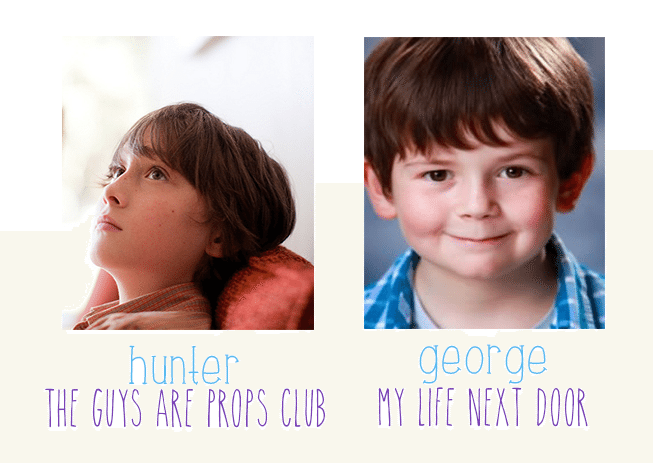 7. Hunter from The Guys Are Props Club
Quirk factor:  This kid from the oncology ward wears spongebob pajamas and is a total geek for coin tricks. He also crushes on Maddie, the MC (who's 10 years older than him), a little.
8. George from My Life Next Door
Quirk factor: Adorable to the nth level.
Quirky quote:
"Is Jase already gonna marry you?"
I start coughing again. "Uh, No. No, George. I'm only seventeen." As if that's the only reason we're not engaged.
"I'm this many." George holds up four, slightly grubby fingers. "But Jase is seventeen and a half. You could. Then you could live in here with him. And have a big family."
Jase strides back into the room, of course, midway through this proposition. "George. Beat it. Discovery Channel is on."
George backs out of the room but not before saying, "His bed's really comfortable. And he never pees in it."

I think reading the book is really needed to get to appreciate these kiddies! I just hope these cuties convinced you to read the books!
Do you like kids? What do you enjoy about them? Who's the cutest/quirkiest kid you know in real life? What makes him/her so cute/quirky? How about children from books- do you know anyone? Who's the quirkiest kid on this list? Tell me what you think!