Synopsis
135,789. That's how many subscribers sixteen-year-old West Ryder has on his web vlog series. But he only has eyes for one of them.

As one of the internet's most prestigious video bloggers, West Ryder talks about high school relationships under the name "Sam Green." As far as he knows, no one from school, not even his best friend, Cat, has seen his videos. But the highlight of the whole thing is Harper Knight, who comments every day at exactly 2:02 in the afternoon. He doesn't know anything about her aside from the occasional deep philosophical messaging on why pizza tastes so delicious, but as stupid as it sounds, he might be falling for her. So when they finally agree to meet in real life, West's hope for romance seems more and more in reach. But that all changes as soon as he arrives at their meeting spot and sees Cat walking toward him, wearing the same "I heart Sam Green" T-shirt Harper promised she'd have on.

To his alarm, West realizes he is falling in love with the best friend who has always been a sister to him.
A story about a guy who vlogs? I just knew I had to read this book, the instant I found out about it! And I'm going to sound like such a girl but I just need to put it out there: Isn't the guy on the cover cute? I love his wavy blond hair and that dimple on his cheek. (I zoomed in, duh) I could totally picture him as West Ryder while I was reading! The girl on the cover is real pretty too! Her raging red hair is exactly how I envisioned Cat's! Yep, aesthetically beautiful (and accurate to book description) cover models = definite bonus love points. ;)
I enjoyed this book so much my insides actually physically hurt!! Not from angst, but from laughing so freaking damn much. Click To Subscribe is so witty and funny I had the urge to roll on the floor and laugh my ass off literally. (If I weren't reading this in our school library, I probably would have done so. Yep, I was reading this in the library. I gained several curious looks because of my occasional snorts and giggles. They should be thankful I tried to control myself and didn't full on laugh out loud.) This book oozed humor and wisecracks, making it more enticing to read!
How do I even start to describe West Ryder? He is gorgeous, wonderful, entirely attractive, charming. (Of course, these are West's choice of words when describing himself.) Seriously though, West is kinda perfect. There are two ways I usually judge book characters: personality and depth. West's personality is astounding. There's no denying that he is as charming as he says he is. The depth I was looking for was revealed through West's thoughts and emotions.
Cat Davenport, West's best friend, is the only person he has left in his life. His mother is gone and his dad is only physically present but not really there. Finding out Cat was in love with him, devastated the hell out of West. He was not ready to risk losing Cat by becoming romantically involved with her. Reading about West's pains and doubts made him so much more realistic. The way he was so confused about his feelings for Cat? I understood his frustration so easily. And what he said about how he was at peace when talking to his camera? I think it's the same with me as venting out on my blog. God forbid, even twitter. So yeah, I think the honesty and truthfulness West's voice really got to me.
The only frustration I had was when West kinda being a jerk to Cat. I was like, "Really? You don't wanna lose her so you disregard her feelings?" Still, like I said, I understood that he was confused, so no matter how mad I wanted to get, I couldn't be real mad.
As much as I loved West, I loved Cat even more. This girl is not only awesome as hell, (I mean she is the Highness of All Things Chocolate) she is also tough as nails and absolutely determined. I wanted to hug her and yell, "You go, girl!!!"
I'd blab on and this could be a very, very long review but I'm making you waste your time. What you gotta do is pick up Click To Subscribe already. I assure you that this amazing book will grip you heart as you read this one of a kind best friend romance. This book just screams of wit and exemplifies perfectly the epicality of being a teenager in love. I absolutely recommend it!
Cover Reveal: 
L.M. has an upcoming NA book, Two Roads, scheduled to be released next month. Don't forget to add it to your TBR shelf! (Click here to see Goodreads page) The cover was unveiled just today!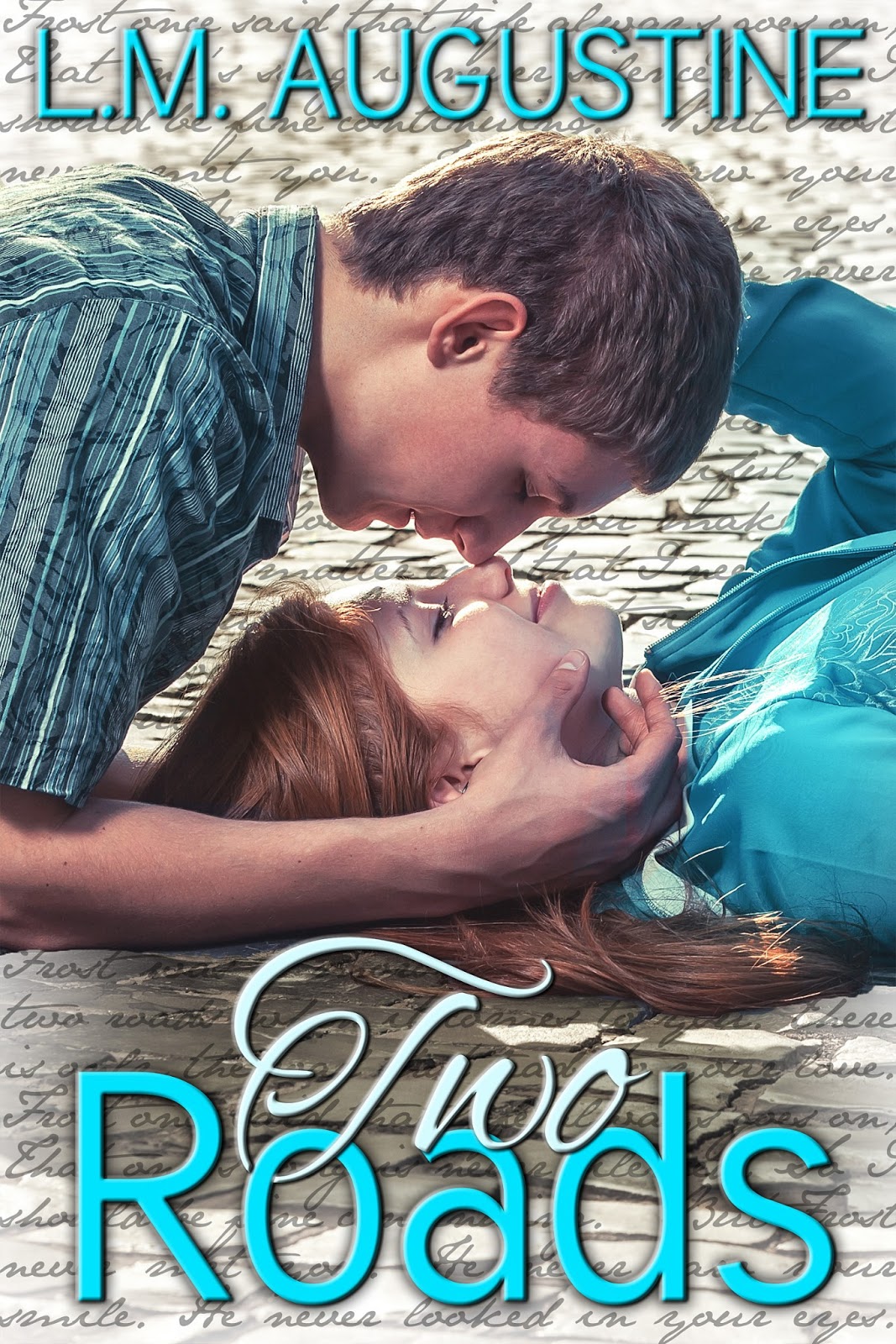 Isn't it lovely? I. CAN'T. WAIT.