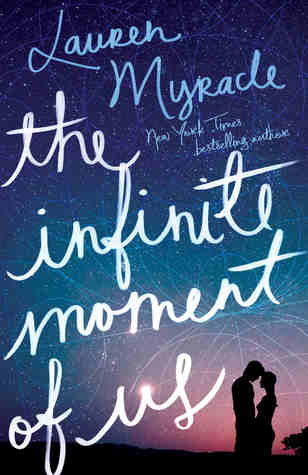 The Infinite Moment of Us

by Lauren Myracle

Published by Amulet Books on August 27th 2013

Gifted copy from Rachel of Hello Chelly

316 pages

Purchase on

Amazon

・

Fully Booked
Synopsis
For as long as she can remember, Wren Gray's goal has been to please her parents. But as high school graduation nears, so does an uncomfortable realization: Pleasing her parents once overlapped with pleasing herself, but now... not so much. Wren needs to honor her own desires, but how can she if she doesn't even know what they are?

Charlie Parker, on the other hand, is painfully aware of his heart's desire. A gentle boy with a troubled past, Charlie has loved Wren since the day he first saw her. But a girl like Wren would never fall for a guy like Charlie—at least not the sort of guy Charlie believes himself to be.

And yet certain things are written in the stars. And in the summer after high school, Wren and Charlie's souls will collide. But souls are complicated, as are the bodies that house them...

Sexy, romantic, and oh-so-true to life, this is an unforgettable look at first love from one of young adult fiction's greatest writers.
I've only ever encountered Lauren Myracle once and it was through the Christmas anthology, Let It Snow. I wasn't quite impressed by her, to be honest. Even so, when I saw the absolutely gorgeous cover of The Infinite Moment of Us and read the very promising synopsis, I disregarded the apprehension I felt about the author and instantly wanted to read the book.
However, when I finally had the copy in my hands, I was filled with anxiety, having read some negative reviews about the book recently. After a long time, I decided to remove all my prejudices and just dive in to it! Thankfully, I was able to appreciate Myracle's efforts to write a story about how strong and powerful first loves can be.
The Infinite Moment of Us reminded me a little of the movie Say Anything because of the two main characters- the smart, seemingly unattainable girl and the boy who's been crushing on her from a far. Anyway, chance brings the two together and they fall in love the summer after graduation.
Wren Gray, the female lead, has lived her life trying to please her parents and she's done a pretty good job so far until she realizes that she's tired of it. She decides to do something for herself for once even if it means disappointing her folks. I actually sympathized with Wren when it came to the pressure she felt and her need to become something more than what her parents set her to be. Others may think of Wren's college decisions as foolish but as someone who understood her in this aspect as I'm still experiencing it myself, I thought it was good she's learned to at least decide for herself.
Having said that, there were many many times I disliked Wren, especially with her actions and her reasoning. She also becomes needy and immature when it comes to her relationship with Charlie. At one point she basically says, "I'm not good enough for Charlie because he has bigger problems." That irked me a lot.
Charlie was okay, I guess. He's like any other hormone-driven boy except he gets all mushy when it comes to Wren. I found it sweet how he really cared for Wren but he also does a lot of questionable things. I also wished that his past was explored enough.
I felt that the two main characters were underdeveloped. It's sad but as I think about it, I see that their character development really fell short. Weird enough, I liked the supporting characters more. There's Tessa, Wren's best friend. She was fun and I liked how she was so loyal and supportive! The two shared a lot of differences but their friendship was admirable. Aside from Tessa, I also enjoyed Charlie's family, specifically his brother!
On to what I think is the most important part of the book: the romance. Again, like the lead characters, this aspect was imperfect. Wren and Charlie's "love" seemed to happen way too fast. The words "forever" and "soulmates" were thrown out there which caused me to roll my eyes several times. Nonetheless, I liked how Wren and Charlie fell in love and how their relationship played out. Note that there are sexual scenes in the book and I think this would require a more mature set of mind to comprehend. Basically, I think the portrayal of teenage romance was honest and although this may sound absurd, I could see this happening in real life.
"If the world was layered with meaning, then she was the evidence, right here. She was the mystery and the explanation, both."
I wouldn't say I loved this book, nor would I say I hated it. I actually liked some parts of it but there were also some parts that I think were poorly done. I thought the drama in the last chapter was unnecessary but at the same time- it had me flipping the pages. I liked the hopeful ending as well. Like I said before, I appreciate what Myracle offers in this book. The Infinite Moment of Us, although infinitely flawed, reflects young love and growing up in the truest manner.
Rating: